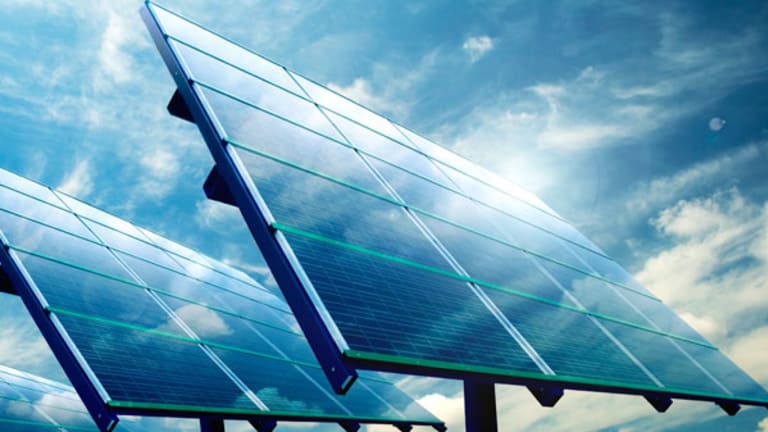 Publish date:
GE Asterisk on Record Volt Sales Deserves Asterisk (Update 1)
Fleet buying contributed a relatively small amount to record sales for GM's hybrid electric car in March.
Fleet buying contributed a relatively small amount to record sales for GM's hybrid electric car in March.
(Chevy Volt sales story updated for limited impact of GE fleet purchases)
NEW YORK (
) -- As high gas prices dominate the headlines and pain at the pump multiplies,
General Motors'
(GM) - Get Report
Chevy Volt is finding more consumers willing to buy into the plug-in electric hybrid vehicle concept.
In fact, initial concerns that the record sales number posted by the Chevy Volt in March was driven by a big fleet purchase from
GE
(GE) - Get Report
were premature and didn't reflect just how quickly the Volt's fortunes shifted in March.
It's fair to say the Volt ran right over those cautious assumptions. Between the high gas prices and headlines about a Volt battery fire earlier this year possibly receding from the consumer landscape, the sales picture improved.
The Volt -- a month after GM temporarily shuttered production of the car -- reached sales of 2,289 in March, 50% higher than December 2011, which previously was the vehicle's best month since launch. More importantly, only 160 of the purchases were by fleet buyers, while 2,129 Volts were purchased by retail car buyers. The fleet buying was only 5% of Volt sales.
GE loves the Chevy Volt, but in March it was consumer love leading the buying.
GE began purchasing Volts for its employees last month in what it called "the largest order in history" of cars for its employees. However, the Volt numbers reflect a slow start to the GE Volt order. GE plans to buy 12,000 Volts by 2015. In effect, GE could buy 500 Volts each month in 2013 and 2014 and meet that target, without buying any Volt fleet vehicles this year. GE did say all fleet vehicle replacements in 2012 will be made with Volts, but it seems as if that could be a minor part of the Volt story if it is successful this year.
The GE buying of Volts will continue to be a swing factor in month-to-month sales figures for the Volt, but the March data shows consumer demand for the vehicle is increasing at a critical time for GM, critical because of the excess supply.
There have been more than 18,000 Volts produced and roughly half had been sold through February, a situation that led to the production halt and a more recent statement from GM that the production shutdown could be extended by a week.
Analysts have also pointed to sales of the Nissan Leaf, down 29% for the past two consecutive months, as a sign that all is not well among U.S. consumers when it comes to the electric car market.
However, the "inorganic source of demand," from GE and the trend in Leaf sales didn't reflect what was simply a good month for the Volt in March, once GM broke out the retail vs. fleet numbers on a conference call with analysts and the media.
Fleet vehicle purchasers are often the leaders in adoption of high-cost vehicles since these vehicles are able to reduce operating expenses. While broad consumer adoption of the Volt will be a key to its long-term success, at this point in the sales cycle downplaying fleet purchases like the GE agreement can push too far in a direction suggesting the entire story hinges on the retail market.
One car analyst who could not be quoted for compliance reasons said of the March sales, "I just drove back from Maine and saw four Volts on the highway. Fox News is even running positive stuff on the Volt, so the general tone as related to the Volt being a political punching bag has been improving."
Republicans have even been able to position electric cars as an end market for the natural gas power plant and nuclear power industries.
The analyst also said the struggles of the Nissan Leaf don't take away from the Volt rebound, since the Leaf has a more limited market due to its limited range of 80 miles before needing to be recharged. True electric is a tougher sell than plug-in hybrid.
Stifel added in a research report on Tuesday, "It appears the fears around the NHTSA
Volt fire investigation have subsided. Leaf sales on the other hand have been stagnating over the past several months, with total sales coming in below 1,000 units every month since September 2011, and remain well below the June 2011 record of 1,708 units ... Sales data to date suggests that in North America, the PHEV platform, given no range anxiety concerns, may be the better investment."
The overall sales picture for the Volt is still complicated by GM's ambitious sales target. Based on the record month, GM could sell close to 25,000 Volts in North America in 2012 if it keeps up a pace of 2,000 vehicles. Add to that a European backlog of 7,000, and the Volt could grow sales by 300% in 2012 (up from 10,000). However, that would still fall far short of GM's original goal of selling 45,000 Volts in North America this year.
March didn't provide a definitive answer as to whether consumers by and large will pay up for the Volt's quiet electric drive or conclude that it's just an expensive electric version of the Chevy Cruze. The record sales in March though indicates at least some the Volt's recent woes may finally be in the rearview mirror (no asterisk required).
-- Written by Eric Rosenbaum from New York.
>To contact the writer of this article, click here:
Eric Rosenbaum
.
>To follow the writer on Twitter, go to
.
Follow
TheStreet
on
and become a fan on