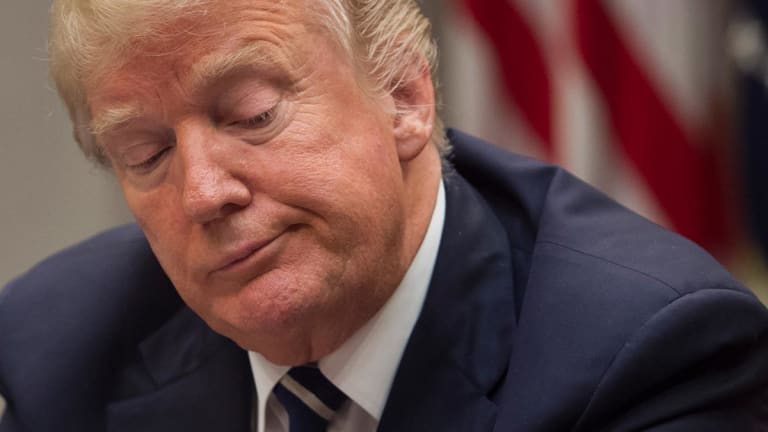 General Electric Expulsion From Dow Symbolizes Unsettled Week in Markets
Traders and investors realize a break-up of society, however far in the future that may lie, is terrible for profits.
Traders and investors realize a break-up of society, however far in the future that may lie, is terrible for profits.
Talk about unsettled. 
The Dow Jones Industrial Average I:DJI managed to eke out a half-a-percentage point gain Friday and break its streak of eight days of consecutive declines, leaving it about where it stood ten days before Christmas, 2017.
It was another unsettled week for U.S. equity investors, symbolized in a way by the expulsion of General Electric Co. (GE) - Get Report from the price-weighted average after more than a century and only about 15 years after the company had the highest market cap in the world. At the time it was booted GE was the sixth smallest Dow member, with the lowest stock price. Walgreens Boots Alliance (WBA) - Get Report replaced it.
It's another reminder that the stock market rally fueled by tax cuts and a relaxed regulatory scheme has stalled about where it was at the beginning of the year, or just before, at least for those public businesses not engaged in selling technology (see the run in Netflix (NFLX) - Get Report ) or entertainment.
Still weighing on the minds of investors is the prospect of a trade war fueled by President Trump, who threatened to levy a 20% tariff on imported cars. The threat sent German auto stocks tumbling and came just before General Motors Co. (GM) - Get Report said it would start making the Chevy Blazer again. Of course, GM is going to build the vehicle in Mexico, raising more questions about the tariffs and especially, what's going to happen to the North American Free Trade Agreement.
Investors seeking certainty aren't finding much of it in the industrial sector. GM fell 6% this week and is trading at $41.25, 30 cents more than it cost on Dec. 15.
Some Wall Street pros, including TheStreet's founder Jim Cramer, have cited the strength of the U.S. economy, which may wind up growing as much as 3% this year, as a reason to back the President's assertion that the U.S. can win a trade war. Still, that may require Americans to put up with higher prices for imports and to rely on domestic products, something the massive American economy can probably manage.
Anyway, the European Union imposed penalties on a group of U.S. products that target the President's political base, such as bourbon (Kentucky Sen. Mitch McConnell), motorcycles (Wisconsin Rep. Paul Ryan) and orange juice (Florida Sen. Marco Rubio).
At the same time, European growth is slowing, a situation exacerbated by political turmoil in Italy and Germany, as well as by Brexit. And China sells the U.S. a great deal more than the U.S. sells in China, giving the Trump plans more leeway to succeed.
Still, a bit of a grain of salt might be warranted: China remains a command economy, some of whose citizens retain an experience of economic hardships and political persecutions that Americans have never undergone. It's possible that Chinese leaders may be taking a longer view than the Americans.
Indeed, Cramer said he reckons it would be better to win a trade war sooner rather than later.
Finally there remains the question of how much the current political scene favors investment or not. Many U.S. observers reacted with dismay at the sights and sounds of the child-separation scheme unfolding at the Mexican border, and may feel it's hard to make solid bets on anything except for chip stocks and entertainment stocks while the country seems to be tearing itself apart.
Traders and investors realize the break-up of society, however distant in the future that may regrettably come, is terrible for their profits.
Bring on the new week.