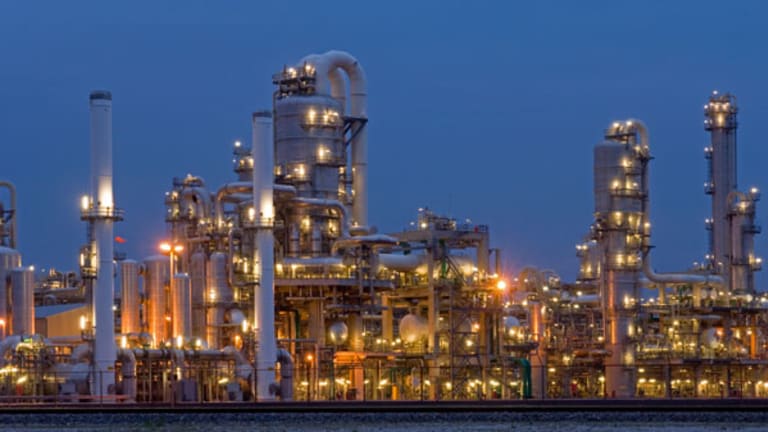 Publish date:
GE Earnings: The Battle Between Margins and Financial Engineering
GE is not your average needle-moving stock on earnings day with a story still seeking closure on the financial crisis impact.
GE is not your average needle-moving stock on earnings day with a story still seeking closure on the financial crisis impact.
NEW YORK (
) --
GE
(GE) - Get Report
is one of those market behemoths that defies the idea that earnings is a needle-moving event.
Think Big Oil stocks like
Exxon Mobil
(XOM) - Get Report
, or more generally big name stocks that tend to trade in a range for extended periods, and take longer to break out of those ranges than any one earnings report can accomplish, even if their meet, miss or beat of the bottom line gets plenty of headline attention.
When it comes to GE specifically, earnings is a battle between operating margins in the core industrial businesses, and the legacy of GE Capital.
It's been many quarters in a row now that investors have been left in limbo when it comes to the margin story for several key businesses, such as natural gas and wind turbines.
"We're almost at the exact same spot as we've been," said Morningstar analyst Daniel Holland. "They pitched margins as being strong this year on the back of not so robust growth. I expect to hear wind margins are getting better after bottoming out," the analyst said. The discussion of the bottoming in wind margins has lasted for more than a year, though. "Industrial margins last year were low for them," Holland said, down in all four of the core industrial businesses.
Holland takes the long view. "Strong top line growth quarter over quarter and operating margin improvement are good things, but are not the things that get me most excited."
Its GE's positioning in energy, health care, and aerospace, for example, and the growth expectations for these business and key geographic expansion into emerging markets, that will allow the rest of the financials to fall into line. "Over time, the trend in margins should be solid," Holland said, even if the short-term outlook remains cloudy.
Jack de Gan, principal and senior advisor at investment manager Harbor Advisory, said the impact of emerging markets expansion on growth should help to counter what will be lackluster global growth for GE on slowly improving margins. In a March presentation, GE officials said they expect margins to grow by 50 basis points per year for the next three years, which would bring the recently underperforming margins to a healthy level of 16.5% to 17%.
GE shares may decline if operating margins are not improved in the quarter -- as has happened in the recent past -- but a decline in GE shares from the top-end of its recent trading range wouldn't be near a panic situation, and might not even last the length of a trading session. The 52-week range for GE shares is roughly $14 to $21 and the stock is in the $19 range ahead of earnings, leaving some room for an initial knee-jerk reaction to the downside.
GE's big push into the oil and gas business -- with more than $10 billion in acquisitions in the past year -- will continue to receive scrutiny. Immelt took a lot of criticism for a string of health care acquisitions at high valuations in the past decade, and while energy fits within the GE long-term strategy, the recent buying spree may receive some criticism with the North American oil and gas market, in particular, experiencing margin compression. "It's a smart long-term investment, but Wall Street and traders may not give them a pass tomorrow," De Gan said.
Nevertheless, energy is a good place to show the movement by GE away from businesses that aren't in the core sweet spots targeted by CEO Jeff Immelt, such as the recently sold stake in NBC Universal, and GE Capital.
Immelt's grand plan has been to reorient and to de-risk, and make the capital business much more simple and safer and more a facilitator of GE industrial business, and de Gan noted, "They are moving in the right direction."
In October 2008, at the height of the financial crisis, GE raised $12 billion in capital, close to the amount it has spent on oil and gas acquisitions. GE diluted shareholders when the stock was in the low $20s at that point and shares have not been able to break above $22 since. In the fourth quarter, GE bought back Warren Buffett's convertibles, which was a milestone in moving past the financial crisis era lows for the company.
Still, that $22 mark is the share price line in the sand, which GE still stands $3 away from as it reports earnings.
"It's a sticking point. If nothing else, you would want to see GE repay that $10 billion to shareholders," Holland said.
In fact, there is only one surefire way that GE can generate a significant positive reaction to its earnings, and that is a matter of financial engineering, rather than slow and steady operating business improvement. The largest overhang on GE shares is the long waiting period for its GE Capital arm to return a dividend to the parent company.
"That's the drag. They can't pull more money out of that entity," Holland said. "GE Capital has been absorbing from the rest."
Once that does happen -- CEO Jeff Immelt has said it's a top priority for 2012 -- it disappears as an excuse for GE shares to not break out. A big stock buyback, likewise, would be the kind of financial trigger that can do more for GE shares than the slowly evolving core growth story and global positioning, but de Gan said he isn't holding his breath on a buyback.
GE, which currently trades at 15x trailing earnings, and 12.5X consensus Wall Street 2012 earnings, could trade at a much higher multiple afforded to industrial peers, as high as 22 times earnings, according to Holland, once this dynamic between GE Capital and its parent changes. De Gan said a multiple in line or slightly higher than the S&P 500 multiple would be more realistic, since GE is too sprawling and still linked to the bank universe through GE Capital to ever receive a true industrial pure-play margin.
This push-and-pull between core industrial businesses like turbines and the GE Capital story -- with financial recently responsible for a GE debt downgrade from Moody's -- results in the tepid eye with which the market views GE on earnings day.
"I'm never one to prognosticate GE stock movements," Holland said.
It's also wise for investors to not make too much of GE stock movement on an EPS headline of a penny beat or miss, which can be completely decided by tax and accounting issues. "My general sense is that the market is looking for GE to be more positive on the fundamentals," Holland said.
This view may be the right, but it's not a recipe that brings earnings excitement to life. "It has so many moving parts and that's the hard thing. I focus on the industrial margins and organic growth rate. It's the quality of earnings that moves the stock," de Gan said. Lack of earnings quality moved the stock down last quarter on earnings day, but it was a blip: shares are up 6.5% this year.
The analyst consensus for GE earnings is 33 cents per share on revenue of $34.7 billion.
-- Written by Eric Rosenbaum from New York.
>To contact the writer of this article, click here:
Eric Rosenbaum
.
>To follow the writer on Twitter, go to
.
Follow
TheStreet
on
and become a fan on