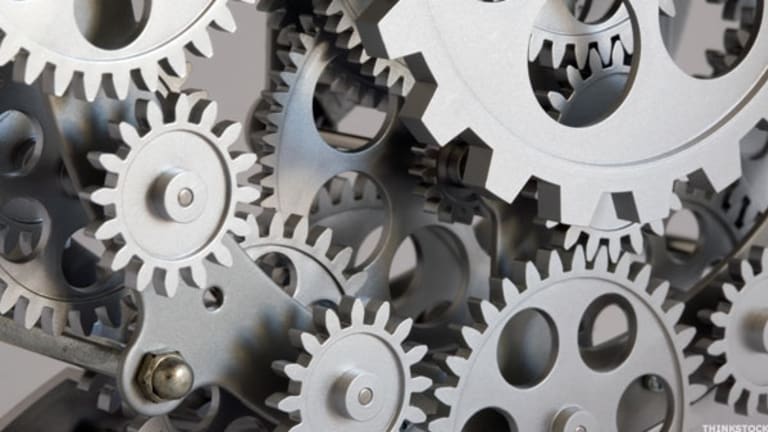 GE Dividend Expected to Rise: Reader Poll
TheStreet's readers weigh in.
NEW YORK (
) --
NEW YORK (
) --
General Electric
(GE)
's annual dividend could reach 80 cents per share in 2011, according to a
reader poll
by
TheStreet
.
More than 65% of readers who voted in the poll believe the annual dividend payout will rise to between 60 and 80 cents a share this year. Currently GE is on track to pay out 56 cents this year after announcing in December it would raise the dividend that gets paid Jan. 25. Sixteen percent of readers think the dividend could rise to between 80 cents and a dollar, and nearly 8% think it won't change. Five percent think it will fall, and about 6% see it rising higher than a dollar.
General Electric's dividend used to be a bedrock for investors -- something they could count on year in and year out. That changed with the financial crisis. General Electric cut its quarterly dividend to 10 cents from 31 cents in February 2009, roughly a month after Immelt had said the company planned to maintain it. That prompted an investor
lawsuit
.
The dividend cut was GE's first since 1938. Immelt later told
CNBC
that making the cut was "the toughest decision
he ever had to make as CEO."
But GE raised the dividend twice in 2010, with the last hike coming Dec. 10, when GE upped its quarterly dividend by 17% to 14 cents per share. That payout will not be made until Jan. 25, however.
Announcing the increase, Immelt cited "continued strong cash generation, accelerated recovery at GE Capital and solid underlying performance in our industrial businesses through year-end 2010."
Sterne Agee analyst Nick Heymann expects no further increase in General Electric's dividend until late this year, even though he characterizes General Electric's appeal to investors as "all about the divided."
"Assuming GE's dividend can be increased by potentially 50% from
$0.56 currently for 2012 (likely conditioned on the restoration of
the GE Capital dividend to the parent in 2012), the ability of a faster recovery in GE's dividend than EPS to be the primary fulcrum to a higher share price is likely to be exhausted by late 2011/early 2012," Heymann wrote in a Dec. 15 research report.
"At that point, investors will require greater clarity and precision on operating earnings growth to enable EPS (perhaps in late 2012 or 2013) to evolve as the principal driver of GE's share price."
For the time being, however, the dividend is key, Heymann believes, arguing "GE's yield will be the most significant influence on its share price over the next 12-18 months." He believes if GE's financial unit can resume paying a dividend to the parent company, it could allow a 50% increase in the dividend next year, driving shares to the mid-$20 range. According to that timeline, Heymann sees an annual dividend of 79 to 83 cents by "late 2011," he writes in his report.
The paradox for GE, according to Heymann, is that to meet this timeline, GE will rely heavily on an earnings rebound at its financial unit, something it has been trying to downplay to investors as it tries to sell itself as a company returning to its industrial roots.
"The quicker the recovery in
GE Capital's earnings, the more likely GE can raise its dividend but the more investors fret about the disproportionate share of GE's earnings derived from lower valued financial services," Heymann writes.
In addition to GE, several banks, including
U.S. Bancorp
(USB)
,
PNC Financial Services
(PNC)
,
JPMorgan Chase
(JPM)
,
Wells Fargo
(WFC)
are expected to begin raising dividends shortly after they get approval from the Federal Reserve.
Bank of America
(BAC)
also recently said it hopes to raise its dividend next year.
Citigroup
(C)
, in which the government still owns a stake, is expected to take longer than those institutions.
While GE did not receive a preferred equity investment from the government, it did receive other forms of government support extended to banks like such as a temporary guarantee of its debt issuance.
General Electric executives said little about the dividend during a conference call Friday to discuss fourth quarter earnings. The earnings beat expectations and appeared to impress analysts.
"Operations were stronger than expected across the portfolio," wrote Morgan Stanley analyst Scott Davis, in a note published Friday after the report came out.
--
Written by Dan Freed in New York
.
Disclosure: TheStreet's editorial policy prohibits staff editors, reporters and analysts from holding positions in any individual stocks.