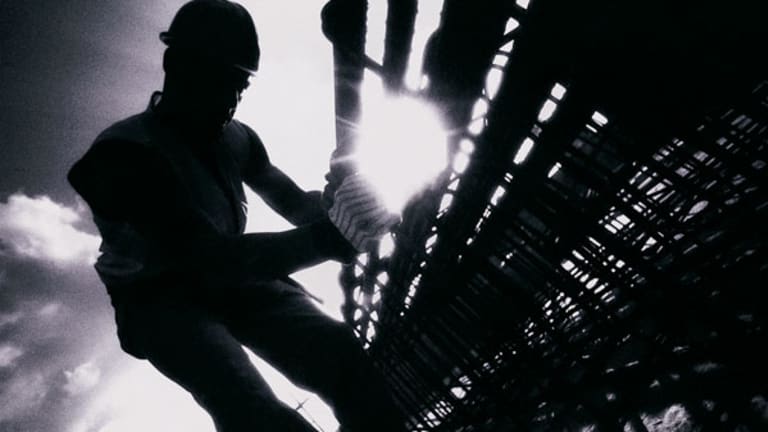 GE Dividend a Cause for Concern
General Electric is preparing to report fourth-quarter earnings Friday against the backdrop of mounting investor worries about its dividend.
Updated from 1:07 p.m. EST
General Electric
(GE) - Get Report
is preparing to report fourth-quarter earnings Friday against the backdrop of mounting investor worries about the capital levels of U.S. financial companies and concern about the conglomerate's dividend.
GE has said it will not take equity from the government, even as former financial blue chips like
Citigroup
(C) - Get Report
AIG
(AIG) - Get Report
and
Bank of America
(BAC) - Get Report
come back for second helpings of funds from the $700 million federal bailout approved by Congress in October.
The Dow Jones component also said it will not increase its dividend for the first time in more than 30 years, but it insists it will not cut it.
The two issues are most likely intertwined. Taking money from the government would be especially risky for GE, because it could lead to political pressure on its quarterly payout. And cutting its dividend could be especially costly, since GE estimates about 40% of its shareholders are retail investors.
Nicholas Heymann, analyst with Sterne Agee, estimates GE raises $4 billion to $5 billion annually through reinvestment of its dividend -- an amount that could be threatened if retail investors lose their dividend.
"That will probably start to recede rather than increase as a source of cash flow," Heyman says.
This is no doubt in the minds of GE officials when they say they don't need government capital. The original rules of the federal Troubled Asset Relief Program, or TARP, prohibit banks from increasing their dividends, but
for banks who received a government investment to make any kind of a payout. The speed with which companies like
Citi
and
went through the first $350 billion of the $700 billion bailout legislation has been shocking to many, leading to a major selloff in equity markets last week.
How GE has managed to avoid tapping government funds is a puzzle to some. While it raised $12 billion in common stock in October on the back of a $3 billion sale of preferred stock to
Berkshire Hathaway
(BRK.A) - Get Report
, even
Goldman Sachs
(GS) - Get Report
-- another recent addition to Warren Buffet's portfolio -- received $10 billion through TARP.
One reason GE may be better shape than other U.S. lenders is the business model followed by its finance unit, GE Capital.
"What's really hurting the U.S. banks is the U.S. consumer, but
GE Capital's commercial business is significantly bigger than its consumer business and less than a quarter of its consumer business is U.S. based, so the profile is very different and it's stood them in good stead in this period," says Standard & Poor's analyst Scott Sprinzen.
Still, S&P downgraded its rating outlook for GE to negative from stable last month, increasing the chance the company could lose its triple-A rating. The rating agency cited "the potential for a sharp increase in losses" at GE Capital, as the troubled economy hits key customer and geographic segments for the business unit. That would be a serious problem for GE, which relies on the rating to be able to borrow and lend more cheaply than its competition.
Sterne Agee's Heymann believes a downgrade is inevitable. He cites a report from Moody's Investors Service in December, which says the triple-A rating hinges in part on the assumption that cash flow from operations in GE's industrial business will exceed $16 billion in 2010. However, Heyman points out that GE projects that this number will reach just $13 to $14 billion in 2009, a number he argues is inflated by about $4 billion this year, due to deposits forfeited by customers who canceled orders they had made well in advance.
Compounding this is the fact that ratings agencies are under pressure for moving too slowly to downgrade a host of issuers. Their excessive leniency has been singled out by many market observers as one of the root causes of the credit crisis. In a recent
New York Times
editorial, hedge fund manager David Einhorn and noted Wall Street chronicler Michael Lewis openly mocked GE's triple-A rating.
"You wonder sometimes if the triple-A rating isn't sort of like the All-Star or Pro Bowl selections. Sometimes it can be based more on reputation than actual merits," says William Batcheller, director of investment management at Butler, Wick & Co., which owns GE shares.
S&P says in reports that GE Capital's triple-A rating depends on its backing from the industrial unit, which has a "minimally leveraged balance sheet" and "significant cash flow and liquidity." Still, GE Capital has had to reduce leverage, and will exit certain businesses. Last week, GE unit
CNBC
reported GE Capital would cut between 7,000 and 11,000 of its 75,000 jobs. GE has not confirmed those numbers and an email message from
TheStreet.com
to a GE spokesman was not returned.
GE's woes are not restricted to its financial unit. Its NBC Universal division is grappling with dwindling audiences for network television, amid other challenges to the media industry. Vivendi has written down its 20% stake in the venture, but GE has said it has no plans to do so.
Batcheller also expects weakness in GE's industrial businesses, pointing to job cuts at GE's jet engine manufacturing unit, GE Aviation, in Cincinnati.
Nonetheless, Batcheller believes GE will hit its earnings target, albeit at the low end. And he thinks the triple-A rating and the dividend are safe, though he acknowledges that "there is a little more hope in that statement than I'd like."
If he is wrong, he will likely look for a way to exit the investment, though he realizes he will likely be doing so amid a new downward spiral in GE's shares .
"I try not to sell on massive down days, but at that point you're not going to get much of a bounce," he says.
GE shares closed up 3.5% to $13.48 on heavy volume Thursday.