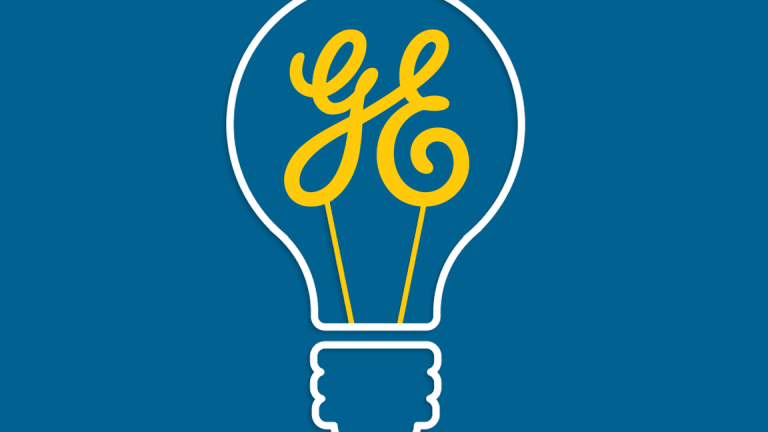 GE CEO Leaves It All on the Field to Prevent Next Major Stock Rout
General Electric CEO John Flannery is doing all he can to jump-start the industrial giant's stock.
Slow news day, so here is some flash analysis: Donald Trump is fit (according to the White House doctor) despite a steady diet of 500-calorie Big Macs. Now would be a great time for McDonald's (MCD) - Get Report to market the Big Mac's health properties; maybe it will pump up the stock another 25%. Other than that, slow news day so far on Wednesday. Here is some random analysis from my perch: (1) General Electric (GE) - Get Report CEO John Flannery did his best job Tuesday to put a floor under the stock with talk of a breakup. The problem with that is now he will have to deliver on it by the end of the year (meaning detailed plan by mid-year), or risk a shareholder revolt/possible pressure from board member Trian. My guess is that this breakup process will take longer than expected given GE's size, so investors looking to play Flannery's comments long may want to relax a bit. Here are some thoughts on GE from the Action Alerts Plus team; (2) Automakers from Ford (F) - Get Report to General Motors (GM) - Get Report have warned at this week's Detroit Auto Show of a profit hit from rising materials costs. Steel has rallied pretty hard since spring 2017, hence the warnings make sense. Obvious way to trade this near-term sentiment is through steelmakers such as U.S. Steel (X) - Get Report . 
What CEOs are telling me: Was in the trenches the last week picking the brains of CEOs on what they expect for the year ahead. Some thoughts worth sharing: (1) Wendy's (WEN) - Get Report CEO Todd Penegor told me to expect a major mobile ordering and delivery push this year in a bid to ignite even faster sales growth. Penegor also said Wendy's could soon decide what to do with its stake in Arby's (worth a nice chunk of coin after Arby's bought Buffalo Wild Wings). Thinking stock buyback and dividend hike here. Domino's (DPZ) - Get Report retiring CEO Patrick Doyle said he thinks within 10 years we could see driverless cars delivering pizza. He told me this on the phone and I immediately thought autonomous car play and Action Alerts Plus holding Nvidia (NVDA) - Get Report will be a big winner. Chatted with Lamborghini's Chairman and CEO Stefano Domenicali on Tuesday afternoon. He was obviously bullish on the supercar industry in light of the stock market's advance. It was also interesting to see him downplay the threat of Tesla's (TSLA) - Get Report upcoming Roadster (I agree with him here -- can't compare a Lambo driving experience or prestige to a Tesla Roadster). 
Bitcoin prices get crushed: Not a single bitcoin expert pitch in my inbox over the last two weeks. It's as if all the phonies have vanished after hyping bitcoin only to see it plunge to around $10,000. In hindsight, their disappearance should have sent alarms bell off in my head. Here is everything you need to know on the bitcoin rout via TheStreet's Martin Baccardax.
What's Hot
Lambos
Full interview coming, but here is a preview of my chat with Lamborghini's CEO.
More of What's Trending on TheStreet: