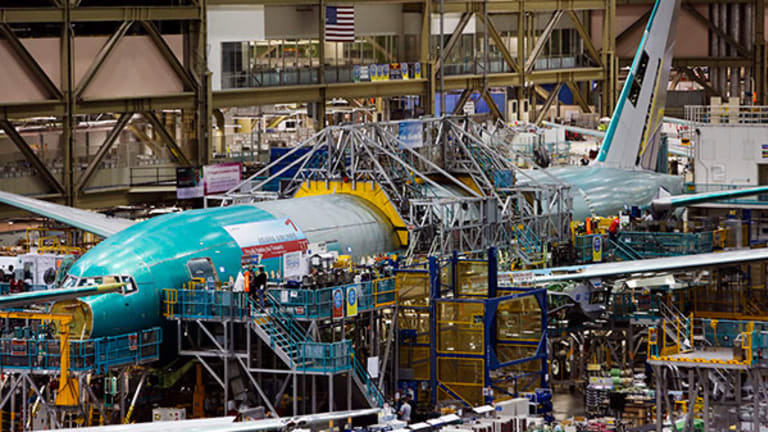 For General Electric, Jam-Packed Airline Flights Have a $33 Billion Upside
Accounting for 34% of total sales, the jet-making business is a comparative bright spot for GE, which is grappling with weaker markets for its oil- and gas-production equipment and locomotives
Few U.S. travelers thrill to the dulcet tones of a flight attendant announcing that their aircraft is completely full.
It means a less comfortable trip, more difficulty getting to the lavatory and considerably higher chances of a close encounter with your seatmate's meal, personal belongings or both.
But fuller airplanes and an increasing number of commercial flights -- they're likely to rise 5% this year to 37.5 million worldwide, according to an industry lobbying group -- are music to the ears of carriers and their suppliers, like General Electric Co. (GE) - Get General Electric Company Report
The Boston-based conglomerate produces the engines used on two out of every three commercial flights worldwide, either from its own plants or those of its joint ventures, GE Aviation chief David Joyce said at a Morgan Stanley conference on Thursday, Sept. 14. The division has a backlog of engine orders worth $33 billion, and 39,000 of its power plants will be in use on commercial planes by year end, an 18% increase from 2016.
"This is a great market," Joyce said, and its strength is based on consumer demand. With an average of 81% of seats filled on each flight, according to the International Air Transport Association, airlines aren't flying empty planes.
"You all know," Joyce said, "how many times you get to an airport, and how crowded your airplane is when you get on it, and how many times you hear them say, 'Five of you please, please, come up here for a free dinner and a night out on the town to give us back your tickets, because we've overbooked.'"
That's helped drive "unprecedented" revenue growth, which averaged 8% a year for the past 10 years, Joyce added. "We expect a strong showing for GE Aviation in 2017, coming off of good years in 2015 and 2016."
Indeed, GE has 14,000 outstanding orders just for its more fuel-efficient LEAP engine, used on single-aisle aircraft like the Airbus A320neo and the Boeing 737MAX that are the industry's workhorses.
Airline buyers, typically presented with options for an engine supplier when they agree to purchase a plane, "are looking for the best technology, both in terms of durability as well as fuel burn and in terms of utilization of the equipment, which is really important, especially in a narrow-body," Joyce said. "How many hours a day these airplanes are in flight with people in the seats is incredibly important for the customers' value proposition."
While GE's in the midst of a steep production increase for the LEAP, one of its newest engine models, Joyce said he expects no problems meeting increased demand for the GEnx engine from Boeing Co. (BA) - Get Boeing Company Report . The planemaker confirmed on Wednesday that it's boosting output of its twin-aisle 787 Dreamliner by 17% to 14 a month in 2019.
"We're a leader in share right now" on the 787, which also offers an engine from Rolls-Royce Holdings Plc (RYCEY) , Joyce said. "The GEnx is working really well."
The GE Aviation team remains in "very close contact with Boeing on all of their production plans, both in terms of the 737MAX as well as the 787," he added. "Those conversations are hourly, not daily.
Accounting for 34% of GE's total sales, the jet-making business is a comparative bright spot for the digital manufacturing company, which is grappling with weaker markets for its oil- and gas-production equipment and locomotives.
Revenue at the unit rose 4% during the first half of the year, and its profit of $13.3 billion was the highest of any of GE's manufacturing divisions.
While new CEO John Flannery's promise to evaluate GE's portfolio of business -- amid heightened concern about the company's cash flow -- has prompted speculation about which ones might be sold, the aviation unit has consistently been viewed by analysts as a keeper.
It's unclear whether Flannery's November update for investors "will include any formal announcements on portfolio change, or just some high level color on what the new CEO sees as a good/bad business, though the message here is that power and aviation are core," JPMorgan Chase & Co. analyst Stephen Tusa said in a note to clients last week.
Meanwhile, Chairman Jeffrey Immelt, who served as CEO from September 2001 through July, has assured investors that cash flow from manufacturing will improve in the remainder of the year, although GE has a $200 million deficit from the first half to overcome before building toward its target of at least $12 billion.
The company's shares have dropped 10% to $24.20 since the end of June, lagging behind a 3% gain on the broader S&P 500.
Reaching the 2017 target would require performance in the six months through December much like last year's, when GE generated about $11 billion in the second half, CFO Jeff Bornstein said in a July interview.
About $4 billion in working capital should be converted to cash this year, as GE ships products to customers and books revenue, and earnings will increase amid higher volumes coupled with lower costs, he said.
General Elecrtric is a holding in Jim Cramer's Action Alerts PLUS charitable trust portfolio. Want to be alerted before Cramer and the AAP team buy or sell the stock? Learn more now.
Updated from 1:41 p.m. on Thursday, Sept. 14, 2017.
More of What's Trending on TheStreet: