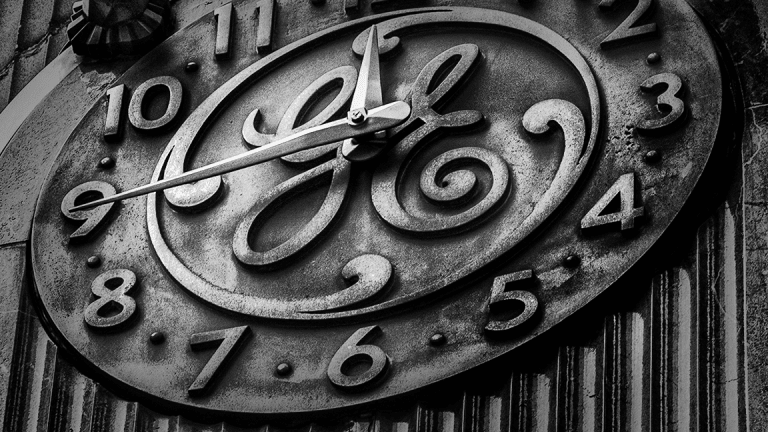 'Things Will Not Stay the Same at GE,' New CEO Vows After Dismal Earnings
General Electric cut its profit target for 2017 to a range of $1.05 to $1.10 from a previous projection of $1.60 to $1.70.
General Electric Co. (GE)  CEO John Flannery said cost cuts and shifts within the power business will pay off in 2018 after the division's declining third-quarter sales dragged companywide earnings far lower than Wall Street expected
Profit of 29 cents a share from industrial businesses and lending operations that the Boston-based conglomerate plans to keep compared with the 49-cent average estimate from analysts surveyed by FactSet. Net income dropped 10% to $1.8 billion, and GE cut the top end of its profit target by 35% to $1.10 while halving its full-year industrial cash flow goal to $7 billion.
"Our results are unacceptable to say the least," Flannery told investors on an earnings call on Friday, Oct. 20. "While the company has many areas of strength, we need to make some major changes with urgency and depth of purpose."
GE's total earnings miss, coupled with lower industrial cash than projected, followed three months of rapid change as the new CEO conducted a thorough evaluation of the company's disparate portfolio before outlining his strategy for investors in November.
Under pressure from shareholders including activist Trian Partners to bolster profits and cash flow, Flannery has already slashed executive perks from company cars to the use of corporate jets and pledged further cuts including to the manufacturer's new headquarters in Boston.
His predecessor, Jeffrey Immelt, who was scheduled to remain chairman until the end of the year, left three months early and GE has since announced the departure of three of his top lieutenants, including CFO Jeff Bornstein.
The finance chief's departure, in particular, fueled speculation that GE would cut a 2018 profit target of $2 a share more deeply than originally expected, especially since Flannery had described the 52-year-old as a partner in his turnaround efforts.
"I always thought it was untenable that Bornstein could be the guy that could explain what used to be $2 to some lower number," Jeff Sprague, an analyst with Vertical Research Partners, said in a telephone interview before the earnings report. "The bigger that gap is, the harder the explaining is going to be."
Another noteworthy development was the company's decision to appoint Trian's chief investment officer, Ed Garden, to its board -- a move Flannery said would foster more "robust" dialogue among directors. 
"That's something I look forward to," he said. "Things will not stay the same at GE."
The company's shares rose 1.1% to $23.83 at the close of trading Friday, wiping out losses earlier in the day. GE previously slid 7.9% since Flannery took over on Aug. 1, and its performance was the third worst on the blue-chip Dow Jones Industrial Average in that period.
"Look, sometimes in life you have to be harsh," said TheStreet's Jim Cramer, whose Action Alerts PLUS charitable trust holds GE stock: Friday's earnings numbers were "terrible."
Still, Cramer said he's confident that Flannery will make the necessary changes. 
"I am very glad he came forward and was tougher than I am about what happened with that previous regime," he said. "Now we can go forward with a company that was once a great American company and put it back together again."
Cash from manufacturing operations, a key measure for investors, was $1.74 billion during the three months through September. Since GE was nearly $200 million in the red on that measure at the end of June, its year-to-date total is now $1.58 billion, far short of the $12 billion to $14 billion it projected for 2017.
The smaller cash target announced on Friday, meanwhile, is $1 billion less than the year's $8 billion dividend. Flannery didn't specify how that would affect the payout in the immediate future, a question that remains one of the most important to investors, Nicholas Heymann, an analyst with William Blair, said in a note to clients.
The answer hinges on whether cash flow can ultimately be restored to roughly twice this year's level, he added.
While Flannery is optimistic about boosting cash flow, he didn't specify a target.
"The 2017 number of $7 billion of cash flow is not a ZIP code we're going to remain in," he told investors. "We expect that to improve substantially."
The changes Flannery is leading "are focused on improving the cash generation of the company," the CEO added. "We have to manage the company for cash and profitability in addition to growth."
Industrial cash flow was down largely because of declining volume in the power business, which resulted in lower earnings and higher inventory, Flannery said.
Revenue in the unit, which includes the operations purchased from Alstom SA in GE's largest manufacturing deal, sank 4% to $8.7 billion despite lucrative steam-power sales and a nuclear services agreement in China. A new power business chief, Russell Stokes, was appointed in June after Steve Bolze retired. 
"It's an inherently good franchise in a tough market, and we can run this better," Flannery said. ""We just fundamentally did not see the change in the market and we kept an open-throttle position, if you will, and did not take enough cost out quickly, and we've been left with inventory that was overly optimistic."
Updated from 6:53 a.m. ET on Friday, Oct. 20, 2017.
Which of GE's businesses are on the chopping block?
More of What's Trending on TheStreet: