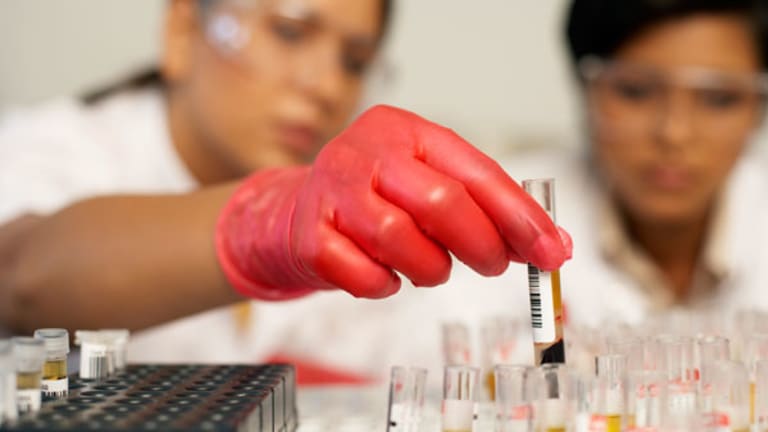 Gauging the Health of a Drugmaker
Sinovac, a China-based biopharmaceutical company, deserves a look despite its highly speculative nature.
Sinovac, a China-based biopharmaceutical company, deserves a look despite its highly speculative nature.
Editor's note: This is a Breakout Stocks alert that was originally published on Sept. 15, and is being republished for readers of TheStreet.com. For information on a free trial to Breakout Stocks, please click here.
We want to share with our readers an intriguing idea that we discovered in the process of conducting our ongoing research. In highlighting this stock, we wish to provide readers an interesting name, to show that we leave no stones unturned while searching for new investments, and to offer some insight into how the Breakout Stocks model portfolio is run.
Sinovac Biotech
(SVA) - Get Report
is a China-based biopharmaceutical company that focuses on vaccines. The company's commercialized vaccines include Healive, which targets hepatitis A; Bilive, which targets both hepatitis A and B; Anflu, which targets seasonal influenza; and Panflu, which targets H5N1 -- also known as "bird flu" -- and was modified for H1N1, commonly called "swine flu."
Normally we approach China-based securities with trepidation, as communications with management and full financial disclosures are not always easy to come by. Currently, Sinovac is not covered by any Wall Street analysts that we can find. Given all this, we consider Sinovac to be an attractive but highly speculative play. In fact, if we were to rate its speculative qualities on a scale of one to 10, with 10 being the most speculative, Sinovac ranks as a 10.
Sinovac's level of quality doesn't compare with that of our model portfolio holdings, which consist of high-grade companies that have identifiable growth catalysts. We were therefore faced with a common quandary of portfolio managers: Do we recommend a spec stock -- one that will have "sizzle but (maybe) no steak" down the road -- to our readers? This stock could break out, but does it live up to the high standards we have set for our portfolio? The answer to each of those questions is "No." That said, however, we felt it would be imprudent not to share some of our work with readers. If we had the equivalent of a slot for a "super spec" stock in the model portfolio, we would recommend Sinovac under that guise.
Among Sinovac's positive attributes is the fact that it has received orders for 5 million doses of its H1N1 vaccine from the Chinese central government and the Beijing Center for Disease Control and Prevention. Also, during its second-quarter earnings call in August, the company indicated that its previous full-year 2009 guidance (projecting sales of $55 million to $60 million) would prove to be too light. In 2008, reported sales totaled $46.5 million. The company appears to be sitting on a solid, profitable core franchise and now has some exciting upside potential from its H1N1 vaccine. Furthermore, it reported a gross margin of around 80% for the first half of the year, as well as impressive second-quarter operating income of $10.7 million. Net income in the quarter was $5.8 million on revenue of $20 million.
We wanted to find out more about Sinovac's production capacity and margin attributes by product in order to try and triangulate where the sales numbers could go. Unfortunately, we are currently unable to get the answers to a multitude of our questions about this name, though we are scheduled to meet with management next week while they are in New York for the UBS Global Life Sciences Conference. According to a company spokesman, the management team hasn't been in the U.S. since January, and the combination of H1N1 hype, a Wall Street visit, and a lack of analyst coverage could likely combine to form a catalyst for a near-term trading event.
Accordingly, we are putting the stock on our radar screen, and we will update readers if we gain additional insights and comfort following our meeting. If this was a U.S. company on which we could get better information, perhaps it would be appropriate for the Breakout Stocks portfolio at this time. For now, however, we are taking a pass. Readers who are interested in a high-quality play on swine flu should take a look at
, where Jim Cramer and his team have provided a great deal of insight on
Gilead Sciences
(GILD) - Get Report
.
In keeping with TSC's editorial policy, Bryan Ashenberg doesn't own or short individual stocks. He also doesn't invest in hedge funds or other private investment partnerships. He appreciates your feedback;
to send him an email.