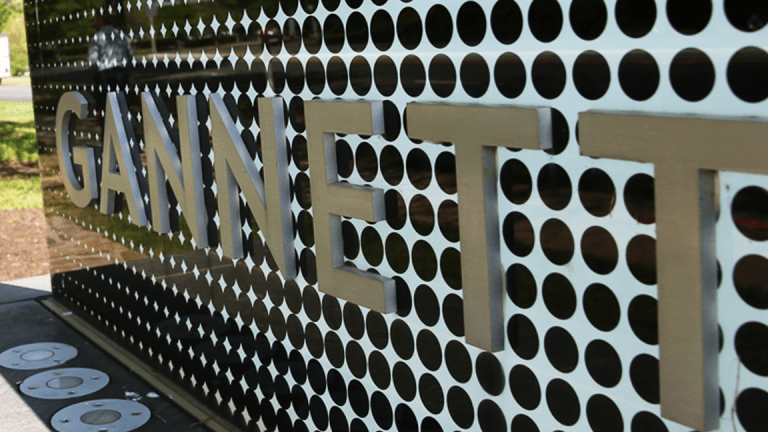 GateHouse Media Parent to Buy Gannett for $1.4 Billion in Cash and Stock
The combined company should enable up to $300 million a year of cost cuts.
New Media Investment Group (NEWM) , the parent of GateHouse Media, definitively agreed to acquire Gannett (GCI) , bringing together the two top U.S. newspaper publishers, in a deal valued at around $1.4 billion.
In a Monday statement, the companies said New Media, New York, would pay $6.25 cash and 0.5427 share for each Gannett share. That total value is $12.06 based on the New Media closing price on Friday.
The companies said that the deal price was a premium of 18% to the five-day volume-weighted average of Gannett shares as of that date.
On Monday Gannett shares rose 2.7% to $11.04. New Media shares fell 7.6% to $9.89.
The deal gives Gannett holders 49.5% and New Media holders 50.5% of the new company.
Gannett, based in McLean, Va., "found in New Media a strong partner and cultural fit ... as we continue delivering on a shared commitment to journalistic excellence for the communities we serve," Gannett Chairman J. Jeffry Louis said in a statement.
The companies said they expected the merger to realize run-rate cost synergies of $275 million to $300 million a year "in a judicious manner while continuing to invest in newsrooms."
The majority of those cost cuts, they said, should be realized within two years of the deal's closing.
The merger will "accelerate the combined company's digital transformation," the companies' statement said.
That's in line with the print newspaper industry's collapse in the 2000s. The Wall Street Journal quoted Penelope Abernathy, a professor at the University of North Carolina at Chapel Hill's School of Media and Journalism, as saying that more than 2,100 newspapers closed from 2004 through June 2019.
Including its flagship, USA Today, Gannett operates 109 local media organizations in 34 states and Guam, more than 160 local news brands online in the U.K., and ReachLocal, a digital marketing company.
New Media's website says that in 39 U.S. states the company publishes 156 daily and 328 weekly newspapers. New Media is managed by Fortress Investment Group, which in turn is an affiliate of the giant Japanese investor Softbank.
Michael Reed, chairman and CEO of New Media, will lead the combined company.
Paul Bascobert, an executive whose background includes tenures at Bloomberg and Dow Jones, was named CEO of Gannett and of the combined company's operating subsidiary.
Alison Engel, Gannett's chief financial officer, will take that post at the combined company.
New Media expects to fund the deal with cash on hand plus a new five-year $1.79 billion term loan provided by the private equity firm Apollo Global Management.
The boards of both companies have approved the deal. And the companies expect to close the combination this year, subject to conditions including regulatory clearances and votes of the shareholders of both companies.