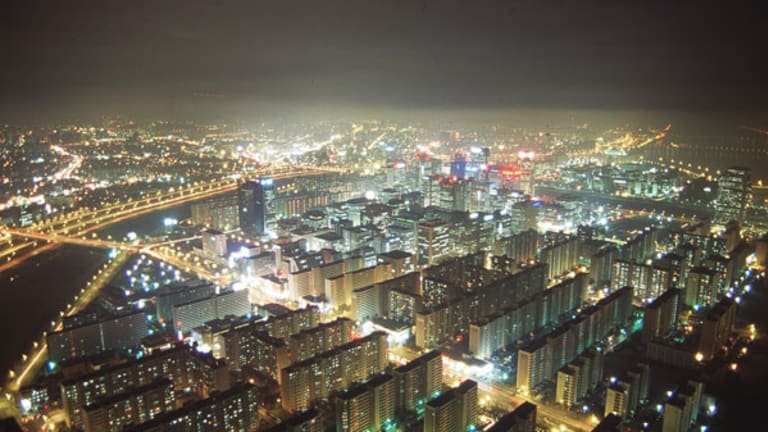 Gas Prices Are Out of (Your) Control
Iran, Syria, Sudan cause a weekly gas price spike, proving once again that gas prices aren't out of control, just out of your control specifically.
NEW YORK (
) -- If you think that gas prices are out of control, think again. At less than $4 a gallon nationally -- and during the summer, no less -- Americans are like the pampered gas guzzler of the Western world.
Try the U.K., where the most recent weekly rate for gas was $7.79, or the Netherlands, where the price of gas now tops $8.
It's good to be an oil-producing country, but even with the U.S. profile as an oil producer on the rise -- "The Middle East of the 21st Century," as the rhetoric now goes, thanks to fracking -- other countries retain far greater influence over the ups and downs in the pain at the pump.
No, gas prices aren't out of control compared with the rest of the world, however, the past week's action in gas prices does show that gas prices remain out of your control, specifically. A spike often has nothing to do with actual consumption, little to do with dynamics in the oil market supply chain, but amounts to much ado about geopolitical risks dominating the headlines.
According to the most recent
MasterCard/SpendingPulse survey, year-on-year demand for gasoline was down 4.4% from June 2011 to June 2012. Gasoline demand was down 3.2% from the year-ago level, according to the most recent
U.S. Energy Information Administration
weekly data, through July 23. U.S. crude oil inventory went higher in the past week, a surprise to the market, and the EIA reported that the level of domestic oil production hit its highest level since 1999. Meanwhile, a shorter-term Mastercard gauge reveals that demand is down even more, at 4.6%, over the past four weeks.
None of this suggests a surge in demand causing an inevitable spike upward in the price of gas, yet oil prices rose for the third straight week due to geopolitical tension in Iran and Syria, and because of supply problems coming out of oil-rich Sudan. Those factors are beyond the control of American consumers, but they are big influences over the price of gasoline.
The worst fears of a summer that would find gas prices rising above $5 never came to pass, with the dour economic mood leading up to summer clobbering oil prices, but the momentum has shifted again. After rising by only two cents the week before, U.S. gas prices surged from $3.43 per gallon to $3.49 per gallon in the week ended July 23,
according to EIA data, driven largely by a continued climb in crude oil prices, once again above $90 per barrel.
That impact is taking its toll on U.S. consumers.
Take Long Island, where drivers were paying $3.63 per gallon on July 3. Two weeks later, that figure had risen to $3.88 per gallon, making it harder to fill that tank and get to work in New York City, or to load up the family for a day at the beach.
As far as U.S. gas prices on a regional basis, the last week could be dubbed a "Rocky Mountain Low." Only one U.S. region experienced declining gas prices in the most recent week, the Rocky Mountain region, where a drop of two cents in the price of gas to $3.49 represented a week over week decline of 0.016%.
The Gulf Coast experienced the biggest gas price spike -- though it still has the lowest average price among U.S. regions -- with an increase from $3.20 to $3.29.
On the East Coast, gas prices rose from $3.41 to $3.49, a penny behind the Gulf Coast increase. In the Midwest, gas prices rose by six cents to $3.48.
In the home of the nation's highest gas prices -- in the continguous 48 states, at least -- the West Coast experienced an increase from $3.67 to $3.71 in the most recent week.
Another factor inflating gas prices right now is an emerging trend among U.S. energy companies to close down refineries, which has resulted in a short-term boost in the cost of refining and moving gasoline into the U.S., and getting the commodity to consumers. Increasingly, intergrated oil and gas companies view refineries as a difficult long-term profit proposition, and are scuttling existing refineries, reorganizing refining operations, and looking for partnerships.
Among recent examples,
Delta Airlines
(DAL) - Get Free Report
and private equity giant
Carlyle Group
(CG) - Get Free Report
purchased East Coast refineries from oil and gas companies, while
ConocoPhillips
(COP) - Get Free Report
and
Marathon Oil
(MRO) - Get Free Report
split off refining and marketing businesses into separate publicly traded companise from their exploration and production. Delta acquired ConocoPhillips' Trainor facility, which was in danger of being shut down.
That shakeup in the refining sector will take time, and meanwhile, the refinery issue has helped drive up the cost of gasoline for U.S. providers, and for U.S. drivers.
Gas prices could continue to inch upward in August, and the bullish stock market action to end the week, with European bailout commentary causing the Dow to move back over 13,000 for the first time since May, is a bullish indicator for oil as well.
Add to these factors the continued chatter over a potential third round of Federal Reserve quantitative easing, which always triggers a bullish oil trade, and the trend line is up -- just reported second quarter U.S. growth of 1.5% was slightly better than the "bad" 1.4% expected by economists, yet between better and bad, the slow growth still doesn't necessarily make a convincing case for QE3.
The action shouldn't get out of control -- barring a macroeconomic meltdown causing prices to crash again or a major supply disruption sending prices back towards or even above $100 -- but that doesn't mean gas prices are any more under your control than they've ever been, even if you've downgraded from the Escalade to the Prius.
More on gas prices:
10 myths about saving money on gas
Single best tip to beat high gas prices
14 ways to fight back again gas prices
--By Brian O'Connell
Follow
TheStreet
on
and become a fan on