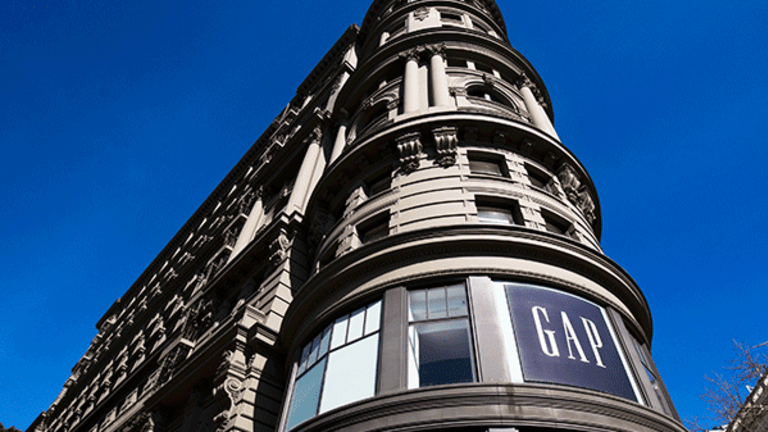 Why You May Not Be Able to Shop Inside a Gap Store Soon
The retailer will shut down 200 underperforming Gap and Banana Republic locations and add 270 Old Navy and Athleta stores.
Gap Inc. (GPS) - Get Report is taking steps to avoid the retail doldrums that have plagued its competitors.
At the Goldman Sachs Retailing Conference on Wednesday, Sept. 6, Gap outlined plans to double down on its Old Navy and Athleta brands, while scaling back its Gap and Banana Republic brands. Old Navy's net sales are expected to exceed $10 billion "in the next few years," while Athleta is expected to hit $1 billion, "driven by growth in online and mobile channels, U.S. store expansion, and continued market share leadership in loyalty categories," the company said.
To that end, Gap will close 200 "underperforming" Gap and Banana Republic stores and add 270 new Old Navy and Athleta stores through 2020, while increasing its online presence. The closures represent about 10% of Gap and Banana Republic locations. During the same period, Gap expects to achieve $500 million in expense savings, a portion of which will be reinvested in these "growth initiatives."
"This is an industry that is not historically rewarded scale and leverage," Gap CEO Arthur Peck told analysts at the conference. "As we watch the industry, it is in the process of consolidating, part of the consolidation push is the fact that scale and leverage matters. And we are partway through fully leveraging that, but we have a long way to go and a lot of opportunity in front of us."
When Gap reported second-quarter earnings on Aug. 17, the New York retailer revealed that Old Navy same-store sales were up 5% year over year, while Gap sales fell 1% and Banana Republic sales dropped 5%. All those were improvements from the second quarter of 2016, however, when sales were flat, down 3% and down 9%, respectively. Peck referred to Old Navy as "obviously the very important horse pulling the cart right now inside of this company."
Under consideration on the digital end, Peck said, is a new credit card loyalty program and a Baby Gap subscription service. Gap's e-commerce sales will top $3 billion this year, and Peck earmarked $750 million "over the next few years" for further investment.
Gap's retrenchment comes as the retail sector grapples with waves of store closures, bankruptcies and upheaval. CNBC reported Wednesday, for instance, that Toys R Us has added a top law firm to its restructuring efforts and may soon file for bankruptcy protection.
Gap shares closed Wednesday at $25.82, up 7.5%, and were down 1.2% to $25.50 in premarket trading on Thursday, Sept. 7.
More of What's Trending on TheStreet: