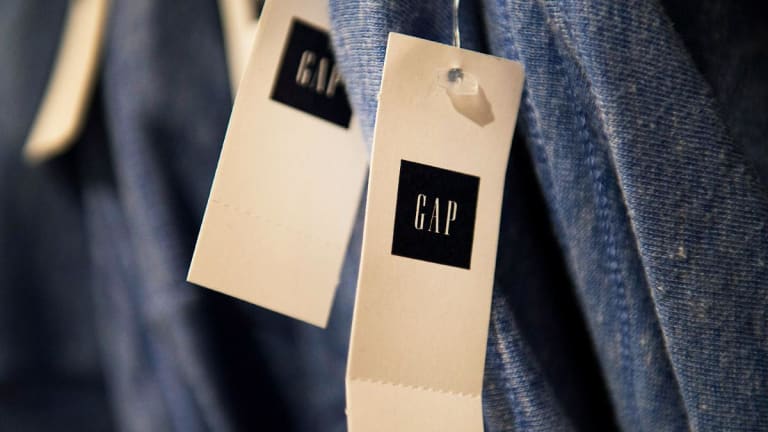 Gap Stock Soars After-Hours After Firm Says It Will Split Into 2 Companies
Company plans to turn Old Navy into a separate publicly traded firm.
Gap Inc.  (GPS) - Get Gap, Inc. (GPS) Report  soared in after-hours trading Thursday after the clothing retailer announced plans to cut some 200 stores and split into two publicly traded companies -- one for Old Navy and the other for Gap, Banana Republic and other brands.
"Following a comprehensive review by the Gap board of directors, it's clear that Old Navy's business model and customers have increasingly diverged from our specialty brands over time, and each company now requires a different strategy to thrive moving forward," board Chairman Robert Fisher said in a statement announcing the move.
"Recognizing that, we determined that pursuing a separation is the most compelling path forward for our brands -- creating two separate companies with distinct financial profiles, tailored operating priorities and unique capital-allocation strategies, both well positioned to achieve their strategic goals and create significant value for our customers, employees and shareholders," Fisher said.
Gap plans to separate the two companies through a tax-free spin-off -- a stand-alone Old Navy and a second company that it's referring to as "Newco" for now. Current Gap shareholders will get stock in each firm once the split happens, likely in 2020.
Art Peck, who currently serves as president and CEO of the overall company, will head Newco. That entity will include the Gap, Banana Republic and Intermix brands and boast approximately $9 billion in annual revenues. "Today's spin-off announcement enables us to [create] two stand-alone companies, each with a sharpened strategic focus and tailored operating structure," Peck said. "As a result, both companies will be well positioned to capitalize on their respective opportunities and act decisively in an evolving retail environment."
Sonia Syngal, who currently serves as president and CEO of the Old Navy business, will continue to head that operation once it becomes a stand-alone company. Old Navy currently has some $8 billion of annual revenues.
Separately, the company announced plans to close about 230 stores over the next two years. Gap said the move will cost about $250 million to $300 million and reduce sales by some $625 million, but will result in about $90 million in annualized pretax savings.
The break-up announcement also came along with the retailer's latest quarterly earnings, which were a mixed bag. Gap reported that it earned 72 cents per share during its fiscal fourth quarter, up 38% from a year ago and ahead of the 69 cents that Wall Street had expected. However, revenues fell 3% year over year to $4.62 billion, missing analyst expectations of $4.7 billion.
All of the developments sent Gap shares soaring more than 25% in after-hours trading, although they later pulled back a bit. GPS was trading at $31.01 at 5:30 p.m. ET, up some 22%. That's a nice change of pace for Gap, whose stock had lost some 20% over the past year and 40% since 2014.
But Moody's analyst Christina Boni was less enthusiastic. "Although the proposed spin-off at Old Navy will enable a sharpened strategic focus on its business priorities, it reduces the diversification the brand provides to the overall entity," she said. 
(This story has been updated.)