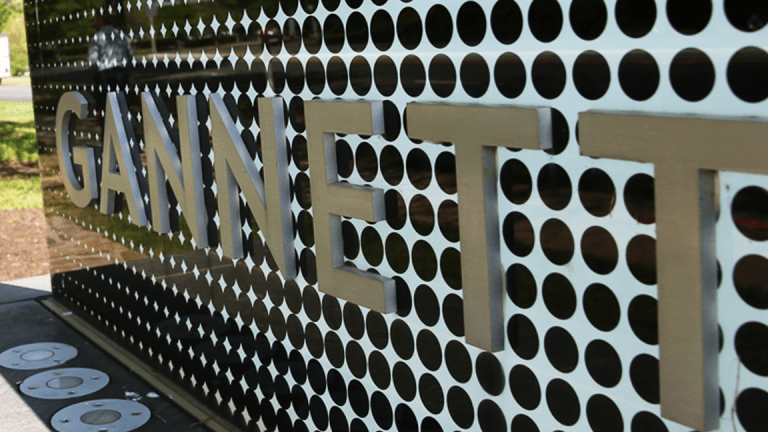 Gannett Shares Fall on Earnings Miss as MNG Proxy Fight Heats Up
Gannett Co., the parent company of USA Today, saw earnings and revenues decline from the prior year as the publisher struggles to find more readers and digital isn't a sure path to profitability.
Gannett Co. Inc.  (GCI) - Get Free Report  shares fell nearly 4% on Wednesday morning after the company missed fourth quarter earnings and revenues estimates as newspapers struggle to stay afloat.
The largest newspaper publisher in the U.S. and parent company of USA Today and the Detroit Free Press is the subject of a hostile takeover by MNG Enterprises Inc. 
The media giant reported a fourth quarter net loss of $14.2 million, or 13 cents a share. That's a decline from $13.6 million and 12 cents a share loss in the same period the prior year. Adjusted EPS missed FactSet consensus estimates by 7 cents, coming in at 44 cents.
Gannett said restructuring, asset impairment costs and foreign currency exchange rates weighed down numbers.
Fourth quarter revenue also fell from the same period the prior year, coming in at $751 million, below FactSet consensus of $768 million. Digital revenue was 36% of total revenue, or $272.3 million.
Digital advertising and marketing services revenues for the quarter came in at $204.5 million, or 48% of total advertising and marketing services revenues, the company said.
For the full year, Gannett reported net income of $15 million, or 13 cents per share, on total revenue of $2.9 billion.
The company's 2019 outlook also missed estimates. Gannett now expects 2019 revenue of $2.74 billion to $2.81 billion. FactSet consensus was expecting $2.87 billion. 
Gannett has been the subject of a hostile takeover bid by MNG Enterprises that has turned into a proxy fight. The publisher rejected MNG Enterprises' bid of $1.36 billion in January, saying the takeover proposal was not credible, Bloomberg reported. The rejected bid turned into a proxy battle, with MNG saying it will nominate six candidates to Gannett's board of directors.
MNG is backed by hedge fund Alden Global Capital, also known as Digital First Media.
Shares of Gannett have risen 2.9% in the last year, while the S&P 500 index has gained 2.3%.