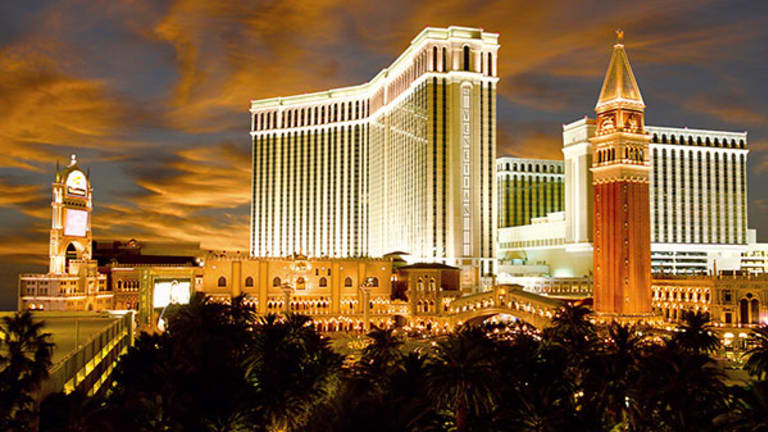 Gaming Stocks Are an Attractive Buy, Goldman Says
Goldman Sachs identified Las Vegas Sands and MGM Resorts as its top two picks in the gaming sector.
Goldman Sachs named Las Vegas Sands (LVS) - Get Report and MGM Resorts International (MGM) - Get Report as its top picks among gambling company stocks as the investment bank gave the sector an "attractive" rating.
Las Vegas Sands shares rose about 1.74% to $57.17 while MGM shares were down 0.1% to $28.94 Friday afternoon.
Goldman identified positive momentum in Las Vegas and Macau's development as the main drivers for their outlook on the sector. Analyst Stephen Grambling noted that gaming stocks have outperformed the S&P 500 by 26% over the past 20 years in rising interest rate environments -- such as the one the U.S. will enter next year after the Federal Reserve raised interest rates for the second time in eight years.
Goldman added Las Vegas Sands to its conviction buy list with a 12-month price target of $68, about 20% higher than it is now. Grambling said the company will benefit from so-called "mass" gamblers coming to Macau and may have a better chance than rivals of winning future concessions in new markets.
MGM Resorts International got a buy rating and a 12-month price target of $37, about 28% higher than it is now. Grambling said the company can take advantage of growth in Las Vegas because it has expansive events spaces and because the city has just attracted an professional hockey team, heralding more visitors and more spending. The Nevada city may in time also attract franchises from the NBA and the NFL, Grambling said.
Goldman expects infrastructure spending and the opening of new resorts to increase gross gaming revenue growth for the "mass" segment of customers by 11.3% over the next two years, compared with 2.5% growth from the "VIP" segment.
Industry analysts regard gambling customers as belonging to one of two categories: "VIP" gamblers who are relatively few in number, but spend a lot, and "mass" gamblers of whom there are many, but who spend less on average.
In Macau, the Chinese government has placed emphasis on attracting the masses, touting the area as a destination experience rather than just a gaming one.
U.S. GDP growth is expected to increase to 4.5% in 2017 from 2.9% in 2016, according to Goldman Sachs economists. That bodes well for gambling companies, because the sector is highly cyclical and has largely tracked GDP growth over the past 10 years in both the U.S. and Asia, Grambling wrote.