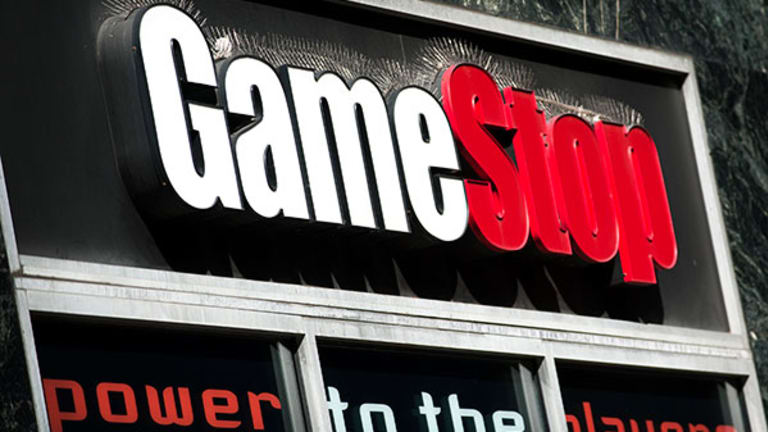 GameStop Is Plunging
Wall Street doesn't like this one number.
GameStop's (GME) stock surprisingly just got short-circuited. 
After Thursday's market close, the video game retailer reported first-quarter earnings of 63 cents a share, exceeding the earnings of 53 cents a share analysts surveyed at Factset expected. GameStop's revenue came in at $2.05 billion, higher than the $1.97 billion estimate.
"We're excited to see growth back in the industry," GameStop COO Tony Bartel said in an interview with TheStreet.
In April, video game sales soared 10% to $636 million, according to the NPD Group, marking a second-straight quarter of growth after nine consecutive quarters of declines. GameStop said its own sales were driven by the hit Nintendo (NTDOY) Switch, which was released on March 3.
GameStop saw its same-store sales grow 2.3% globally. But, in the U.S., comparable store sales fell 2.4%. Though its same-store sales improved dramatically from the fourth quarter when GameStop posted a 16.3% decline, investors still seem to not be impressed.
Shares of GameStop sunk around 7.7% to $21.84 in early Friday trading.
Bartel attributed part of the decline in U.S. same-store sales to a tight supply in the Switch in the first quarter.
"Whenever there's a launch of a highly-allocated product, like the Switch, it's difficult for Nintendo to allocate at our fair market share," Bartel said. "We were selling the Switch before it hit the warehouse."
Still, in the first quarter, GameStop's omni-channel sales - comprised of online, web-in-store, mobile, pickup-at-store and ship-from-store sales - spiked 92.9%, due to the Nintendo Switch launch. The company also saw its digital sales rise 3% in the quarter.
Bartel said GameStop has really driven its omni-channel business through leveraging options such as ordering the Switch, for example, in store when it's out of stock and having it sent to your home.
"We've really created an endless aisle in all of our stores now," Bartel said.
As for the year ahead, Bartel said the company is really excited for November when the launch of some highly-anticipated games are expected to hit like Call of Duty World War II and Star Wars Battlefront II.
GameStop's stock closed up 4.01% to $23.62 a share on Thursday as Wall Street likely anticipated it would report strong comparable store sales following Best Buy (BBY) , which saw its same-store sales rise 1.4% due to increased sales in its gaming category.
Read More Trending Articles:
Read More Trending Articles:
Why Alibaba's Founder Jack Ma Thinks You Will Eventually Only Work Four Hours a Day
Now We Have an Idea When the iPhone 8 Will Launch, Thanks to Vacationing Apple Employees