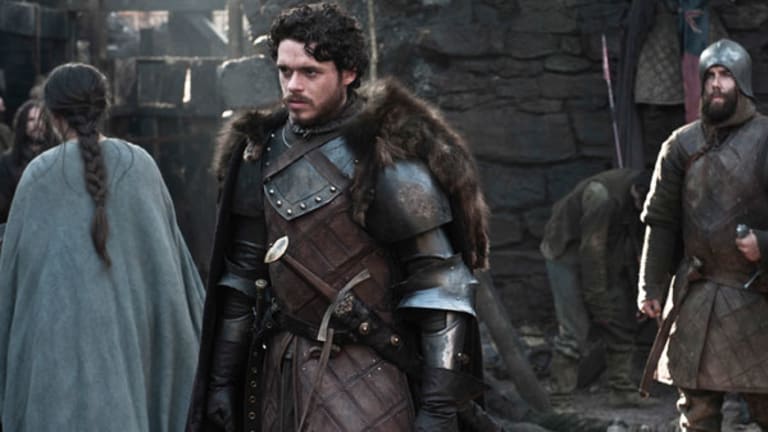 'Game of Thrones' Secrets Revealed
HBO says 'Game of Thrones: The Exhibition' is part of growing marketing trend to bring real-world experiences to fans.
NEW YORK (
) -- Walking in the door to
Time Warner Cable
(TWC)
on Wednesday night I was transported from the concrete jungle of Manhattan to another realm -- Westeros -- the fantasy kingdom where "Game of Thrones" takes place.
For the first few seconds after entering I was completely star struck. Two of the shows lead characters, Maisie Williams and Sophie Turner, who play sisters Arya and Sansa Stark in the show, were standing not far from the entrance.
Waiters walked around with giant turkey legs as passed appetizers. I had a chance to try out my bow and arrow skills in the Blackwater Bay interactive game to see if I would be a good banner (wo)man. On the right were the regal costumes and props used by House Lannister. On the left were the more subdued and heavier clothing worn by House Stark, the two major warring families in the series. Weapons such as Jon Snow's sword "Longclaw" and dagger, the Hound's helmet and Ned Stark's sword "Ice" are all being showcased. But none of it compared to what was in the back -- a raised platform with a chance to take my picture sitting on the Iron Throne.
I was there to preview the traveling "Game of Thrones: The Exhibition" that
HBO
, a subsidiary of
Time Warner
(TWX)
, created to promote the show's highly-anticipated Season 3, the first episode of which airs on Sunday, March 31.
The "Game of Thrones" event in New York City -- the only stop for the U.S. -- is being hosted by Time Warner Cable (a separate entity now that it split from former parent Time Warner). The event runs from March 28 through April 3.
Also see: Cable Companies Cashing In with Own Creations >>
Game of Thrones is based on the epic series of books,
A Song of Ice and Fire
by George R.R. Martin. The show is about a medieval kingdom pulled apart by war and the fight over who will win the Iron Throne, the seat where all seven regions are ruled from. At the same time, growing magical forces "beyond the Wall" as well as dragons reborn across the sea foreshadows an even bigger war against humanity that will have to be fought.
While it's being labeled as a fantasy series, the books and the show are not for kids. It has a healthy share of violence combined with a decent dose of sex, murder and betrayal -- all the basic components that make for great compelling television.
In the digital world, the show's strong social media presence is telling of the growing fan base it has garnered. The official
page has more than 5 million "likes;" its Twitter page has more than 600,000 followers.
Also see: Who Will Win in the Game of Thrones? >>
HBO
wanted to create a promotion that would take viewers out of the digital world and into the so-called real world.
"'Game of Thrones' has such a passionate fan base, also such a rich world that we wanted to bring ...
it to life and have the fans touch and feel and see an experience," says Chris Spadaccini, HBO's senior vice president of brand marketing.
"It's really to give fans a chance to really experience this world," Spadaccini says. "So much of what's being done right now in marketing, and so much of consumers' time, is being spent online in the digital world that a chance to kind of pull back to something that's physical is really unique. You're seeing that as a real trend in marketing -- these real world experiences that you can't recreate on the Internet."
Also see: The Digital Skeptic: Facebook-Killing Dark Social Rules The Web >>
While there have been very few so-called real-world experiences based on popular television programs, it has been a successful marketing tool for movie fans.
One such example is the
in Times Square. The traveling exhibit made its way back to New York City in November (the exhibit will be at Discovery Times Square through April 7).
Through the exhibit, created by Warner Bros. and Global Experience Specialists, a subsidiary of
Viad Corp.
(VVI) - Get Free Report
, visitors have the chance to see displays inspired by the Hogwarts film sets, authentic costumes and props, authentic artifacts displayed in settings inspired by the film sets -- including the Great Hall, Hagrid's hut, the Gryffindor common room, among other things. This year's exhibit also included "original artifacts from the series finale,
Harry Potter and the Deathly Hallows - Part 2
," according to a press release from August 2012.
"There is no better way to celebrate the imagination and creativity of the Harry Potter film series than to actually walk among the iconic costumes and props that helped bring the world of the films to life," Eddie Newquist, chief creative officer for Global Experience Specialists said in the August release.
The "Game of Thrones" exhibit will also be making stops in Sao Paulo, Brazil, Amsterdam and Belfast. (It kicked off its tour in Toronto.)
While Spadaccini says
HBO
hasn't yet committed to doing another interactive exhibit yet, given the "coolness" factor, I'm sure it won't be the last.
"We haven't committed to anything yet, but I wouldn't rule it out," he says. "I could certainly see a show like 'Boardwalk Empire,' which is such a rich period drama on the same scale . . . but we haven't committed to anything like that yet."
-- Written by Laurie Kulikowski in New York.
To contact Laurie Kulikowski, send an email to:
Laurie.Kulikowski@thestreet.com
.
>To submit a news tip, email:
.
RELATED STORIES:
>>Lululemon's Reaction to Yoga Pants Mishap: Brilliant Marketing
>>Starting a Business? Move to One of These 6 Cities
Follow
TheStreet
on
and become a fan on
.
Disclosure: TheStreet's editorial policy prohibits staff editors, reporters and analysts from holding positions in any individual stocks.