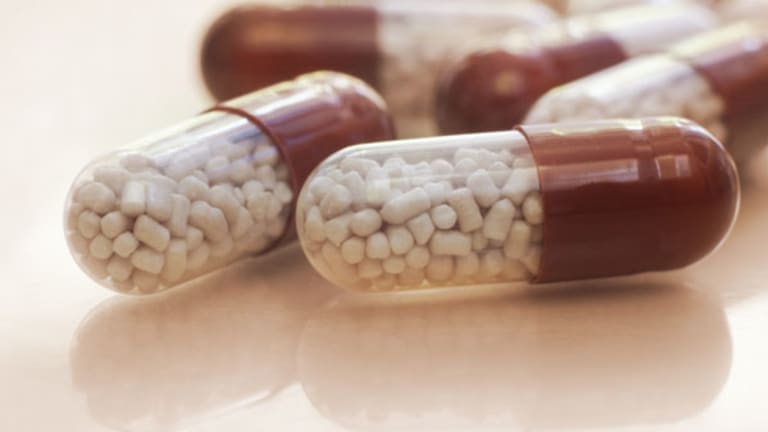 Publish date:
Galena's Breast Cancer Vaccine Doomed to Fail
A detailed analysis of data from a phase II study of NeuVax points out serious flaws in Galena's latest drug development story.
A detailed analysis of data from a phase II study of NeuVax points out serious flaws in Galena's latest drug development story.
LAKE OSWEGO, Oregon (
) --
Galena Biopharma's
(GALE)
breast cancer vaccine NeuVax will fail when results of a phase III clinical trial are eventually announced in three years or so.
I can boldy predict NeuVax's failure this far in advance because Galena is making the same mistakes and taking the same sloppy shortcuts that
Keryx Pharmaceuticals
(KERX) - Get Report
did with its colon cancer drug perifosine. The
with
, as they will with NeuVax.
In early February, I called Galena (which was up 168% year to date at that time) a drug stock
unworthy of the biotech bull market.
This label still rings true, even more so given the stock's continued ascent. Galena's market value of nearly $80 million may seem puny but it's actually excessive when you consider that the company's only asset -- NeuVax -- is never going to reach the market.
NeuVax is a cancer immunotherapy, or vaccine, that works by stimulating a patient's immune system to kill cancer cells. More specifically, Galena claims NeuVax works by training a patient's T cells to recognize and destroy cells in the body that express HER2, a protein that works like an "on" switch for breast cancer cells.
Roche's
(RHHBY)
blockbuster cancer drug Herceptin works similarly, except it's not a vaccine but an antibody that attaches to HER2 receptors on breast cancer cells. In order for Herceptin to be effective, however, the breast cancer cells must overexpress HER2, meaning the cells need to have large numbers of HER2 receptors on their surface.
If NeuVax trains T cells to recognize and destroy HER2-expressing breast cancer cells, the vaccine should work best in tumors where HER2 expression is highest. This makes sense, right? After all, it should be easier for those newly trained T cells to find tumor cells if the target (HER2) is illuminated with the molecular equivalent of red paint and strobe lights.
But guess what: NeuVax works best against breast cancer tumors that express low or middling levels of HER2; the vaccine doesn't work well in tumors that over-express HER2, says Galena. Really? That's strange and confusing. Can Galena explain why a HER2-targeted vaccine wouldn't work well in tumors that contain lots and lots of HER2?
No, Galena just wants you to accept this odd, confounding "fact" about NeuVax as the gospel truth, which the company insists is supported by data from phase II studies.
Let's take a look at these NeuVax phase II studies since Galena claims they were successful and instrumental in helping design the recently started phase III study in breast cancer. Galena bulls, a group dominated by retail investors, also apparently believe the phase II studies were a big positive.
Not true.
The phase II studies were designed to study NeuVax as an "adjuvant" treatment to reduce the risk of breast cancer recurrence. Patients recruited had breast cancer with all levels of HER2 expression that was successfully treated leaving no evidence of residual disease. Some of the patients were then injected with NeuVax and an immune system booster while others were untreated and simply observed. The goal of the study was to determine if NeuVax could reduce the breast cancer relapse rate compared to doing nothing.
NeuVax didn't work. Of the 109 women vaccinated with NeuVax, 6.5% had a breast cancer relapse after 24 months of follow up compared to 14.5% of the 79 women in the control group, according to data presented at the 2010 ASCO annual meeting. NeuVax patients had numerically fewer relapses but the trend was not statistically significant, with a p value of 0.08, which exceeded the 5% benchmark typically signifying a positive study.
Patients in these phase II studies were followed longer but the results didn't get any better. After 36 months follow up, the cancer relapse rate for NeuVax-treated women was 8.5% compared to the same 14.5% relapse rate for the control group of women. The relapse rate gap narrowed and the statistics behind the study got worse, with the p value growing to 0.187.
The 36-month time point is especially important -- and damning for NeuVax -- because this is the same length of follow up used by Roche/Genentech to get Herceptin approved as an adjuvant treatment in breast cancer.
When life hands you lemons, you make lemonade. In biotech, when a study fails, you go on a mining expedition into the bad data to find something positive to say. This is what Keryx did unsuccessfully with perifosine, and this this is exactly what Apthera, the original developer of NeuVax, and Galena, which later bought Apthera for just $7 million, have also done.
Pouring through the data from the failed trials, Apthera/Galena discovered that breast cancer tumors with low and intermediate levels of HER2 expression appeared to respond better to NeuVax.
At 36 months, the cancer relapse rate for a subgroup of 50 NeuVax-treated women with breast cancer that expressed low (1+) and intermediate (2+) levels of HER2 had a relapse rate of 8% compared to a 23.5% relapse rate for a subgroup of 34 women in the control arm with tumors that also expressed relatively low levels of HER2. This difference in relapse rate was statistically significant with a p value of 0.045, claims Galena.
Naturally, Galena is conducting its phase III study of NeuVax in breast cancer patients with tumors that express low and intermediate HER2.
And of course, this NeuVax study will fail because the premise upon which it is designed -- culled from a retrospective data-mining adventure through the phase II study -- is false.
How do I know it's false? For starters, it makes no sense for a HER2-targeted cancer vaccine to work better in tumors that express low levels of HER2, or no HER2 expression at all.
Breast cancers in the phase II study were analyzed for HER2 expression using a staining process called immunohistochemistry, or IHC. It's not the most accurate or reliable way of determining HER2 status -- flourescence in situ hybridization (FISH) testing is better. Moreoever, tumors that come back
HER2 1+ via IHC are usually categorized as HER2 negative
.
How is a HER2 cancer vaccine like NeuVax supposed to work on HER2-negative tumors? Galena doesn't explain.
Again, logic and science dictates that NeuVax should work really well in breast cancers that express high levels of HER2, the so-called HER 3+ group. But some mathematical extrapolation on the data made available by Galena from the phase II study reveals that NeuVax actually performs worse in the HER 3+ group.
The 36-month relapse rate for NeuVax-treated patients with HER 3+ tumors is 9% compared to a 7% relapse rate for the control group, also with HER 3+ tumors.
Galena cherrypicks a subgroup of patients where it claims NeuVax works but ignores another equally large subgroup of patients where NeuVax actually hurts patients, even though the vaccine should work for better these latter patients.
None of this bodes well for NeuVax. The phase III study is going to fail, all that's necessary is patience since we may not see results for three years. NeuVax isn't going to work -- the phase II data don't lie.
Before wrapping up this dissection of Galena, let's do away with a couple more canards that seem to have retail investors excited and optimistic.
First, Roche/Genentech is not interested in acquiring Galena, nor is the company a partner in a phase II study testing the combination of NeuVax and Herceptin in breast cancer.
Galena has issued many press releases claiming Roche/Genentech's involvement in this small phase II study, but that's misleading because Roche/Genentech's participation is limited to a small amount of funding and the donation of Herceptin supplies to the investigator so he can conduct the study, says company spokesman Ed Lang.
Think about it, if Roche was really interested in NeuVax, it could have bought Apthera, the original owner of the vaccine, for $7 million. That's the price Galena paid to acquire the tiny, private company last year.
For Roche, $7 million is not even a rounding error on a rounding error on a rounding error on the company's balance sheet. Roche's involvement in this phase II combination study is scientific charity, not serious R&D due diligence. I'm sure someone inside Roche performed the same analysis I just did and reached a similar conclusion.
Second, Galena bulls often ask: Why would Galena buy Apthera if NeuVax wasn't legitimate?
Galena bought Apthera for a lousy $7 million because the company was desperate to stay in business following the collapse of its original mission to develop drugs based on RNA interference, or RNAi. Biotech companies don't fold voluntarily and return money to shareholders when their business plans flop, so RXi Pharmaceuticals ditched RNAi, bought Apthera and changed its name to Galena Biopharma.
An RNAi company was now transformed into a cancer immunotherapy company… like magic!
Apthera had been a ghost company for years -- unwanted by anyone in the bio-pharma industry. Some of the initial phase II NeuVax data in breast cancer was first presented and published in 2005. In 2009, Apthera landed the SPA with the FDA for the phase III study (it took 21 months to negotiate) but the company had no money to actually start the study.
Experimental therapies with blockbuster potential don't sit on a shelf for years by accident. They're noticed and bought. NeuVax is not one of these exciting, lucrative therapies. It sat unloved because the data generated from the phase II study don't justify further development.
I'm sure the management team inside RXi/Galena knows this, but they're certainly not going to divulge NeuVax's dirty little secret because they need retail investors continue buying the stock.
With three more years at least before NeuVax fails, Galena management has a lot more stock to sell and millions of dollars in paychecks to cash.
--Written by Adam Feuerstein in Boston.
>To contact the writer of this article, click here:
Adam Feuerstein
.
>To follow the writer on Twitter, go to
http://twitter.com/adamfeuerstein
.
>To submit a news tip, send an email to:
.
Follow
TheStreet
on
and become a fan on
Adam Feuerstein writes regularly for TheStreet. In keeping with company editorial policy, he doesn't own or short individual stocks, although he owns stock in TheStreet. He also doesn't invest in hedge funds or other private investment partnerships. Feuerstein appreciates your feedback;
to send him an email.