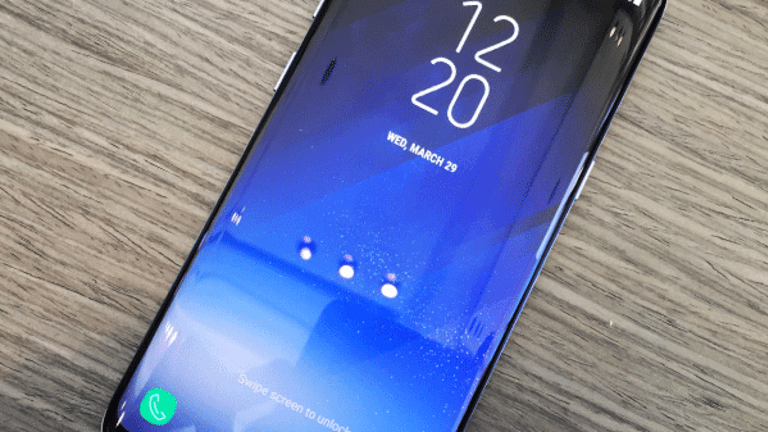 Galaxy S8 Users Report Annoying Red Hue to Phone's Display; Samsung Says It's an Easy Fix
The S8, which was released in the U.S. on Friday, is Samsung's first new phone since the Note 7 disaster.
Samsung (SSNLF)  is experiencing a slight setback after some customers reported that their new Galaxy S8 phones' displays were tinted red. This is coming at a sensitive time for Samsung, which has a lot to prove after its disastrous recall of the Note 7 smartphone this past fall. 
While the Galaxy S8 was first available to U.S. customers on Friday morning, some customers in South Korea received their devices earlier this week and have been reporting an annoying red hue on their displays, according to zdnet.com. Samsung responded to the complaints by claiming that it was a software issue that could be quickly fixed, rather than a hardware issue as was seen in the Note 7 batteries that were prone to overheating and sometimes exploding. 
The software update will be done automatically on all Galaxy S8 and S8 Plus phones, the company said. Local media in South Korea claimed the fix would roll out sometime next week, but that has yet to be confirmed by Samsung. This is a disappointment for the S8 considering its new edge-to-edge "infinity" OLED display is one of its key features, but the reports don't seem to be affecting Samsung's stock price, which rose about 1.2% in trading on Friday. 
In September, Samsung had pushed out a software fix for the Note 7 that limited the phone's charge to 60% in an effort to prevent overheating and to encourage customers to return the faulty devices. After the fix, customers were met with the following message when attempting to charge their Note 7s: "For safety reasons, we recommend that you stop using your Note7. From September 21 an automatic software update will limit this device's charge to 60%. Tap for more. We apologize for the inconvenience." 
While the recall of the Note 7 ended up costing Samsung $5 billion, the company said that only 330 of the three million Note 7 devices it sold actually had battery issues. In addition, the tech giant reported its largest profit jump in three years this past January with a 50% year-over-year increase to $7.92 billion, due to its successful memory and display panel businesses. 
Since only a very small group of Note 7 owners actually experienced the overheating issue, the fiasco will most likely not affect sales of the Galaxy S8 or future Samsung phones, Jackdaw Research chief analyst Jan Dawson said. "I honestly think most consumers have moved on from that, and Samsung has done a decent job of creating a really compelling new flagship this year at a time when there aren't any obvious leaders in the market among competing phones," he explained.
This view is in line with the record-breaking preorder data coming out on the S8, which shows the phone is already more popular than its predecessor, the S7, which came out last March. Samsung sold one million units of the S8 in pre-orders sales in South Korea, a record for the country. The phone was originally unveiled on March 29 with pre-orders being accepted starting April 7.