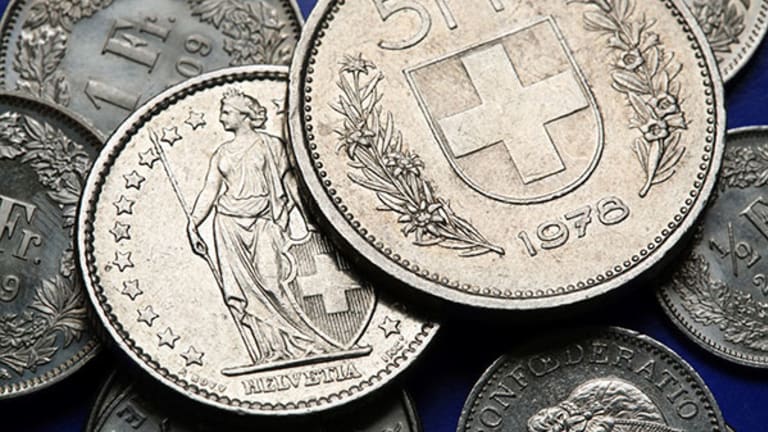 FXCM Stock Plunges Again on Earnings, Lower Valuation by Lender
FXCM declined for a fourth straight day as the struggling foreign exchange trading platform's own earnings and a lower valuation by its biggest lender triggered a new round of selling.
NEW YORK ( TheStreet) --Shares of FXCM (FXCM) declined for a fourth straight day on Thursday as the struggling foreign exchange trading platform's own earnings and a lower valuation by its biggest lender triggered a new bout of bearish sentiment in the stock.
Shares, which closed at $2.15 last Friday, closed at $1.59 Thursday. falling more than 9% on the day.
That is still double the price at which Leucadia (LUK)  values FXCM shares, according to an analysis of Leucadia's first quarter earnings report by Citigroup analyst William Katz. 
FXCM was forced to seek a $300 million bailout from Leucadia after the Swiss National Bank unpegged its currency from the Euro Jan. 15. The unexpected move created caused massive customer trading losses and FXCM didn't have large enough margin balances in customer accounts to cover the losses. The resulting customer debit balances of $276 million temporarily caused FCXM to be out of compliance with regulatory capital requirements.
Leucadia values its loan at $947 million, the company disclosed Friday. It entitles Leucadia "to a variable proportion of certain distributions in connection with an FXCM sale of assets or certain other events," as well as the right to force a sale of FXCM starting in January 2018, according to Leucadia's latest 10-Q.
Extrapolating from that $947 million valuation, Katz concludes Leucadia values FXCM at 80 cents per share, according to a report the analyst published May 11. Katz's own target price is 50 cents per share.
"The shares are trading far above assessments by Leucadia and FXCM, we believe," Katz wrote Monday.
FXCM's earnings, which at least two analysts described as "noisy," consisted of a $2.93 loss. That compares to the projected $2.32 loss from Keefe Bruyette and Woods analyst Niamh Alexander, who lowered her target to $1 from $1.50 Tuesday following Friday's earnings report and a conference call held Monday.
Barclays analyst Kenneth Hill also believes FXCM is worth $1 per share.
"If the firm is able to sell a good deal of its non-core assets at a favorable price, we believe this could go a long way towards removing the Leucadia debt and add $2 to our price target," Hill wrote. On the other hand, he believes FXCM shares could prove worthless "if the company is unable to meet regulatory capital needs in the future," he wrote May 11. 
Spokeswomen for Leucadia and FXCM did not respond to questions.