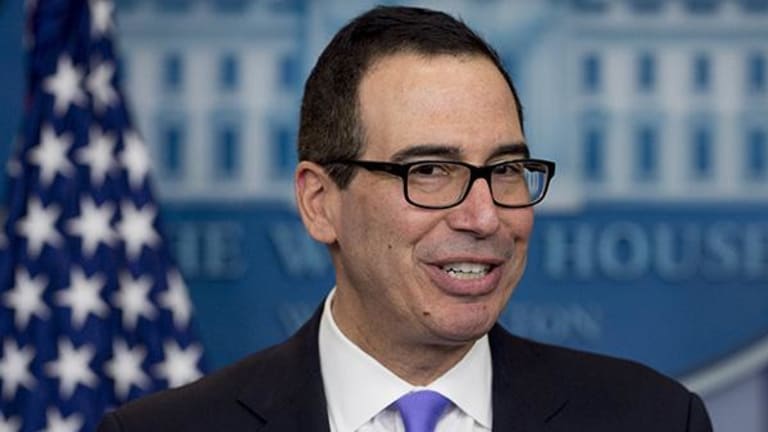 Futures Rise as Republicans Defend Tax Outline
The euro fell Sunday, however, after violence in the Catalonia region of Spain.
U.S. stock futures ticked up the evening of Sunday, Oct. 1, the first day of the fourth quarter, amid violence in Spain and the escalating conflict between the United States and North Korea.
Dow Jones Industrial Average futures rose 0.17% Sunday evening, while S&P 500 futures and Nasdaq futures were both up 0.2%. The euro fell 0.05%, to $1.1809, while the pound fell 0.03%, to $1.3394. The dollar was also up 0.13% against the yen.
Hundreds were injured in Spain's Catalonia region as police blocked people from voting in an independence referendum the national government claimed was illegitimate. The Catalan government claimed Sunday evening that about 90% of the votes were in favor of independence. Catalan leader Carles Puigdemont said the European Union could not "continue to look the other way" regarding the independence movement.
Spanish Deputy Prime Minister Soraya Saenz de Santamaria said in a statement that no referendum had taken place, adding that "the professionalism of the security services has had to make up for the irresponsibility of the regional government."
At home, the White House and congressional Republicans advanced their tax reform policy, releasing a nine-page framework light on details. While Speaker Paul Ryan told "Face the Nation" on CBS that "the entire purpose of this is to lower middle-class taxes," the nonprofit Tax Policy Center said Friday that it would mostly benefit high-income households without generating the 3% economic growth President Trump has promised.
"Tax reform is finally starting to move," Goldman Sachs analysts wrote, arguing there's a "rising probability that tax legislation will be enacted by early 2018."
Trump also spent the weekend defending his response to the devastation in Puerto Rico after Hurricane Maria, calling critics "politically motivated ingrates" ignoring "the amazing work that has been done by FEMA and our great Military." According to an infographic tweeted by Press Secretary Sarah Huckabee Sanders, only one of Puerto Rico's 68 hospitals is fully operational, while half its dialysis centers are open to patients.
He also tweeted that Secretary of State Rex Tillerson should not waste his time with North Korean leader Kim Jong-Un, whom he nicknamed Rocket Man. "We'll do what has to be done!" he wrote Sunday.
The Bureau of Labor Statistics will release the nonfarm payroll jobs numbers on Friday, the first after hurricanes Harvey, Irma and Maria. Economists surveyed by FactSet expect the BLS to report 75,000 new jobs were added in the month of August, less than half the number added in August. Earnings are expected to rise 0.25%, up from 0.1% last month, while unemployment is expected to hold steady at 4.4%.
Federal Reserve Chair Janet Yellen, one of the frontrunners to be President Trump's nominee for her current seat when her term expires, will speak at the Community Banking in the 21st Century Conference in St. Louis on Wednesday, Oct. 4.
While third-quarter earnings season doesn't kick off until next week, companies reporting earnings this week include Cal-Maine Foods Inc. (CALM) - Get Cal-Maine Foods, Inc. Report on Monday; Lennar Corp. (LEN) - Get Lennar Corporation Class A Report on Tuesday; Acuity Brands Inc. (AYI) - Get Acuity Brands, Inc. Report , Monsanto Co. (MON) and PepsiCo Inc. (PEP) - Get PepsiCo, Inc. Report on Wednesday; and Constellation Brands Inc. (STZ) - Get Constellation Brands, Inc. Class A Report , Costco Wholesale Corp. (COST) - Get Costco Wholesale Corporation Report and Yum! China Holdings Inc. (YUMC) - Get Yum China Holdings, Inc. Report on Thursday.