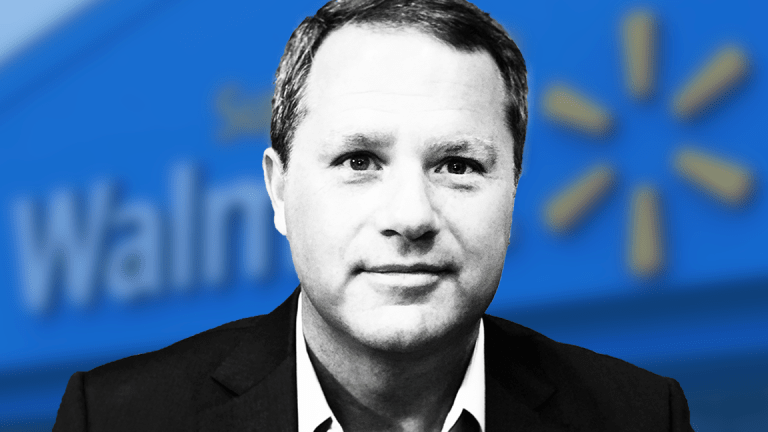 Walmart Deserves to Be Part of the Future: CEO Doug McMillon
Walmart CEO Doug McMillon is a youthful looking 51 years old. So, we had a little fun with him in an exclusive interview. In going around the horn, McMillon opens up how he views the future of Walmart.
Want a quick explanation on how 55-year old Walmart (WMT) - Get Walmart Inc. Report has a stock price hovering around record highs while Jeff Bezos has Amazon (AMZN) - Get Amazon.com, Inc. Report lurking around every corner?
Look no further than youthful-looking 51 old Walmart CEO Doug McMillon. Since taking over the top job at the world's largest retailer in 2014, McMillon has injected Walmart with the sense of purpose it needed to win back fans on Wall Street (and customers). McMillon is signing off on big deals, re-thinking how Walmart operates (such as ordering new Tesla (TSLA) - Get Tesla Inc Report semi trucks) and keeping an eye on how to improve relationships with store employees. 
In cutting our video interview with McMillon, we thought his following comments were the most telling as to why Walmart is back to its winning ways. And importantly, why it has a better than average shot to pummel Amazon in the future.
What McMillon thought when first taking the CEO role:
"I think Walmart is a company that deserves to be part of the future and has a culture that will enable us to get there."
Walmart into the future:
"It would be awfully cool to have Walmart here in 50 years time and have it be as important as it is in the lives of our customers and associates."
His big goal for 2018:
"Speed is the biggest thing we want to achieve next year - none of us feel like we are moving fast enough."
To people who say Walmart is too old to compete with Amazon and other digital retailers:
"It's good to be underestimated."
Check out TheStreet's Other Influencer Interviews