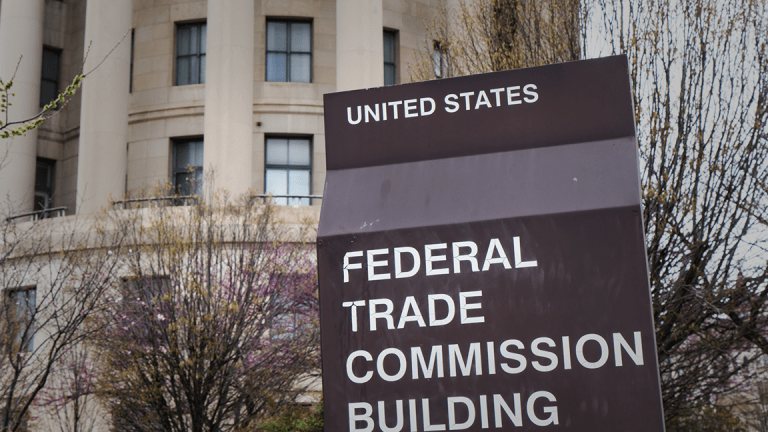 Fidelity National's Merger With Stewart Information Challenged by FTC
The regulatory agency said that the tieup would limit competition in the title-insurance sector.
The Federal Trade Commission on Friday issued an administrative complaint seeking to block Fidelity National Financial's (FNF) $1.2 billion purchase of Stewart Information Services (STC) on the grounds that it will limit competition in title insurance. 
The FTC identifies Fidelity and Stewart as "two of the four largest title insurance underwriters in the U.S." The top four title insurers account for more than 85% of all title insurance sales, according to the FTC.
The companies combined would account for more than 43% of the sector's sales if they were allowed to merge, according to the FTC. 
"Competitive title insurance and title information markets are essential to providing Americans affordable and high-quality title insurance products," said Bureau of Competition Director Bruce Hoffman. "The merger threatens to continue a trend of consolidation in these markets."
The merger will eliminate head-to-head competition between Fidelity and Stewart in 45 states and the District of Columbia. 
"While we are disappointed with this outcome and disagree with the FTC's decision, we are reviewing the lawsuit with FNF in the context of the parties' rights and obligations under our merger agreement," Stewart said in a statement.
"We will communicate our next steps to our stakeholders in the near future as soon as this review is complete."
Title insurance "protects customers and lenders in real estate transactions from financial loss that results from defects" in property titles, the agency said in a statement.
"Most real estate transactions in the United States involve financing from a lender, and because most lenders require title insurance, nearly every real estate transaction in the U.S. includes a title insurance policy."
The FTC issues an administrative complaint "when it has reason to believe that the antitrust laws have been violated. The issuance of the administrative complaint [starts] a proceeding that will be tried in a formal hearing before an administrative law judge," the FTC statement says.
Stewart shares were down 6.2% at $33.94 while Fidelity slipped 0.3% to $44.68 Friday.