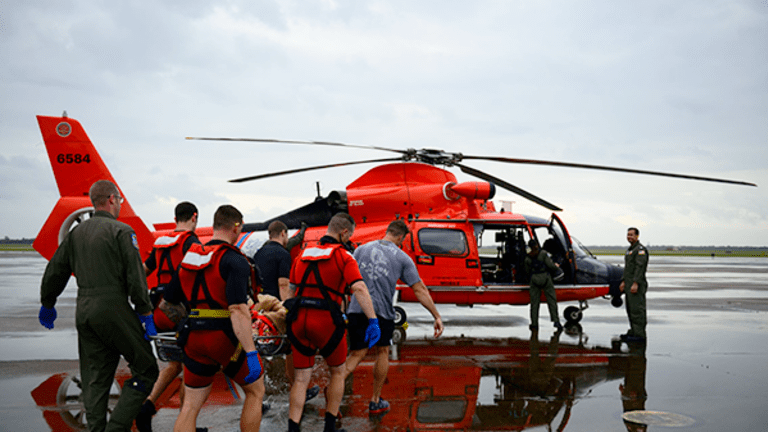 How World's Largest Drug Distributor Is Helping Harvey Victims Treat Snakebites
Two McKesson executives described their efforts amid nearly around-the-clock fight to make sure the firm continued to supply its hospital and drugstore customers with critical medical supplies.
Immediately after weather forecasters issued their Aug. 23 warning that a major hurricane could hit Texas, healthcare players in the Gulf Coast region swung into action, preparing for the worst.
They had been through the drill many times before and knew that within a day or two they'd be dealing with flooded roads, closed hospitals and drugstores and a deluge of injuries. To minimize suffering and loss of life, they had stock up on drugs and medical supplies and line up the choppers and boats that would be needed to make supply runs where roads were flooded.
One of the companies grappling with the impact of Hurricane Harvey has been McKesson Corp. (MCK) - Get McKesson Corporation (MCK) Report , the largest U.S. pharmaceutical  distributor, which has a major hub in Conroe, Texas, a bedroom community just north of Houston, the oil industry capital that has been devastated by Harvey.
Two McKesson executives described their efforts with TheStreet this week, breaking away from nearly around-the-clock efforts to make sure the firm continued supplying its hospital and drugstore customers with critical medical supplies and was ready to use its distribution infrastructure to deliver other necessities like water, diapers and food to first responders and emergency shelters.
Speaking on Wednesday, Aug. 30, McKesson's SVP of Distribution Operations, Chris Smith, said that very night would be the first since Harvey hit land that McKesson would have full coverage to its Houston area customers.
As the storm approached land, McKesson beefed up inventories of drugs that experience showed would be in big demand, such as insulin for diabetic patients who couldn't reach their usual pharmacies and the snakebite anti-venom CroFab, which becomes very useful after flooding transforms a hurricane zone into a superhighway for poisonous vipers.
At the earliest stages of the disaster, McKesson first reached out to its own employees, making sure they were OK and out of harm's way and, if so, whether they could get to work. Then, the company brought in employees from other locations to fill in for those who couldn't make it in and to help with the extra workload the disaster created.
In the subsequent days, some hospitals and other McKesson customers that couldn't wait for roads to clear, received emergency deliveries of critical supplies via helicopter.
"Last night all but five people were able to come to work," added Smith. "Tonight we can deliver orders to our entire market."
Two major assists have been provided by McKesson's distribution centers in Oklahoma City and Memphis, Tenn., which stepped up with  supplies at times when the Conroe facility couldn't. The Oklahoma City facility filled in for the Houston market, while Memphis served Louisiana.
"We are uniquely qualified to maintain operations during the storm," Smith said. "We have redundancies in our supply chain that let us adapt to emergency situations."
Jim Marshall, VP/General Manager of Regional Sales & Operations at McKesson's Conroe facility, highlighted the kind of situations that came up during the past few days, including an emergency shipment of lung medication to babies being treated at Beaumont, Texas' Christus Hospital. "We were able to get the drug to them midnight Sunday," he said.
Other instances in which company employees had to go the extra mile included a delivery Wednesday of oncology therapy make when a patient at one of the Kelsey-Seybold Clinic's facilities began rejecting his previous treatment. Kelsey-Seybold buys its general medical supplies from McKesson but get its specialty drugs from another distributor. When the specialty provider couldn't deliver the alternative, Kelsey-Seybold called McKesson at midnight and the treatment was brought over.
Texas Children's Hospital got a McKesson delivery by boat.
In Sugar Land, a city southwest of Houston, a single independent pharmacy remained open to serve the town. After a run on the store  cleaned out its inventory McKesson was able to restock it. "The kind of things our retail partners have done is pretty heroic," Marshall said.
Outside of medical supplies, McKesson's national distribution center in Olive Branch, Miss was on  sent diapers, baby food, drinks and Wednesday snacks for the VFW post in Conroe to distribute. Energy drinks have been delivered to National Guard units.
Marshall added that McKesson has stayed in contact with competitors to make sure all emergency requests are met. "A member of our team has been staying in contact with others in the wholesale community to make sure we coordinate," he said.
More of What's Trending on TheStreet: