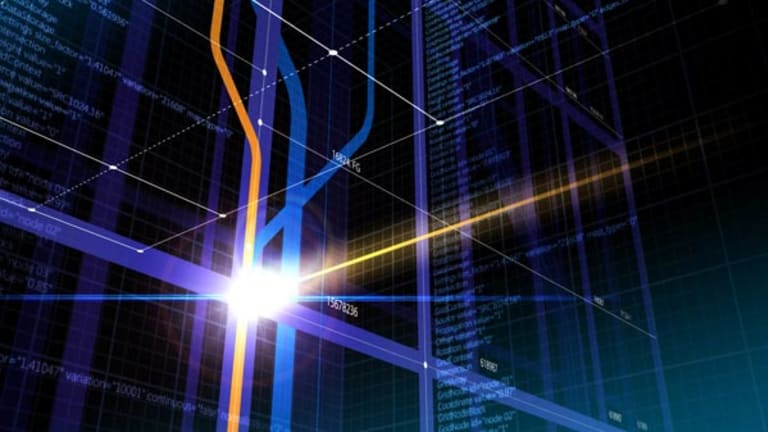 Friday's Tech Winners & Losers
Microsoft drags down the sector.
Tech stocks slid Friday as disappointing earnings reports, including one from
Microsoft
(MSFT) - Get Microsoft Corporation Report
, weighed down shares.
Shares of
Ericsson
surged after the company posted
first-quarter revenue. Net income fell 55% from a year ago to 2.65 billion Swedish kronor ($442 million), while revenue rose 5% from a year ago to 44.2 billion kronor ($7.38 billion). Analysts surveyed by Thomson Financial were looking for sales of $6.97 billion. Ericsson shares were up $2.67, or 12.3%, to $24.37.
Chinese search giant
Baidu
(BIDU) - Get Baidu Inc. Report
gained $20.41, or 6%, to $361.62 after the company posted better-than-expected first-quarter results and reported strong growth in traffic and online advertising.
Microsoft shed $2.02, or 6.3%, to $29.78 after its third-quarter results and updated forecast Thursday failed to live up to the Street's
. Revenue for its third quarter was flat at $14.45 billion and in line with analysts' expectations of $14.5 billion. Net income fell 11% to $4.39 billion, or 47 cents a share, from $4.93 billion, or 50 cents a share, in the year-ago period. It beat analysts' EPS expectations of 44 cents. For the next fiscal year, the company projected revenue ranging from $66.9 billion to $68 billion and EPS of $2.13 to $2.19. Analysts are expecting revenue of $66.5 billion and EPS of $2.10.
Shares of
Yahoo!
(YHOO)
fell 92 cents, or 3.4%, to $26.40 as Microsoft's
Saturday deadline
for Yahoo to accept its $31-a-share offer neared.
BlackBerry maker
Research In Motion
( RIMM) lost $5.23, or 4.2%, to $118.42 after
a report
in Fortune.com that said the company's upcoming iPhone killer device has been delayed by two to three months. Mike Abramsky, an analyst at RBC Capital agreed that the launch of RIM's HSDPA/3G 9000 series handset may be pushed to July/August instead of the generally expected May announcement. Reasons for the delay include concerns about battery life, voice quality, and other issues, he said in a research note.
SiRF Technology
( SIRF) was down 91 cents, or 14.6%, to $5.33 after the company
swung to a loss
in the first quarter that was also marked by a major reorganization and resignation of its CEO. Following the results, an analyst at Dougherty downgraded the stock to sell from neutral.
NetGear
(NTGR) - Get NETGEAR Inc. Report
fell $2.89, or 14.3%, to $17.25 after the company disappointed investors with its quarterly results. Net income for the quarter was $11.2 million vs. $14 million a year ago and EPS, excluding items, was 39 cents compared with 44 cents a year ago. Revenue increased 14% to $198.2 million. Analysts were expecting revenue of $203.7 million and earnings of 38 cents a share. The stock was also downgraded by an analyst at BWS Financial to buy from strong buy.
Shares of
Western Digital
(WDC) - Get Western Digital Corporation Report
sank $2.58, or 8.3%, to $28.67 after the company disappointed investors with its earnings report. The company reported third-quarter revenue of $2.11 billion vs. $1.41 billion the year before. The company earned $280 million, or $1.23 a share, compared with net income of $121 million, or 53 cents a share a year ago. Analysts were expecting revenue of $2.05 billion and $1.09 a share. For the fourth quarter, Western Digital guided revenue in the range of $1.82 billion to $1.9 billion and a profit of 77 cents to 83 cents a share. Analysts are expecting revenue of $1.87 billion and 80 cents a share.