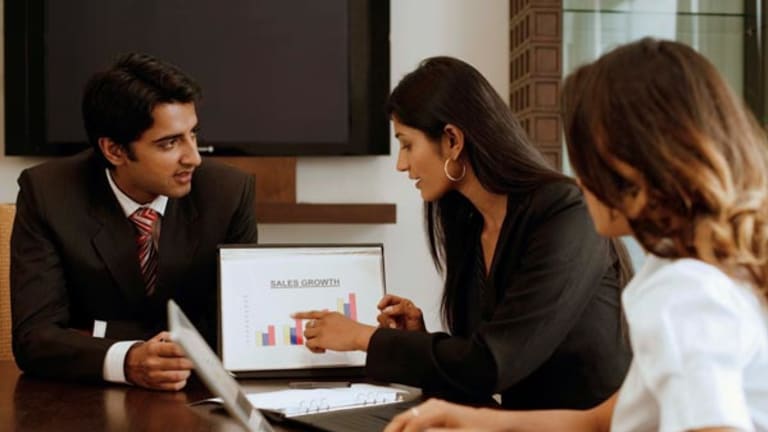 Friday's Analysts' Upgrades and Downgrades
Who made what calls.
CHANGE IN RATINGS
Ambac
( ABK) downgraded at Goldman Sachs to Neutral from Buy based on capital concerns. Despite low valuation (34% of adjusted BV), incremental reserves may exceed current excess capital, raising the possibility that company may need to raise more capital. Price target slashed to $35 from $74.
American Reprographics
(ARP)
downgraded at CIBC to Sector Performer from Sector Outperform due to cyclical concerns and lower than expected Q3 earnings. Despite valuation lows, believe stock will be rangebound as increased economic concerns make non-residential growth deceleration more likely. Also note uncertainty that residential downturn has bottomed. No price target.
Blackboard
( BBBB) downgraded at Baird from Outperform to Neutral. $50 price target. Company not likely to see as much margin expansion in 2008. Estimates also cut.
Coca-Cola Enterprises
(CCE)
upgraded at Citigroup to Buy. $31 price target. Company should benefit from Glaceau's expansion into Europe. Estimates also raised.
Cognex
(CGNX) - Get Cognex Corporation Report
upgraded at Bear to an Outperform rating after solid quarter with improving fundamentals.
Town Sports
(CLUB) - Get Town Sports International Holdings, Inc. Report
downgraded at Deutsche Bank to a Hold rating as Q3 was below expectations.
eBay
downgraded at Bear Stearns to Peer Perform from Outperform, based on declining margins in 2008. Believe near term financial results will be sacrificed as company focuses on investments for long term business health, especially seller satisfaction and buyer engagement. No price target.
Energizer
(ENR) - Get Energizer Holdings Inc. Report
upgraded at Deutsche from Hold to Buy. $125 price target. Company is managing bottom-line growth, despite soft sales. Playtex should also add to earnings.
Electronic Arts
( ERTS) downgraded at Deutsche Bank to a Sell rating as company trades at significant premium to industry while core growth lags.
General Communications
(GNCMA)
downgraded at Jefferies to Hold rating from Buy. Price target slashed to $10.50 from $17 and FY 2008 EPS estimates dropt to $0.21 from $0.40.
MBIA
downgraded at Goldman Sachs to Neutral from Buy due to capital concerns. See fundamental, technical and valuation support, but because the structure of each derivative is unknown, it is impossible to confidently predict capital solidity. Price target cut to $50 from $69.
Modine Manufacturing
(MOD) - Get Modine Manufacturing Company Report
upgraded at Baird to neutral on valuation after the recent stock decline.
Marathon Oil
(MRO) - Get Marathon Oil Corporation Report
upgraded at Credit Suisse to Outperform from Neutral based on potential upstream volume growth in 2008. Raised target price to $70 from $60.
Pepsi Bottling
( PBG) downgraded at Citigroup to Hold. Investors should lock in recent gains, and swap into CCE. $45 price target.
RadiSys Corp
(RSYS) - Get RadiSys Corporation Report
upgraded at Jefferies to Buy rating from hold. Price target jumps to $25 from $11.25 and FY 2008 EPS estimates upped to $0.56 from $0.35.
Sprint Nextel
(S) - Get SentinelOne Inc. Class A Report
upgraded at Deutsche from Sell to Hold. $17 price target. Company has cut guidance to a more reasonable level, and near-term downside is limited.
Trinity Industries
(TRN) - Get Trinity Industries Inc. Report
downgraded at Wachovia from Outperform to Market Perform. Earnings outlook is more favorable this time around, but orders should still tail off in 2008.
Westlake Chemical
(WLK) - Get Westlake Corporation Report
upgraded at Credit Suisse to Outperform from Neutral to reflect an improving risk/reward balance. Believes company is well-positioned over the next 2 years compared to peers. Maintained $27 target price.
Warner Music
( WMG) downgraded at Merrill to Sell. The music market continues to deteriorate, which places the company's long-term business model in flux.
STOCK COMMENTS / EPS CHANGES
Barrick Gold
(ABX)
2007 estimates lowered at Goldman to $1.95 from $2.08 following management commentary that operating performance will fall at the low end of previous guidance. Note progress at most of project pipeline, but permits at Pascua Lama are still pending. Maintained Buy rating and $58 target.
Citigroup
(C) - Get Citigroup Inc. Report
numbers cut at Deutsche. Shares of C now seen reaching $34. Estimates also cut for the second time in two weeks, given concerns about CDO's and SIV's. Sell rating.
Celanese
(CE) - Get Celanese Corporation Report
price target raised at Goldman to $49 from $45, based on earnings consistency and a higher multiple. Q3 results showed attractiveness of company's hybrid/differentiated model. Maintained Buy rating.
Davita
(DVA) - Get DaVita Inc. Report
cut from Focus List at JP Morgan. Stock has been stopped out, not reaching the $77 price target under time limits. Estimates also cut, to reflect recent negative announcements. Overweight rating.
Las Vegas Sands
(LVS) - Get Las Vegas Sands Corp. Report
2007 estimates cut at Goldman to $1.05 from $1.45. Q3 earnings came in well below expectations with EBITDA hurt by higher corporate and development expenses and weakness at all three properties. Going forward, see slower ramp at Venetian Macau, lower margins at Sands Macau, and later openings. Maintained Buy rating.
Las Vegas Sands target cut at Deutsche Bank to $120 from $130 as company missed Q3 expectations. Maintained Buy rating.
United Therapeutics
(UTHR) - Get United Therapeutics Corporation Report
target price raised at Deutsche Bank to $130 based on positive TRIUMPH results supporting Remodulin's outlook, impressive profitability, and increased takeout potential.