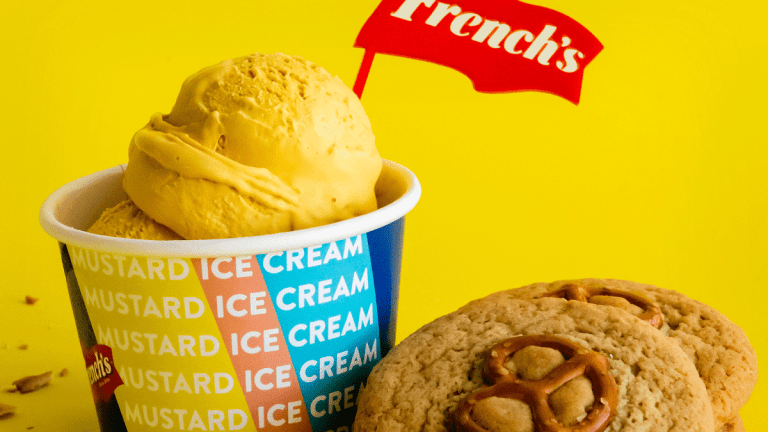 Hot Dog! French's Unveils Mustard-Flavored Ice Cream for National Mustard Day
French's is celebrating National Mustard Day on Saturday with this limited-edition 'treat.'
I scream, you scream, we all scream for -- mustard ice cream?
Well, French's Mustard is testing that proposition.
The Chester, N.J., subsidiary of Baltimore spice specialist McCormick  (MCK) - Get Free Report  said it would produce a limited-edition French's Mustard Ice Cream ahead of National Mustard Day on Saturday. 
The ice cream, developed in conjunction with Coolhaus Ice Cream, will be available Aug. 2-4 and 9-11 at Coolhaus headquarters in Culver City, Calif., 10 miles west of downtown Los Angeles. 
"New Yorkers can look for the French's Mustard Ice Cream truck in the streets of New York City on Aug. 1 and 2, before making its way out to the Hamptons on Aug. 3," a statement from the companies said.
"As lovers of sweet-meets-savory, pure ingredients and unique creations, we are incredibly excited to be collaborating with French's Mustard in creating this one-of-a-kind product," Coolhaus CEO Natasha Case said. Coolhaus is a women-owned and -led enterprise.
"It's been so fun to explore this classic condiment in a whole new way and create an unforgettable thoughtfully crafted ice cream flavor with an All-American taste," Case said.
French's dates its signature product to 1904, when, the website says, "George and Francis French, sons of R.T. French, introduced French's Classic Yellow Mustard, served over hot dogs at the St. Louis World's Fair."