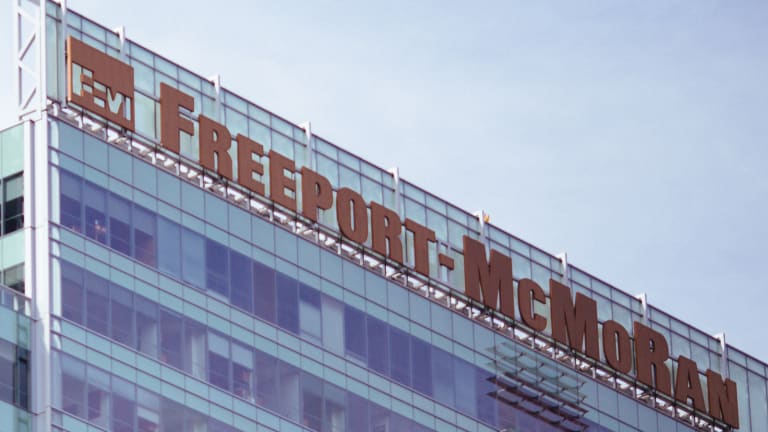 Freeport-McMoRan Declines Sharply Following Earnings Miss
Freeport-McMoRan's earnings in the quarter fall 86%.
Freeport-McMoRan's earnings in the quarter fall 86%.
Shares of Freeport-McMoRan Inc. (FCX) - Get Report , one of the world's largest copper miners, fell by 13.1% on Thursday to close at $10.70 after the company reported disappointing fourth-quarter results.
The company reported net income of $140 million, or 11 cents a share, after reporting net income of $1.04 billion, or 70 cents a share, a year ago. Copper production fell 17% to 841 million pounds. Average realized copper prices per pound fell 12% in the quarter. 
The company reported revenue of $3.68 billion, down from last year's $5.04 billion.
Analysts surveyed by FactSet were expecting the company to report earnings of 18 cents a share on revenue of $3.8 billion. 
"As we enter 2019, our priorities are focused on achieving important milestones to ramp-up production from our large-scale underground assets in the Grasberg minerals district, continuing our focus on productivity and cost management, advancing the Lone Star project and defining future growth options from our large portfolio of reserves and resources" CEO Richard C. Adkerson said. 
The company sold 785 million pounds of copper, 266 thousand ounces of gold and 24 million pounds of molybdenum in the quarter.