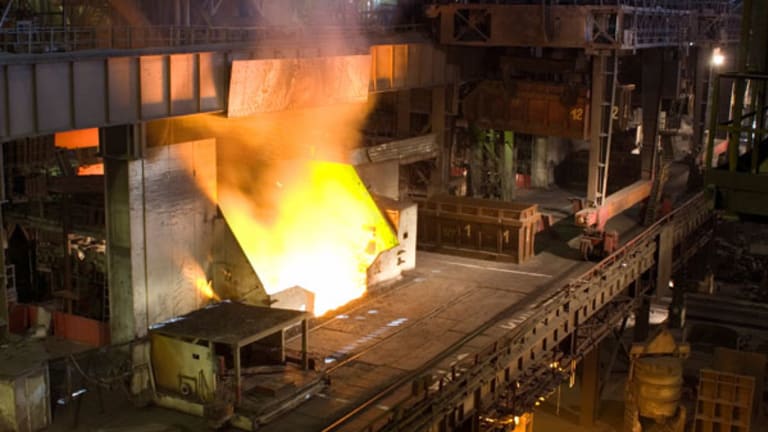 Freeport Loses $13.9 Billion, Beats Views
Charges hit the miner's bottom line but shares rise as it beats expectations.
Freeport-McMoRan Copper & Gold (FCX) - Get Report lost $13.9 billion, or $36.78 per share in the fourth quarter as demand for copper dropped. The mining company actually beat expectations, though and shares were higher.
Shares were recently up $2.66, or 11.7% to $25.47 a share.
For all of 2008, Freeport reported a net loss of $11.3 billion, of $29.72 per share, compared with net income of $2.8 billion, $7.50 per share in 2007. That result compares with net income of $414 million, $1.05 per share, for the fourth quarter of 2007.
The fourth-quarter results, however, include special charges of about $14 billion, or $36.84 per share, largely due to commodity price declines and the acquisition of Phelps Dodge. Excluding special items, profit totaled $23 million, or 6 cents per share.
Analysts polled by Thomson Reuters expected a loss of $1.12 per share, on average. Analysts typically exclude one-time items, meaning the company actually beat expectations.
James R. Moffett, chairman, and Richard C. Adkerson, president and CEO, released a joint statement: "We are taking decisive actions to respond to the currently weak global economic conditions so that our company is positioned to operate on a lean, efficient and low-cost basis while preserving our valuable resources and growth opportunities for the future. We have a portfolio of assets and an experienced team which enable us to operate effectively during varying market conditions. Our long-lived reserves, leading market positions in copper and in molybdenum, significant gold production, and attractive growth opportunities in an industry where supply growth has been constrained will enable us to benefit as the world's economies improve.
This article was written by a staff member of TheStreet.com. Copyright 2009 TheStreet.com Inc. All rights reserved. This material may not be published, broadcast, rewritten, or redistributed. AP contributed to this report.