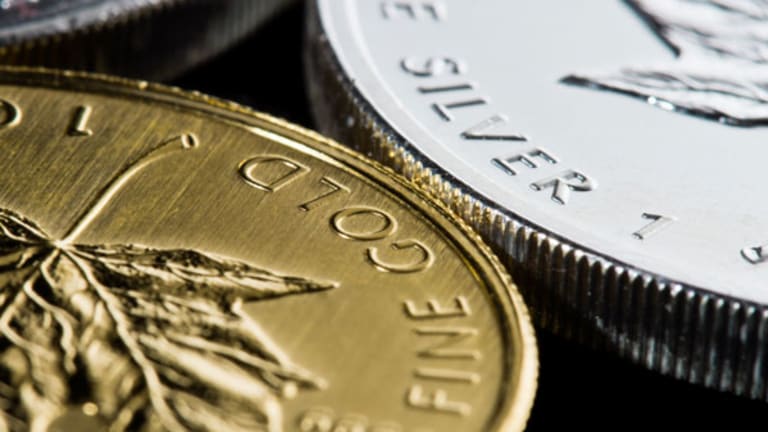 Freeport Beats; Shares Soar
Freeport bests Wall Street's views for its second-quarter profit despite the travails of copper prices during the June period.
(Freeport McMoRan earnings item updated to include analyst commentary and further details from the company's earnings release.)
PHOENIX (
) --
Freeport McMoRan
(FCX) - Get Report
, the copper-mining giant, surpassed analysts' scaled-back expectations for its second-quarter earnings as copper prices took a nosedive during the period on evidence that China's economic growth had eased back from its breakneck pace.
Freeport, which has largely relied on Chinese demand for copper and raw materials in general for its own bottom-line growth the last few quarters, said it earned $649 million, or $1.40 a share, in the quarter, better than the consensus Wall Street target of $1.31 a share, according to a survey of the sell side by Thomson Reuters.
Above: Freeport McMoRan's Grasberg copper and gold mine in Indonesia.
A year ago, Freeport McMoRan earned $588 million, or $1.38 a share.
The results impressed Wall Street. "These are robust numbers. It's as simple as that," said John Redstone, the mining stock analyst at Desjardin Securities in Montreal. He noted, as well, that Freeport has continued to keep its costs under control.
Meanwhile, copper prices continued to jump Wednesday morning, adding to gains notched earlier this week. On the London Metals Exchange, copper for delivery within three months rose 2%. Combined with Freeport's beat, the rise sparked more gains in the company's shares Wednesday. The stock was moving recently at $66.78, up 3.8% from the previous close. On Tuesday, Freeport issues spiked by 5.7%.
Other industrial metals names were gaining ground Wednesday as well.
Vale's
(VALE) - Get Report
American depositary receipts were up 2.5%,
Southern Copper's
(SCCO) - Get Report
shares were rising 2.4%, and
Teck Resources
(TCK)
was adding 3.8%.
Freeport said second-quarter revenue came to $3.86 billion, up from $3.68 billion a year ago. Freeport said it sold 914 million pounds of copper during the quarter, 298,000 ounces of gold, and 16 million pounds of molybdenum -- surpassing its production estimates.
The company, which operates the huge
, left its 2010 production projections in place at 3.8 billion pounds of copper, 1.8 million ounces of gold, and 16 million pounds of molybdenum.
Freeport's top men -- Chairman James Moffet and CEO Richard Adkerson -- said in a statement, "We remain positive about the outlook for our business based on the fundamentals of global supply and demand. We anticipate generating strong cash flows, which would enable us to invest in future growth and return cash to shareholders."
In the second quarter, spot prices for copper averaged about $3.18 a pound, down substantially from the $3.42 the metal fetched in the first period of the year, when soaring prices allowed
and post robust year-over-year comparisons.
Despite the
in recent sessions, the metal had declined enough in value since the spring that Freeport has reduced its forecast for copper's average selling price for the rest of 2010. In April, Freeport called for an average selling price of $3.50 a pound for 2010. Now, the company said it's assuming an average for the second half of the year of just $3 a pound.
Freeport, which extracts gold as a byproduct at its massive copper mines, expects the yellow metal to average $1,200 an ounce in the second half of the year.
Cash costs (including the sale of byprodcts) averaged 97 cents for every pound of copper removed from the earth during the second quarter, Freeport McMoRan said. That's higher than the 41 cents registered in the year-ago period.
The company blamed the rise on an ongoing effort at its Grasberg mine to shift production in the enormous crater to areas with lower-grade ores -- a process called "mine sequencing." Almost 30 years old, Grasberg has yielded slowly dwindling ore grades -- at least in the open pit. Freeport is spending billions to finish construction on a complex of underground shaft mines at the site.
The company continues to plan for capital expenditures in 2010 of $1.7 billion as it restarts mines and projects it had shut down or abandoned at the outset of the recession. But, Freeport said in its release, "A number of studies are ongoing, which may result in increased capital spending programs."
-- Written by Scott Eden in New York
Follow TheStreet.com on
and become a fan on
Scott Eden has covered business -- both large and small -- for more than a decade. Prior to joining TheStreet.com, he worked as a features reporter for Dealmaker and Trader Monthly magazines. Before that, he wrote for the Chicago Reader, that city's weekly paper. Early in his career, he was a staff reporter at the Dow Jones News Service. His reporting has appeared in The Wall Street Journal, Men's Journal, the St. Petersburg (Fla.) Times, and the Believer magazine, among other publications. He's also the author of Touchdown Jesus (Simon & Schuster, 2005), a nonfiction book about Notre Dame football fans and the business and politics of big-time college sports. He has degrees from Notre Dame and Washington University in St. Louis.