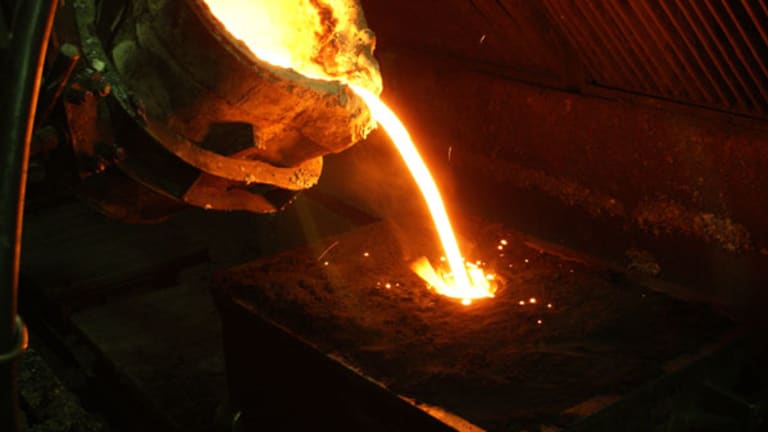 Freeport, Alcoa to Gain on Strong Metals
Freeport, Alcoa and other metals and mining companies are set to gain from higher base metals prices that are here to stay after last year's gains.
NEW YORK (
) -- The sharp rise in prices of base metals last year was nothing short of spectacular and these new price levels are here to stay, analysts predict.
Copper prices in particular are set to return to their pre-downturn levels. Among analysts surveyed by Bloomberg, the consensus estimate for copper prices in 2010 stands at $6,588 per ton, about 30% higher than the 2009 average of $5,150.
Last year, copper prices on the London Metal Exchange zoomed from $3,120 per ton in January 2009 to $7,340 per ton at the end of the year. Zinc was up at $2,529 per ton in December 2009 compared to $1,075 per ton in January 2009. Prices of aluminum, hovering around $1,350 per ton in January 2009, witnessed an increase of 69% to about $2,200 per ton in December.
One of the best stocks to play the rising copper prices is
Freeport-McMoran Copper & Gold
(FCX) - Get Freeport-McMoRan, Inc. Report
. After touching a high of $90.6 in January, the stock has corrected sharply to $69.2. The largest publicly traded copper company globally, it benefits from geographically diverse operations and long mine lives. Its shares are trading at 13.2 times forward earnings, considered relatively inexpensive.
Meanwhile, aluminum prices are expected to average $2,078 per ton during 2010, 24% higher than the 2009 average while zinc prices are forecasted at $2,140 per ton during 2010, about 29% higher than the average price of $1,660 witnessed in 2009.
Alcoa
(AA) - Get Alcoa Corporation Report
offers a pure play equity exposure to rising aluminum prices. A global company operating in 35 countries, Alcoa sells its aluminum products to multiple industries worldwide including aircraft, automobiles, Oil & Gas, Defence and Industrial applications to name a few. After having corrected 20% last month, at $13.06 Alcoa shares offer a good buying opportunity.
Another stock which is set to gain from the broad based price rally in industrial commodities is
Teck Resources
(TCK)
, which trades at $32.01. The company announced Monday record fourth quarter revenues of C$2.2 billion, up 38% year over year on strong base metal prices and returned to profitability posting earnings of C$411 million. This stock has six "buy" recommendations, three "holds" and no "sell" ratings, according to TheStreet's
analyst ratings guide
.
Over the past twelve months, riding the base metals price rally, large-cap equities such as Teck Resources, Freeport-McMoran,
Southern Copper
(PCU)
,
BHP Billiton
(BHP) - Get BHP Group Ltd. Report
, and Alcoa soared 854%, 195%, 115%, 100%, and 100%, respectively.
Theperformance of the
SPDR Metals and Mining ETF
(XME) - Get SPDR S&P Metals & Mining ETF Report
also has been remarkable compared to the broader equity market. XME appreciated 85% from January 2009 till date, while the
S&P 500
registered gains of only 33% during this period.
The big unanswered question in predicting metal prices is whether China intends to continue buying metals, especially copper at the current breakneck levels. Continued Chinese buying could effectively place a floor on metal prices.
During 2009, China built up its commodity inventories amid a favorable price environment, which contributed to the price increase, despite weak demand globally. Focused on base metals such as Copper and Aluminum, Chinese stockpiling led to record imports. Refined copper imports during 2009 touched 4.3 million tons, 63% higher than the previous year, while Aluminum imports totaled 2.3 million tons, up 164%.
The strong commodity prices have led to a surge in global production of all metals, resulting in a widening surplus. Aluminum production in China increased 40.7% to 1.33 million tons in January 2010 from 946,000 tons in January 2009. Copper production in China increased 39.4% y-o-y to 421,000 tons and steel production was up 26.1% y-o-y to 47.6 million tons during the same period.
However, there is also a risk of over production, warns Jack Crooks, president of foreign exchange advisory firm Black Swan in Florida.
"China can buy all the commodities and build all the capacity they want and it would look good on GDP," Crooks told Reuters in an interview . "But if demand isn't there, that creates excess capacity and lower profit margins for Chinese corporations."
The excess capacity that will largely sit in Chinese plants could force China to cut prices, prompting other nations to drop prices as well, analysts say.
The commodity price rally took a breather during the second half of January 2010. Base metal prices saw a significant correction, led by a stronger U.S. Dollar and monetary tightening measures by the central banks of China and India with Australia likely to follow suit.
Commodities are typically denominated in the U.S. currency, which is likely to remain under pressure because of the massive U.S. budget deficit, experts say. This could trigger a bout of inflation and, consequently, a bull move in commodities, which historically have been used as a hedge against inflation.