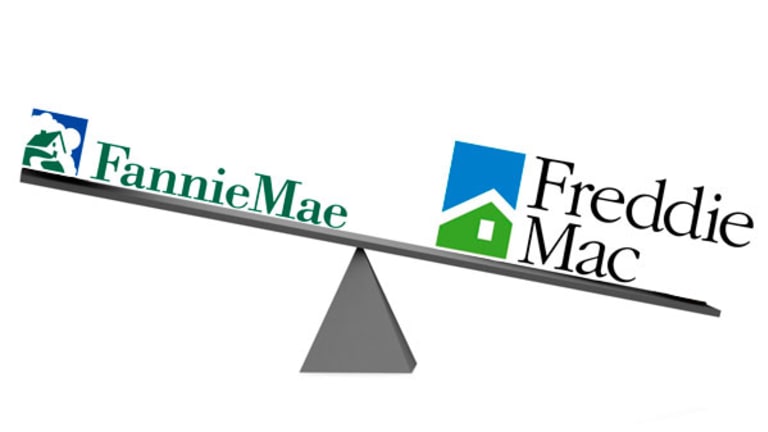 Freddie Mac Earnings Put Government in the Black
Freddie Mac follows Fannie Mae in announcing its total dividends paid to the government will exceed the government's bailout investment.
NEW YORK (TheStreet) -- Freddie Mac (FMCC) on Thursday announced a fourth-quarter profit of $8.6 billion and said it would pay a dividend to the U.S. Treasury of $10.4 billion.
Freddie Mac and its sister company Fannie Mae (FNMA) -- together known as the government sponsored enterprises, or GSEs -- were taken under government conservatorship at the height of the U.S. credit crisis in September 2008.  The government received senior preferred shares in lieu of total bailout investments of $72.3 billion in Freddie Mac and $117.1 billion in Fannie Mae.  The GSE bailout agreements originally called for Fannie and Freddie to pay annual dividends of 10% on the government-held preferred shares, but the agreements were amended in August 2012, to require the GSEs to pay all of their earnings as dividends to the government in excess of minimal capital cushions. 
Following its March dividend payment, Freddie Mac will have paid the Treasury a total of $81.8 billion, exceeding the Treasury's total investment in the mortgage giant.  Fannie Mae on Monday made a similar announcement, saying that after its March dividend payment of $7.2 billion, it will have paid the government a total of $117.2 billion in dividends.
When the Federal Housing Finance Agency took direct control of Fannie and Freddie in 2008, it was difficult to imagine just how profitable the GSEs would turn out to be.  Both entities saw tremendous boosts to earnings last year through one-time recoveries of deferred tax asset valuation allowances.  Freddie Mac earned $48.7 billion during 2013, with a DTA recapture of $23.3 billion, while Fannie earned $84 billion, with a DTA recapture of $47.6 billion.
But even when leaving out the DTA recapture, the GSEs are very profitable investments, which is a clear reason for the government not to allow Freddie or Fannie to repurchase any of the government-held senior preferred shares.
Junior preferred and common shareholders have had their dividends suspended since September 2008, and non-government shareholders are demanding a seat at the table, as the Treasury, Congress and President Obama consider a way forward for the U.S. housing finance system.
There have been several lawsuits against the government by high-profile investors holding common or junior preferred shares of the GSEs, including Bruce Berkowitz of Fairholme Funds, who are advocating for the survival of Fannie and Freddie.
A very important development for the private shareholders of the GSEs was a ruling Wednesday by Judge Margaret Sweeney in the U.S. Court of Federal Claims that the Fairholme lawsuit against the government could proceed to the discovery phase.  The government had sought to have the Fairholme lawsuit thrown out.  Common shares of Freddie and Fannie rose on that news.
Berkowitz in November proposed to replace Freddie and Fannie with two new privately funded entities, "to purchase, recapitalize and operate the mortgage-backed securities insurance business of Fannie and Freddie."  The proposal has some similarity to the Protecting American Taxpayers and Homeowners Act -- known as the PATH Act -- introduced in the House of Representatives in January by Rep. Scott Garrett (R., N.J) in January 2013.
But despite all the talk in Washington about doing away with Fannie and Freddie, the Obama Administration has good reason to play a waiting game, as the lawsuits slowly proceed.  While the private investors wait, the GSEs keep paying massive dividends to the government, thus lowering the federal deficit and giving President Obama an easier time in his budget negotiations with the Republican-led House of Representatives.
GSE stocks started out strong again on Thursday, with common shares of Freddie rising 4.4% to $4.50, while Fannie's shares were up 4.9% to $4.69.
The GSEs' junior preferred shares were also strong in morning trading, with Freddie's preferred Series Z (FMCKJ) up 4.8% to $12.10, while Fannie Mae's preferred Series F shares (FNMAS) shares were up 5.9% to $11.65.  Both preferred issues have par values of $25.00. 
-- Written by Philip van Doorn in Jupiter, Fla.
RBS Pummeled After Loss Report
Swiss Banks Still Protecting Criminals
Philip W. van Doorn is a member of TheStreet's banking and finance team, commenting on industry and regulatory trends. He previously served as the senior analyst for TheStreet.com Ratings, responsible for assigning financial strength ratings to banks and savings and loan institutions. Mr. van Doorn previously served as a loan operations officer at Riverside National Bank in Fort Pierce, Fla., and as a credit analyst at the Federal Home Loan Bank of New York, where he monitored banks in New York, New Jersey and Puerto Rico. Mr. van Doorn has additional experience in the mutual fund and computer software industries. He holds a bachelor of science in business administration from Long Island University.