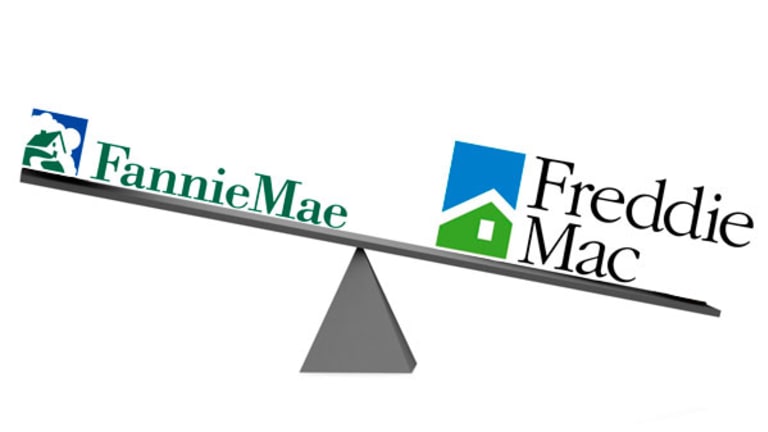 Fannie, Freddie Hedge Funds Could Claim Victory, Go Home
Shares are rallying on reports of a new privatization plan, but this train is going no where for a very long time.
Shares are rallying on reports of a new privatization plan, but this train is going no where for a very long time.
NEW YORK (
) --
Fannie Mae
(FNMA)
and
Freddie Mac
(FMCC)
reform seems so far off its hard to comprehend, so you have to wonder when the monster rally in preferred and common shares of the mortgage giants will take a breather.
Investors who have been buying up the shares have different reasons for doing so. Some base their wager on a legal victory. A series of investor lawsuits, some of them backed by high profile attorneys like Boies, Schiller & Flexner's David Boies and Gibson Dunn's Ted Olson, making different claims about how investors were ripped off by the government, have been filed this year. Others (and some of the same ones from the earlier group) believe eventual privatization of the housing giants is inevitable, and have been touting various plans to that effect.
The privatizers were high-fiving each other Wednesday following a
Financial Times
report that the usual group of hedge funds, including
Carlyle Group's Claren Road Asset Management
,
Paulson & Co.
, and
Perry Capital
are touting a new version of their long-standing privatization plan for the mortgage giants. The report also cited
Fairholme Funds
-- not a hedge fund but a frequent proponent of privatization -- and a plaintiff in one of the law suits, and a few new names, such as
Blackstone Group
(BX) - Get Report
's GSO Capital Partners, KKR and Carlyle's private equity arm.
The
FT
report appeared to be the reason for unusually high trading volumes in the common shares Wednesday. Fannie and Freddie shares were each up about 5% Wednesday morning on volumes that prior to 11 a.m. had already exceeded their average daily volumes of the past three months.
But the fact is that nothing is going to happen with Fannie and Freddie reform for a very long time, and the idea of allowing a group of hedge funds and private equity firms to profit from taking these entities private would ignite such populist outrage that it seems absurd on its face.
Asked about the future of the government-sponsored entities on Tuesday at a conference in New York hosted by SIFMA, Wall Street's main trade group,
Blackrock
(BLK) - Get Report
said wisely that we first have to decide whether home ownership is a priority for the country before we get into the mechanics of reform. Fannie and Freddie are founded on the principle that homeownership is a good thing for society--a view other governments (Canada, for example) don't hold so dearly.
So it's a big, big adult discussion and since our Congress seems ill-equipped for adult discussions these days, its seems a safe bet that Fannie and Freddie reform goes nowhere for years and years.
These private equity firms and hedge funds must know this. And so you have to wonder: with the most liquid issues of Fannie Mae and Freddie Mac preferred shares (tickers FNMAS and FMCKJ, respectively) trading at more than 33 cents on the dollar excluding dividends, up from about 7 cents on the dollar at the start of the year, when do you decide to cash in your winnings? Many of the aforementioned savvy investors paid less than 10 cents on the dollar for their preferred shares. With all the political and legal uncertainty that remains, Fannie and Freddie common and preferred shares remain a very risky bet. While they clearly have value, at some point you have to wonder if making several times your investment for merely filing some lawsuits and starting a discussion isn't enough of a victory all by itself.
--
Written by Dan Freed in New York
.
Disclosure: TheStreet's editorial policy prohibits staff editors, reporters and analysts from holding positions in any individual stocks.