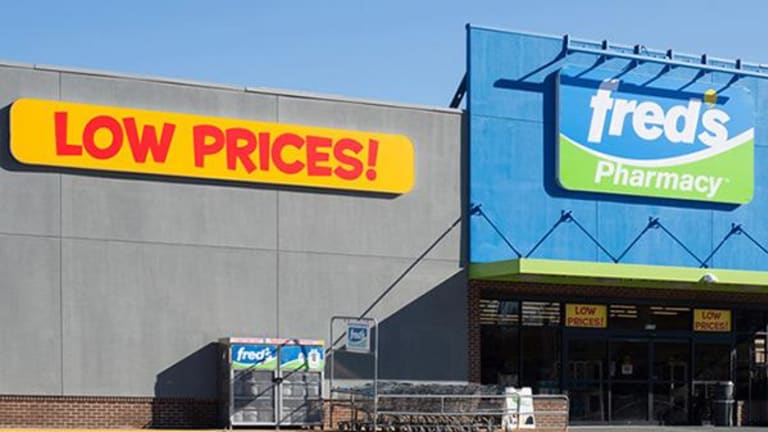 Fred's Swallows Poison Pill as Activist Targets
It has been quite a December for Fred's (FRED), one of the smaller U.S. pharmacy chains.
Updated from 11:10 a.m. with additional details
Fred's (FRED) needs to be policed, so kudos to its new activist investor for wanting to be the enforcer.
The pharmacy chain said Tuesday it has adopted a shareholder right plan less than a week after activist investor Alden Global Capital took a nearly 25% stake in the company. Otherwise known as a "poison pill", it could limit Alden's ability to add to its stake as it could dilute the company's share count if an existing large shareholder increased its holdings or a new shareholder amassed a 10% stake.
Law firm Vinson & Elkins advised Fred's in connection with the adoption of the shareholder rights plan and other measures in response to unusual and substantial activity in the company's shares.
Alden Global Capital didn't immediately return a request for comment. 
Ultimately, Alden is right to have Fred's in its grips. 
Fred's has continued to struggle amid intense competition from the much larger discounter Walmart (WMT) - Get Report and pharmacy operator Walgreen's Boots Alliance (WGA) . That despite a host of new executives -- with extensive backgrounds in retail such as CEO Mike Bloom -- that have joined Fred's in recent quarters and have signed off on investing in enhanced pharmacy departments and the remodeling of stores. Fred's has lost money in six out of the last 10 quarters, points out MKM Partners. In the third quarter alone, same-store sales plunged 3.8% due to weak store traffic while losses clocked in at a staggering $38.4 million.
Shares of Fred's plunged about 54% to a two-year low of $8.05 on November 7.  
Walgreen's Boots Alliance is a holding in Jim Cramer's Action Alerts PLUS Charitable Trust Portfolio. Want to be alerted before Cramer buys or sells WBA? Learn more now.
Fred's could use a board shake-up
The prolonged stretch of weak results and a limp stock price doesn't exactly inspire confidence ahead of the integration of Fred's most important acquisition in its history.
Fred's stock shot up up 81% on December 20 after it announced it would more than double its size by buying 865 stores Rite Aid (RAD) - Get Report needs to sell to solidify its merger with Walgreen's Boots Alliance. The stock's surge has raised the expectations bar for Fred's, namely that executives could deliver high levels of profit from the acquired stores over time.
"We see a fair amount of integration risk, given Fred's poor operational performance," cautions MKM Partners analyst Patrick McKeever. 
Alden plans to talk to Fred's about the transaction, capital allocation and the makeup of its board, reported the Wall Street Journal.
The activist investor has a strong case that Fred's board, which has overseen its struggles, is in bad need of some fresh-thinking from the outside.
Fred's seven-member board currently has two of its former CEOs as directors in Michael Hayes (CEO from 1989 to 2009, and former chairman) and Jerry Shore (2014 to 2016). The remaining five members arguably lack the extensive retail and pharmacy industry experience needed to serve as good counsel in light of the acquisition of Rite Aid's stores. The lone all-star on the board may be Steven Fitzpatrick, a former president of Medco Health Solutions specialty pharmacy unit Accredo Health Group. But he retired in 2011.
As for board chairman Thomas Tashjian, a director since 2001, he is now a private investor, according to Fred's website. Between 1996 and 2001, Tashjian served as managing director and consumer group leader at Banc of America Montgomery Securities, where he provided views on the retailing industry.  
In addition to its effort at Fred's, Alden Global Capital has launched activist campaigns at three other companies in recent years, Emmis Communications, Pier 1 Imports and Visteon Corp., according to FactSet.
Alden's ongoing campaign at Pier 1 could provide an inkling into how it might escalate its insurgency at Fred's. The activist fund in November reported a 15% stake and sent a letter expressing concerns about Pier 1's declining operational performance, and how it wanted to work collaboratively with the company to reconstitute the board and help management with an ongoing CEO search process. The fund also urged Pier 1 to consider an Alden representative for its board, noting that if Pier 1 didn't respond effectively it may consider seeking to nominate one or more dissident director candidates through a consent solicitation process.
Pier 1 rejected Alden's request to obtain an exemption from a poison pill it recently set up. On Dec. 20, Alden sent another letter to Pier 1, reiterating the fund's desire to participate in the search for a new CEO.
Shares of Fred's fell about 2% to $19.82 in late morning trading.