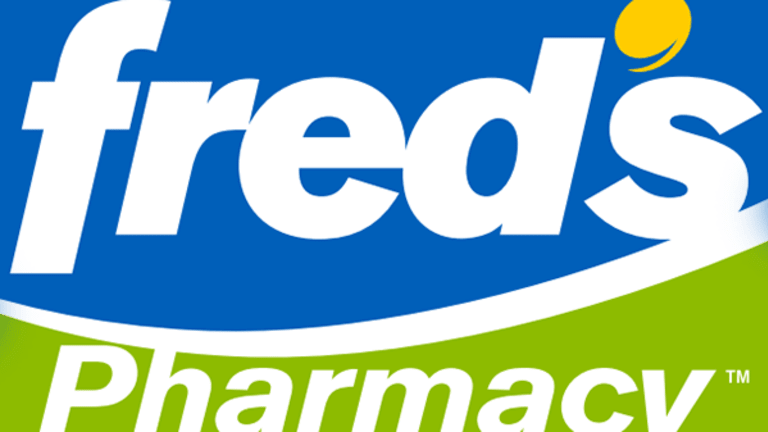 Fred's Adopts Poison Pill Following 'Increased Trading Volatility'
Fred's says the poison pill reduces any likelihood that a person or group would gain control of it through open market accumulation.
Fred's Inc. (FRED) , the drug store chain that's involved in the Walgreens Boots Alliance (WBA) - Get Report and Rite Aid Corp. (RAD) - Get Report deal, said on Wednesday it is adopting a short-term shareholder rights plan, also known as a "poison pill," following increased trading volatility related to its participation in the transaction.
Memphis, Tenn.-based Fred's, with a market capitalization of $476.2 million, said the rights plan will become exercisable if a person or group owns a stake of 10% or greater, and it will expire on Sept. 25.
Under the proposal, if a person or group acquires ownership of 10% or more then each current holder will have the right to purchase additional shares at a 50% discount, thereby diluting the value of the acquiring group. Any existing group that has a 10% or greater position in the regional pharmacy chain will be grandfathered in at its current ownership level, but the rights will become exercisable if the group increases its ownership of the common stock.
Fred's said in a filing with the U.S. Securities and Exchange Commission that the poison pill reduces the "likelihood that any person or group would gain control of the company through open market accumulation;" notably, it was not adopted in response to "any specific takeover bid or other proposal to acquire control."
Working with Walgreens and Rite Aid, Fred's said in December 2016 that it would buy 865 Rite Aid stores for $950 million in cash to win over the regulators, and was committed to buying up to 1,200 stores to get the Federal Trade Commission's (FTC) approval. Fred's currently operates more than 650 pharmacies in 15 southeast U.S. states.
Drug stocks surged on Monday after news outlet CTFN reported that the FTC would likely approve the Walgreens and Rite Aid deal. The combined company would operate more than 11,000 locations in the U.S., filling more than 1 billion prescriptions each year. Fred's shares soared approximately 24% on Monday before the stock lost more than 4% on Tuesday.
Still, Fred's move to adopt a poison pill comes just a couple months after it settled with its largest shareholder Alden Global Capital LLC, which holds a 24% stake, according to FactSet Research Systems Inc. In April, the drugstore chain agreed to add two directors, Digital First Media CEO Steven Rossi and Timothy Barton, the former CEO of Freightquote.com, to its board. Alden began accumulating shares of FRED in November 2016 through December 2016, before Fred's had announced its intention to buy hundreds of Rite Aid stores.
And there are at least two other institutions that hold a position greater than 10%. Wellington Management Co. LLP owns about 11.5% of the outstanding shares; BlackRock Fund Advisors holds a stake slightly above 10%, according to FactSet. However, FactSet notes that neither group has been involved in a publicly disclosed activist campaign.
Activist investor Greenlight Capital's David Einhorn revealed a stake in Fred's in February. According to the latest 13-F filing, Greenlight Capital owns approximately 2.1 million shares, or about 5.7 percent. The firm also holds a large position in Rite Aid, about 16.8 million shares or about 1.6 percent, suggesting that Einhorn either believes that the Walgreens-Rite Aid deal will be completed or that he could be hedging his bet in the combined company.
Prior to Alden Global Captial's campaign, there was one previous activist campaign by the California Public Employees Retirement System (CalPERS) in May 2009. CalPERS was pushing for its proposal to provide a majority voting standard in director uncontested elections. The measure was approved by 76%, according to FactSet Shark Repellent.
The FTC is expected to reach a decision on the mega-pharmacy deal by July 7.
Shares of FRED rose more than 2% to $12.32 on Wednesday. The stock is down 33% year-to-date.
Employees of TheStreet are restricted from trading individual securities.