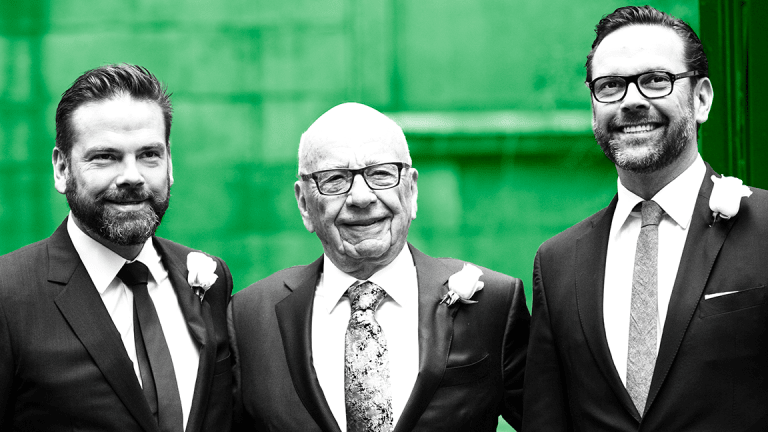 Fox Makes Abrupt U-Turn as Disney Deal Talk Resurfaces
Selling off Fox's film studios and TV production would mark a big shift for the Murdochs, who are simultaneously trying to expand their global empire with the purchase of Sky.
The surprising deal talks first reported several weeks ago between Twenty-First Century Fox Inc. (FOXA) - Get Fox Corporation Class A Report and Walt Disney Co. (DIS) - Get Walt Disney Company Report appear to be back on, although Fox executives have so far remained mum.
CNBC reported on Tuesday that Disney is in talks to buy Fox's film studios and TV production business, as well as its stakes in the Sky plc satellite TV and Hulu video streaming joint venture, for $60 billion -- about the size of Fox's current total market cap. Presumably the price would also include some of Fox's $19.5 billion in long-term debt. Fox shares are up more than 30% since reports of deal talks surfaced in early November.
Editor's note: This article was originally published by The Deal, a sister publication of TheStreet that offers sophisticated insight and analysis on all types of deals, from inception to integration. Click here for a free trial.
Reports suggest a deal could materialize by next week. Neither company responded to a query.
At a New York investor conference on Tuesday, Fox CEO James Murdoch skirted the issue of whether the company is in talks to sell its film and TV studios.
When asked what Fox management considers in making deals at the UBS media conference, Murdoch gave the standard "what is going to create the most value for all of our shareholders." 
Shares of Fox were down slightly to $32.95 on Wednesday morning, while  Disney shares were down 1.3% to $105.88. Disney shares are up just 1% this year compared to the S&P 500's gain of almost 18%, primarily due to concerns about the impact of cord cutting on Disney's hugely important ESPN division.
"It's a big about turn for guys who were trying to move at 100 mph to acquire the rest of Sky," Jeffrey Logsdon of JBL Advisors said of a potential asset dump by Fox. 
Speculation of a deal between Disney and Fox has surfaced a number of times in recent months. The Deal looked at the advisory teams that have historically helped the media houses strike deals. 
Fox is trying to buy the 61% of UK satellite TV service Sky it doesn't already own for $15 billion, but has met resistance from UK regulators. The company expects regulators to give a signal about their intent later this year, Murdoch said Tuesday, allowing the company to close the purchase in the first half of 2018.
"So now all of the sudden you're willing to split this company up?" Logsdon said. "There's an awfully big plan that has to be behind that."
The Murdochs, who have a controlling position in Fox, would not gain a substantial foothold in Disney's equity, the analyst suggested.
So why pause their global expansion to sell off valuable pieces of the Murdoch empire? "Is there infighting going on between [Murdoch sons] Lachlan and James?" Logsdon asked. "Is there disagreement on strategic or philosophical interest within some of their key assets like Fox News?"
The family could combine Fox News and the broadcasting interests with News Corp. (NWSA) - Get News Corporation Class A Report , the publishing business that Rupert Murdoch broke off from the film and television business in 2013. 
The family could then take Fox News and the other businesses private, or sell the news and TV businesses to someone else, Logsdon suggested.
Another big question is how much of Fox's $19.5 billion in long term debt Disney would absorb in a deal.
"I just don't see the Murdochs saying, 'We're just happy to own Fox News and Fox Broadcasting which has not done as well over the last few years. We'll just sit here and manage those.'"
More of What's Trending on TheStreet:
Alibaba Just Found a Novel Way to Use Your Face