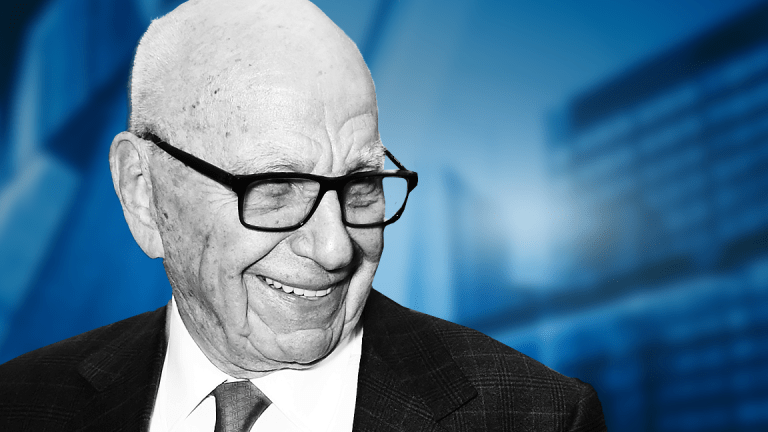 Rupert Murdoch: Fox Isn't Going Away Following Sale of Assets to Disney
While Fox is selling its film, TV and other properties to Disney, executive chairman Rupert Murdoch says Fox is not in retreat.
Fox will still be a force to be reckoned with even after selling the bulk of its assets to Walt Disney Co. (DIS) - Get Walt Disney Company Report , asserted its executive chairman Rupert Murdoch on Thursday. 
While Twenty-First Century Fox Inc. (FOXA) - Get Fox Corporation Class A Report is selling its film and TV studios to Disney in a $52.4 billion stock deal, Executive Chairman Rupert Murdoch told investors on Thursday that the media group is not about to disappear.
"We haven't thought about combining with News Corp. and if we do it's way, way in the future," the Murdoch patriarch said. He did not indicate whether the company might go private.
Disney is buying Fox's Twentieth Century Fox film and TV studios and related assets; cable networks including FX Networks, Fox Sports Regional Networks; Fox's international networks; Indian satellite TV group Star India; and stakes in National Geographic Partners, Hulu LLC, UK satellite TV group Sky and other assets.
Fox and Disney come to different total valuations for the deal, including assumed debt. Fox puts the enterprise valuation at $69 billion, while Disney puts it at $66.1 billion. Disney further specified that backing out the value of the stakes in Sky and Fox's other equity investments, the deal's valuation comes to 11.9 times Ebitda. And it said that if it can achieve the savings and other benefits it expects form the deal, the multiple would fall to 8.3 times Ebitda.
Meanwhile, Fox will keep Fox News Channel; Fox Business Network; Foxs Sports and other sports networks; a group of TV stations; the company's L.A. film studio lot and a stake in Roku. As a result of the deal, Fox shareholders would also own 25% of Disney.
"I know a lot of people are wondering why did the Murdochs come to so momentous a decision? Are they retreating," Murdoch said, clarifying that the company is "pivoting at a pivotal moment."
While the Department of Justice has sued to block AT&T inc.'s (T) - Get AT&T Inc. Report purchase of Time Warner Cable Inc. (TWX) , Fox does not anticipate regulatory problems in the U.S. with its horizontal merger of media properties. "I think it should be fine," Murdoch said. "You never know what Justice comes up with."
The new Fox will have $10 billion in sales and $2.8 billion in Ebitda. The company expects to have an investment grade balance sheet.
"Sometimes the right decisions are the hardest ones and this is no exception," Executive Chairman Lachlan Murdoch said on the call.  
The new slimmed-down company would focus on news and live sports, Lachlan said, and would pursue new forms of distribution and monetization. 
"While the merged business is about scale, the new Fox is about returning to our roots," he said. 
While Fox is shrinking, the new company will still be able to make acquisitions. "We'll be in a mood to expand and to do new things," Rupert Murdoch said. "And we'll have the ability."
Of course, Fox is in the midst of a major expansion overseas, buying the shares of European satellite TV operator Sky that it does not own for $15 billion. The deal has been slowed up by regulators, but Fox expects to close the deal in the first half of next year. "If anything goes wrong, the existing shares in Sky will go to Disney," Rupert Murdoch said. "It's up to them what to do [with it]," Rupert said.
Fox did not say what CEO James Murdoch's role would be following the deal, although Disney boss Bob Iger addressed the matter during a separate investor call held by Disney earlier in the day.  
"James and I have had a lot of conversations," Iger said. For the time being, Iger said, Fox's CEO will be involved in integrating the two company's assets. "He and I will continue to discuss whether there is a role for him or not," Iger said.
More of What's Trending on TheStreet: