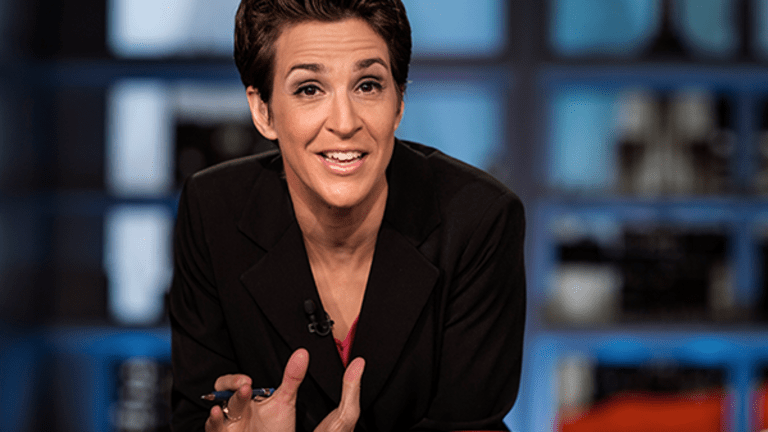 Something Happened at Fox News That Hasn't Gone Down Since Bill Clinton Was President
Fox News may be beginning to feel the effects of losing star anchor Bill O'Reilly.
It's only five days, but might these be cracks in the Fox News edifice?
The network, long the leader in the cable TV news ratings war, fell to third place in prime-time viewing from May 15 to 19 among a key demographic for the first time since 2000, according to Nielsen. Though Fox News finished second for total viewers, it lost to its bitter rivals MSNBC and CNN among adults 25 to 54 years old, the demographic most coveted by advertisers.
Fox News did finish the week ended May 21 with the most viewers, however.
Shares of its parent company, 21st Century Fox (FOXA) - Get Fox Corporation Report , were down 1.7% on Tuesday afternoon to $26.81.
The unusual dip in Fox News' ratings came the week Roger Ailes, its co-founder and former chairman and CEO, died after suffering head injuries from a fall at his Palm Beach, Fla., home, and the network continues to adjust to the dismissal last month of star anchor Bill O'Reilly, who not only had won the 8 p.m. Eastern cable TV news hour every week since 2001 but whose show, The O'Reilly Factor, had been the most watched cable TV program for 15 years.
Personalities have always fueled TV news ratings whether on broadcast or cable, and Fox's domination of cable news viewing has long stemmed from O'Reilly's position at the 8 p.m. hour acting as a funnel for the rest of Fox News' prime-time lineup.
For the five days ended May 19, MSNBC attracted 2.44 million total viewers during prime-time, including 611,000 among 25 to 54 year olds, according to Nielsen. Fox News posted 2.41 million total viewers and 497,000 in the key demographic, while CNN had 1.65 million total viewers and 589,000 in the 25-to-54-year-old demographic.
To be sure, Fox News is hardly being tossed into the also-rans of cable TV viewing.
The network, which has become synonymous with the Republican Party's brand of conservatism, is winning the month of May in total day and prime-time viewers. Owing to the heightened interest in politics and political discourse following the election of President Trump, Fox News reported that its own audience has increased by double-digit percentiles compared with May 2016.
While ratings at Fox News have been hurt by O'Reilly's departure, Comcast's (CMCSA) - Get Comcast Corporation Class A Common Stock Report MSNBC and Time Warner's (TWX) CNN have been bolstered from the fallout of President Trump's firing of James Comey at the FBI, accentuated last week by the Justice Department's appointment of Robert Mueller to investigate Russia's possible meddling in the 2016 presidential race.
MSNBC's Rachel Maddow is winning the 9 p.m. slot, and CNN's Anderson Cooper placed first at the 8 p.m. hour with the 25-to-54-year-old demographic. Cooper won the 8 p.m. hour every day last week in the demographic, the longest winning streak for the CNN anchor since the 9/11 terrorist attacks, according to an emailed statement from the network.
CNN also sought to emphasize that the network came in first for total day viewing among adults 25-54 for six straight days, ended May 19, its longest winning streak since March 2011.  
Fox News was forced to change its lineup last month after O'Reilly was dismissed amid revelations that Rupert Murdoch had stood behind his star anchor despite having to pay $13 million to settle sexual harassment allegations.
The network moved Tucker Carlson Tonight back one hour into O'Reilly's 8 p.m. time slot, and shifted its roundtable of commentators on The Five into the 9 p.m. hour. That show is co-hosted by Kimberly Guilfoyle, Dana Perino, Greg Gutfeld, Juan Williams and Jesse Watters. A sixth host, Bob Beckel, was fired last week "for making an insensitive remark to an African-American employee," the company said in a statement.
Sean Hannity retained his spot at 10 p.m.
Fox News' sudden drop behind its bitter rivals could be compared to Disney (DIS) - Get The Walt Disney Company Report CEO Bob Iger's admission in August 2015 that ESPN, long the most dominant network on cable TV, was losing subscribers. Iger's seemingly innocuous comment that "ESPN has experienced some modest sub losses," prompted a selloff in Disney shares, fueling fear and loathing that profit margins would start to decline at the media conglomerate's largest business.
That ESPN would show signs of weakness reflected a paradigm shift in the way people view video. Cord-cutting became less a theory and more a reality that continues to reshape the television business.
Fox News, meanwhile, has been taking steps to chart a new course following Ailes' dismissal in July amid numerous allegations of sexual harassment, all of which he had denied. Earlier this month, Fox announced a major overhaul of its newsroom, which hadn't been remodeled during the 20 years that Ailes ran the network. The newsroom is being moved from its basement location in midtown Manhattan to the company's second floor, where Ailes had his office.
The results are just for one week, and it's quite possible that Fox News could make additional changes to its prime-time lineup. Yet Fox News under Ailes long prided itself in beating CNN and MSNBC, using its domination to argue that its competitors were out of step with the country. 
With the Trump administration on its heels following Mueller's appointment, the ratings battle between cable TV news networks may just be heating up.
Jim Cramer and the Action Alerts PLUS team have some thoughts about Comcast and other holdings of their investment club. To find out what they are telling their members, get a free trial subscription to Action Alerts PLUS.
Click here for the latest business headlines.