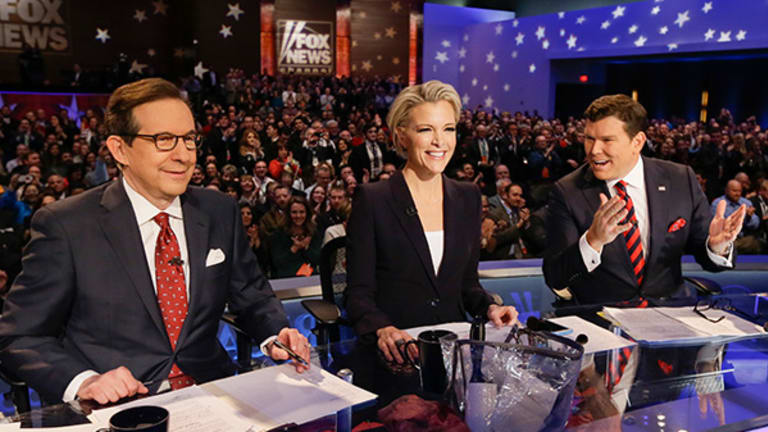 Publish date:
Fox News Could Be Saved From Scandal by Contentious Conventions
Fox News is still reeling from the ouster of CEO Roger Ailes, but the unusually argumentative conventions from the Republicans and Democrats have been a welcome distraction.
Fox News is still reeling from the ouster of CEO Roger Ailes, but the unusually argumentative conventions from the Republicans and Democrats have been a welcome distraction.
Editors' pick: Originally published Sept. 9
A new week brings another convention and a brand new news cycle.
For Fox News, rocked by the resignation on Thursday of its founder and redoubtable chief Roger Ailes amid allegations of sexual harassment, the unusually peppery Democratic and Republican conventions couldn't have come at a better time for the channel.
That Ailes was forced out of the network on the exact same day that Donald Trump accepted the presidential nomination of a Republican Party that Fox News helped shape over the past 20 years was the stuff of surreal coincidence.
For Fox News, a unit of Rupert Murdoch's 21st Century Fox (FOXA) - Get Fox Corporation Class A Report , the Trump convention and the vocal protests of Bernie Sanders' supporters at the Democratic gathering in Philadelphia on Monday have been little short of a godsend. Fox News' audience for Trump's July 21 speech in Cleveland (and his daughter Ivanka's introduction) was nearly twice as large as the audience tuning into Time Warner's (TWX) CNN.
According to Nielsen, Fox News beat all cable news and broadcast networks during the fourth and final night of the Republican National Convention. The total audience reached 9.4 million viewers, with 2.5 million viewers among those aged 25 to 54, a critical demographic for marketers. By comparison, CNN tallied 5.4 million viewers, with 1.9 million among the 25 to 54 age group.
"The timing for them was very fortuitous," said Jeffrey Sharlach, founder of the JeffreyGroup, a New York public relations firm, in a phone interview. "What you want is a lot of other stuff going on in the news cycle, and they've certainly had that."
While media industry pundits and Fox News bashers were fixated on sexual harassment allegations lodged against the imperious Ailes, much of the country has been riveted by other events. 
Last week, it was the #NeverTrump movement's last stand, Melania's liberal borrowing of Michelle Obama's phrasing and the Republican acceptance speech of a developer-turned-reality-TV-star that riled as much as it excited national news coverage. Just a handful of hours before Trump spoke in prime time, Ailes officially resigned.
Over the weekend, however, Ailes was the focus of two hard-hitting stories in national newspapers. Those stories corroborated the charges of former Fox News anchor Gretchen Carlson that her career had been sabotaged when she "rejected his sexual advances" after calling for him to address sexual harassment in the workplace. A New Jersey superior court has yet to decide whether to hear Carlson's lawsuit, filed on July 6, or accede to a request from Ailes' lawyers to have the case moved to a federal court in New York.
Citing interviews with four women who worked at Fox News, The Washington Post described Ailes "as a man who could be routinely crude and inappropriate, ogling young women, commenting about their breasts and legs, and fostering a macho, insensitive culture." Some 25 women have contacted Carlson's attorney, Nancy Erika Smith, with similar stories of harassment by Ailes.
The New York Timesdrew a similar picture, detailing the experience of former news anchor Rudi Bakhtiar as well as other women who spoke to the newspapers on the condition that their names would not be published. Taken together, the stories portrayed Fox News as an institution that either tolerated sexual harassment or was slow to discourage it.
To be sure, The Washington Post was quick to acknowledge that many of the anonymous allegations leveled against Ailes took place well before he and Rupert Murdoch founded Fox News in 1996. Some took place as far back as the 1960s, when Ailes first broke into the television business.
Yet once again, it remains unclear whether Fox News' ratings will be adversely affected by the scandal. While the stories from The Washington Post and The New York Times were among the most-read on each their websites, Fox News devotees have long embraced the network expressly precisely because it rejected information from newspapers it portrays as liberal.
The bigger challenge for Fox is likely to come internally as it seeks to assure employees that it won't tolerate sexual harassment in the workplace. The Murdochs' relatively swift decision to show Ailes the door may have eased public attention on the story.
"Outside of media circles, Roger Ailes is not all that well known," added Sharlach, who also teaches management communication at New York University's Stern School of Business. "It might have seemed like the sky is falling to those inside Fox News, but the actual impact on the audience, perhaps, is not all that great. Most Fox News viewers may not have any idea who Roger Ailes is or was."