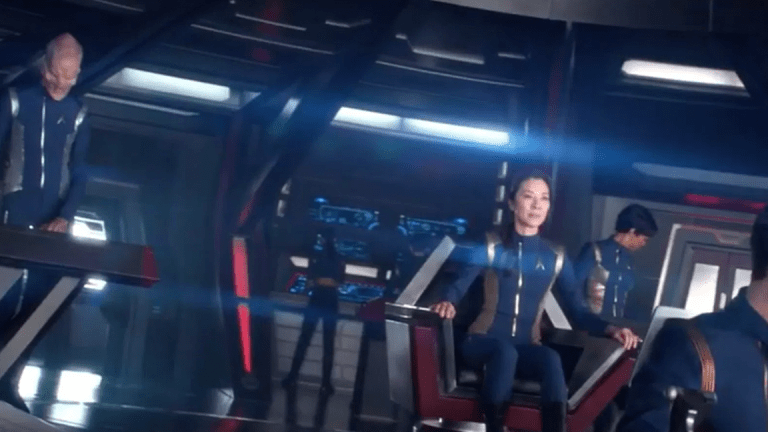 Breaking Up With Netflix and Amazon Might Not Be That Easy for Fox and CBS
The streaming services launched by the TV networks face more of an uphill battle than those of Disney and HBO.
Hollywood has quite the habit of showing herd-like behavior. If one or two superhero movies turn into big hits, you can rest assured that several more featuring similar themes and/or characters will be greenlighted. Ditto zombie movies, romantic comedies, reality TV shows and much else.
This kind of herd mentality now apparently extends to the streaming strategies of media giants. Whereas it was en vogue to license their most valuable movies and shows to Netflix Inc. (NFLX) , Amazon.com Inc. (AMZN)  and (media industry-owned) Hulu, studios are increasingly intent on putting much of their content on their own streaming services, and often exclusively.
But not all Hollywood studios are equally well-equipped to make such a move. What's working for Time Warner Inc. and could very well work for Walt Disney Co. (DIS) might not be as successful for many of their peers. And those peers seem to have some understanding of this.
On Sept. 25th, Netflix's shares fell 4.7% -- easily beating the Nasdaq's 0.9% drop -- after Twenty-First Century Fox Inc.  (FOXA) and to a lesser degree CBS Corp.  (CBS) made moves that put investors on edge. Fox announced its FX Networks unit has added 15 more original series to its $6-per-month FX+ streaming service, raising the total to 31. Newly-added shows include The Americans, Better things and Atlanta; they join popular older shows such as Sons of Anarchy, The Shield and It's Always Sunny In Philadelphia.
FX expects to make all of its original shows available on FX+ at some point in 2018. Notably, FX CEO John Landgraf says he thinks his firm should no longer exclusively license any of its content to third-party streaming services.
CBS, meanwhile, aired the first episode of Star Trek: Discovery on its broadcast networks on Sept. 24th,, but is also making all subsequent episodes exclusive to its All Access streaming service. The second episode became available on All Access just after the first one aired.
More of What's Trending on TheStreet:
The company claims Star Trek: Discovery, which has seen decent reviews, drove record sign-ups for All Access -- it streams CBS shows and in some locales provides a live CBS affiliate feed -- but didn't provide a precise number. CBS has forecast it will have a combined 4 million subscribers for All Access and its Showtime streaming service by year's end.
Each of these actions comes less than two months after Disney announced it won't renew a major licensing deal with Netflix when it expires at decade's end, and that a Disney streaming service launching in 2019 will be the exclusive streaming home of all Disney and Pixar films starting that year, and also exclusively host some original shows. The company later added the service would also become the exclusive streaming venue for Star Wars and Marvel films.
Time Warner, for its part, has for a while embarked on a strategy of making its valuable HBO content exclusive to its own streaming services. The $15-per-month HBO Now standalone streaming service launched in April 2015 -- it follows the launch of HBO Go, a service available to subscribers of HBO's pay-TV channel -- and had over 2 million subs as of February 2017. For now, older HBO shows are available on Amazon thanks to a 2014 deal, but HBO announced in May it won't renew the deal when it expires in mid-2018.
But whereas Disney and Time Warner are intent on making their best stuff solely available on their own platforms, Fox and CBS still seem quite willing to license many of theirs. Netflix still streams FX shows such as Sons of Anarchy and American Horror Story, as well as CBS shows such as NCIS and Hawaii Five-O. And though Landgraf would like to prevent such deals from happening going forward, Netflix for now has exclusive streaming rights for the FX hit The People v. O.J. Simpson.
Plenty of FX and CBS shows are also available on Hulu and Amazon's Prime Video, with Prime Video having until now been the exclusive streaming home of FX's The Americans. And while Fox proper has been pulling many of its shows from Netflix, they're being made exclusive to Hulu, in which Fox has a 30% stake, rather than to FX+. This might be another example of a turf war inside a Hollywood studio hurting the studio's ability to achieve strategic goals.
Either way, Fox/FX and CBS have strong incentives to continue playing ball with third-party streaming services. The biggest one: Overall, their content just isn't as big of a draw as Disney's and HBO's. As consumers see their total monthly streaming bills pile up -- hence the growing interest among streaming providers in striking bundling deals -- convincing them to pay for All Access or FX+ is a tougher sell than convincing them to pay for HBO (in one form or another) or Disney's upcoming service (assuming it's priced reasonably). Particularly since it's unlikely that many consumers will unsubscribe to Netflix or Amazon Prime in the name of getting All Access or FX+.
Also: Due partly to their business models, Fox/FX and CBS are more nervous about having their streaming services step on the toes of pay-TV providers and damage their existing affiliate fee and advertising revenue streams. FX+ is only being made available to pay-TV subscribers (sorry, cord-cutters); deals have been inked to date with Comcast Corp. (CMCSA)  and Cox. And the $6-per-month version of All Access comes with ads; users have to pay another $4 per month to get an ad-free service that by any standard is far less compelling of a deal than Netflix, Prime Video or Hulu.
Disney's movie studios, by contrast, depend far more on box-office receipts and DVD sales than pay-TV revenue streams. And while HBO still depends heavily on pay-TV deals, the HBO channel is shown ad-free and consumers often pay separately for it rather than via bundles, all of which makes it easier for the company to get away with offering a compelling ad-free standalone streaming service.
It's also worth noting here that Disney plans to continue licensing ABC shows (available on Netflix, Amazon and Hulu) to third parties, and that Time Warner's TNT unit has also struck licensing deals. Clearly, their streaming strategies for ad-supported TV networks are on the whole very different than their strategies for other content.
Put it altogether, and the odds are that Fox/FX and CBS will still find it worth their while to license a lot of material to the likes of Netflix and Amazon. Especially given their ballooning content budgets -- Netflix expects to spend over $6 billion on content this and year and over $7 billion next year, while Amazon has been forecast by JPMorgan to spend $4.5 billion on content this year. A lot of this is of course going towards original content, but the companies are still clearly willing to license plenty of material as well.
And depending on how Hulu (12 million subs as of May 2016) and their own streaming services fare in the coming years, it's possible that Fox and CBS will rethink some of their recent moves to make popular shows exclusive to Hulu or a proprietary service.
It comes down to an issue of math. Netflix now has over 100 million global subs, and Amazon Prime is estimated to have over 65 million. Thanks to their scale, the companies will quite often be able to justify paying more for popular third-party shows than whatever benefit they get from keeping them exclusive to Fox and CBS-affiliated services with far less scale.
Perhaps a few years ago, when Netflix and Prime Video were much less popular, the story was a little different. But at this point, the likes of Fox and CBS probably have no choice but to play ball with Reed Hastings and Jeff Bezos' firms.
Jim Cramer and the AAP team hold a position in Comcast for their Action Alerts PLUS Charitable Trust Portfolio. Want to be alerted before Cramer buys or sells CMCSA? Learn more now.