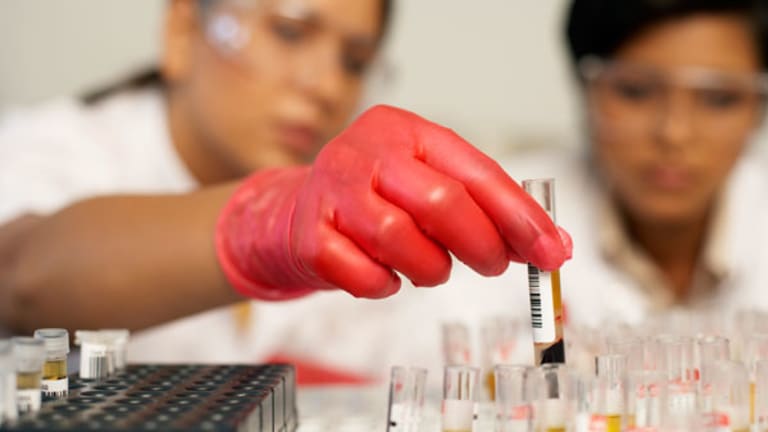 Four Charts Tear Apart Peregrine Pharma's Quarterly Spin Job
Peregrine executives say all is well but the charts tell a much grimmer story.
Peregrine executives say all is well but the charts tell a much grimmer story.
TUSTIN, Calif. (
) -- Here's a reality check -- illustrated with charts -- which will help interpret
Peregrine Pharmaceuticals'
(PPHM)
corporate update and financial report for the first quarter in its 2014 fiscal year issued Monday night.
Peregrine CEO Steven King:
Over the last few months, we have been building on the excitement created by the immunotherapy mechanism data and have been actively engaging scientists and key opinion leaders in the field of immunology, with the goal of engaging their expertise as we advance the bavituximab program. We have been extremely pleased as to how these data have been received and the enthusiasm exhibited from the potential of bavituximab. We are looking forward to continuing these activities and supplementing these discussions with preclinical data for ongoing studies expected to come out in the next few months.
PPHM
data by
King:
In addition to the immunotherapy research, there has been significant interest in the results presented at ASCO showing an 84% tumor response rate in HER2-negative breast cancer patients, highlighting the potential of bavituximab in this difficult-to-treat indication. Of course, our key company goal remains initiating the Phase III second-line non-small cell lung cancer study, which we have named the SUNRISE trial, by year end.
Significant interest? He must mean in every other biotech stock except Peregrine:
PPHM
data by
Joseph Shan, vice president of clinical and regulatory affairs:
The clinical activities during the quarter focused on preparations for the start of our pivotal Phase III trial in non-small cell lung cancer and supporting the preclinical proof-of-concept program that Jeff just outlined for you. The Phase III trial is named SUNRISE, an acronym which stands for Stimulating Immune Response through Bavituximab in a Phase III Lung Cancer Study.
SUNRISE also stands for this:
Paul Lytle, chief financial officer:
During the recent quarter, our contract manufacturing business, Avid Bioservices, generated just over $4.5 million in contract manufacturing revenue. This is a solid start to fiscal year '14, and we expect contract manufacturing revenue for the entire fiscal year '14 to be between $18 million and $22 million based on current commitments.
PPHM Revenue Quarterly
data by
By the way, Peregrine's contract manufacturing revenue for fiscal year 2013 totaled $21.3 million, so the company is guiding down for this fiscal year.
Lytle:
Now turning to our cash position. We continued to maintain a balanced financial approach, ending the quarter with $41.6 million in cash compared to $35.2 million in cash at fiscal year end, April 30, 2013. This provides us sufficient capital to fund our operations through at least the first quarter of fiscal year '15 based on our current financial projections, giving us the needed flexibility to initiate the upcoming Phase III trial in second-line lung cancer while strengthening our position as we evaluate other opportunities, including ongoing partnering discussions.
But what about the cost of running the SUNRISE clinical trial? Isn't it expensive?
Lytle:
Yes. Generally, it's -- Phase III trials, George, are approximately about $100,000 a patient. So it's 600 patients. You're looking at around $60 million.
The trial will cost $60 million but Peregrine has $41.6 million in the bank to cover all corporate expenses. Expect this curve to continue moving up and to the right
PPHM Average Diluted Shrs Outs Quarterly
data by
Regarding those "partnering discussions": Remember when Peregrine promised to land a partner for bavituximab before starting the phase III trial?
CFO Lytle in September 2012:
Our stated goal is to have a partneron board before we start the Phase III trial and preferably, before the end of Phase II meeting with the FDA, as wewould like our future partner to be a part of that important meeting.
And CEO King, speaking last night:
Yes, so I think we've put ourselves in position where it's our intention to go ahead and be able to start the clinical study and to, in fact, complete the clinical study, if necessary, on our own.
-- Reported by Adam Feuerstein in Boston.
Adam Feuerstein writes regularly for TheStreet. In keeping with company editorial policy, he doesn't own or short individual stocks, although he owns stock in TheStreet. He also doesn't invest in hedge funds or other private investment partnerships. Feuerstein appreciates your feedback;
to send him an email.