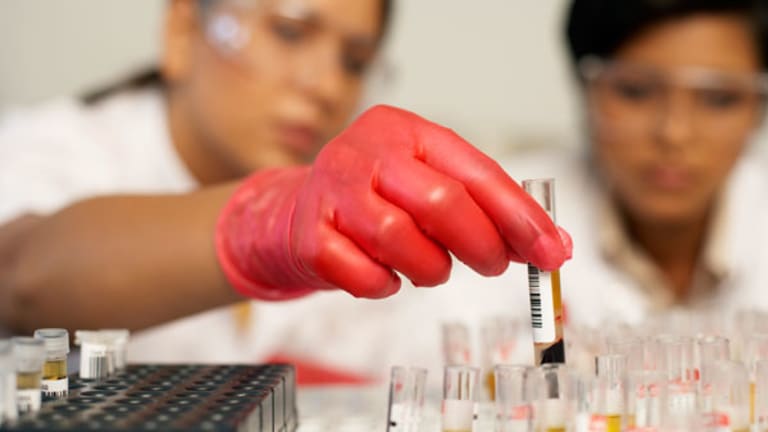 Four Biotech 'Surprise' Stocks for 2014
Biotech investing rarely follows a predictable script, so here's four stocks which may surprise even the most experienced investors in 2014.
With Thanksgiving approaching, it's time for investors and commentators to take stock (pun intended) of the rapidly ending year and look ahead with predictions for the next 12 months. 
This week, I want to highlight what were, for me, some of the biggest surprises in the biotech sector of 2013 and speculate about what those same events might look like in 2014. Next week, I'll offer my own biotech stock predictions for 2014 -- a list that will surely come back to haunt me 12 months from now. 
Surprise No. 1 of 2013: The blow-up of approved, marketed drugs due to safety problems.Ariad Pharmaceuticals' (ARIA) leukemia drug Iclusig pops immediately to mind in this category, but don't forget Affymax's anemia drug Omontys, no less of a disaster from earlier in the year. One doesn't usually plan for commercial-stage biotech companies completely blowing up, but that's exactly what happened to Ariad and Affymax to the surprise of most investors. The risk of a drug failure is something we more often associate with clinical trials, not drugs that make their way successfully through clinical trials and the FDA approval process. Yet in 2013, Ariad and Affymax managed to snatch failure from the jaws of victory. 
Is there an Ariad/Affymax lurking in 2014? I don't believe there is, but press me and I'll say Seattle Genetics (SGEN) - Get Seagen, Inc. Report and its lymphoma drug Adcetris. I own Seattle Genetics so I'm not here to instill panic. Nonetheless, the bear thesis on Adcetris does focus, in part, on the drug's safety. An Adcetris study was halted temporarily in June due to reports of pancreatitis and the drug has been linked to cases of progressive multifocal leukoencephalopathy (PML). Again, I believe the risk of Seattle Genetics falling into the same deep, dark hole as Ariad and Affymax is exceedingly small -- under 1% -- but as we learned this year, nothing is impossible. 
Surprise No. 2 of 2013: The acquisition of a late stage/commercial antibiotic company. Cubist Pharmaceuticals (CBST) acquired Trius Therapeutics and Optimer Pharmaceuticals in July. I've long been bullish on smaller antibiotic companies because of the growing problem of drug-resistant germs and the relative scarcity of new, effective antibiotics. Up until this year, however, owning small antibiotic makers has been a lonely experience because larger drug companies have been exiting the antibiotic market, shrinking the pool of natural buyers. But Roche has signaled a move back into antibiotic development, so we may see more M&A activity in 2014. 
Is there a Trius or Optimer in 2014? Yes, and it's Cempra (CEMP) . Granted, Cempra won't have results from a phase III study of its antibiotic solithromycin until the middle of 2014, where Trius had completed late-stage studies already when it was acquired, but if there is going to be more antibiotic M&A, Cempra is a target. 
Surprise No. 3 in 2013: A better-than-expected commercial launch of a new drug. I'm going to cheat a little on this one and choose Regeneron Pharmaceuticals' (REGN) - Get Regeneron Pharmaceuticals, Inc. Report Eylea, which was approved in 2011 and launched in 2012. What's amazing about Eylea -- and why a mention is deserved here -- is investors continued to under-estimate the drug's sales potential throughout 2013. The Eylea upside has contributed a lot to Regeneron's incredible stock performance. 
Can a new drug launch in 2014 knock the socks off investors like Eylea has done the past two years? I have two contenders: Pharmacyclics' (PCYC) Imbruvica and Gilead Sciences' (GILD) - Get Gilead Sciences, Inc. Report sofosbuvir. Investors have high expectations for both drugs already but they're also game-changing therapies launching into large commercial markets. I won't be surprised to see Imbruvica, sofosbuvir, or both, end 2014 with sales topping current expectations.
Sobek is long Seattle Genetics, Cubist, Pharmacyclics, and Cempra.
David Sobek has been writing on biotech for a number of years through various outlets with a general focus on small cap oncology and antibiotics companies. He received his PhD in political science from Pennsylvnia State Univeristy in 2003 and a BA in international relations from The College of William and Mary in 1997.