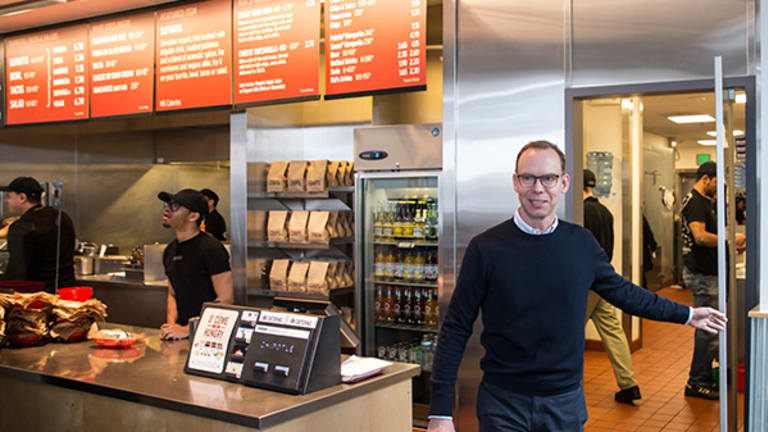 Chipotle Founder Ells: 1,000 Poorly Performing Restaurants
'We took our eye off the ball on customer service,' Ells concedes.
Updated from 10:53 a.m. with new details
Chipotle (CMG) - Get Chipotle Mexican Grill, Inc. Report founder Steve Ells is unhappy with how the company's restaurants are operating as consumers slowly return to the brand after shunning it last year following several food safety incidents. 
"I'm not satisfied with the rate of recovery and the quality of the restaurant experience," Ells told investors at a Barclays conference on Tuesday. "We are not offering the necessary guest experience," added Ells, who said 50% of the company's restaurants -- or about 1,050 -- are worthy of scores of "C, D or F."
The embattled Chipotle founder explained these poorly performing restaurants were suffering from untidy dining rooms, dirty soda filling stations and slow lines. The root cause, says Ells, is that Chipotle heaved over 80 new operating procedures on employees in the wake of its food safety issues. That made working at Chipotle tougher, causing employees to quit. In a typical year, Chipotle would only add eight or so new operating procedures.
"We took our eye off the ball on customer service," Ells conceded, noting that the problems -- mostly in its Northeast markets -- may be causing sales to recover slower than expected.
Wall Street wasn't happy with Ells' performance at the event, sending shares plunging as much as 7% to $368 on the news. Also not helping Chipotle was executives striking a more cautious tone on the outlook for next year, saying it was "nervous" about its guidance.  
Chipotle previously projected a high-single digit percentage same-store sales increase and earnings of $10 a share for 2017. 
Ultimately, it's hard to argue that many things continue be awry at Chipotle. 
The burrito giant's third-quarter sales plunged 21.9%, falling well shy of Wall Street forecasts for a drop of 18.9%. Meanwhile, heavy discounting exacted a hefty toll on Chipotle's bottom line. Excluding one-time items, earnings came in at 56 cents a share, badly missing analysts' expectations for earnings of $1.56. A year earlier, Chipotle delivered earnings of $4.59 a share.
"Chipotle's third-quarter earnings reinforces our thesis that the path to recovery remains slow and the brand has yet to regain credibility with the consumer. Therefore, we believe it's too early to buy the stock, as same-store sales remain well below pre-incident [pre-E. coli] levels, despite aggressive promotions," said Canaccord Genuity analyst Lynne Collier.