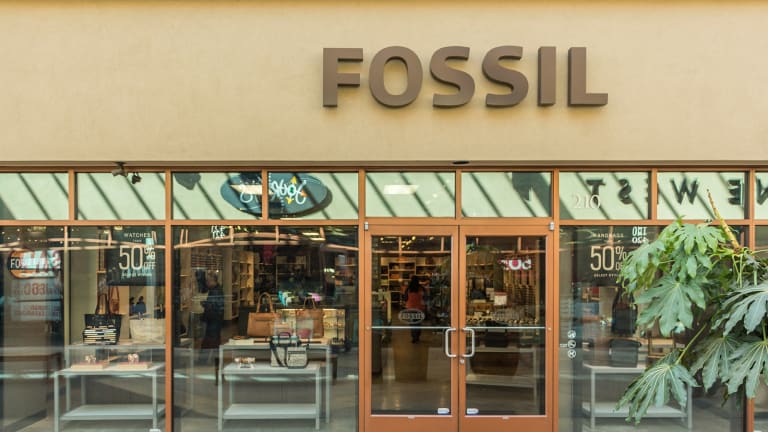 Fossil Stock Soars 87% and May Have Another 50% Rally Coming
Fossil beat on earnings per share and revenue expectations and shares vaulted higher by 87% in Wednesday's trading session. Could another 50% be on the way?
Weak retail sales and January's inflation data might be enough to knock down the stock market. But it's not enough to sap some of the gains from Fossil (FOSL) - Get Free Report .
Shares are up a resounding 87% Wednesday to $16.97, after closing Tuesday's session at $9.04. This stock lost some steam during the session, seeing its rally dwindle to "just" 55%" at one point. However, Fossil stock hit the gas into close and actually almost hit $18 a half-hour before the close. 
Fourth-quarter revenue of $920.8 million fell 4% year over year, but earnings of 67 cents per share came in 27 cents, or 67.5%, above analysts' expectations. Talk about a big beat!
But that wasn't all. Analysts were forecasting for a 6% drop in comparable-store sales. Fossil churned out a 2% gain. CEO Kosta Kartsotis said the company "expect[s] to be a smaller yet more profitable company that is on a solid path for the future."
That's music to investors ears in the case of this struggling retailer. Keep in mind that just three years ago this stock was at about $100.
So where to now?
According to Keybanc's Edward Yruma, higher may still be the answer. While shares went from $9 to $16 (premarket) in just one day, another 47% of upside may be in the cards. And it may be worth listening to him.
Yruma had a $15 price target on Fossil before the company reported earnings. After seeing the report and listening to the conference call, though, he bumped his price target another $10 per share to $25. The company is finally making real, noticeable progress in its transformation, he argued.
Cost reduction could add $150 million to $200 million in adjusted EBITDA and the strength in wearables is promising, Yruma highlighted.
To no surprise, he has an overweight rating on the stock. The question is, does the stock have another 56% rally coming?
Others weren't so bullish. Oppenheimer analyst Anna Andreeva said she doesn't see much of a fundamental change in Fossil, pointing out its weak first-quarter sales guidance. She attributed the large spike to short-covering.
Victor Ahluwalia of CFRA maintained his hold rating and $7 price target on the stock. 2018 should remain a difficult year for Fossil, despite its fourth-quarter earnings report, he said. Shifting consumer trends and pressure from competitors should make it difficult for Fossil, he argued. 
(Columnist Jonathan Heller of Real Money, our premium site for active traders, recommended FOSL on Jan. 8 when the stock was trading at just $8.34 a share vs. more than $15 today. Click here for a free trial subscription to Real Money, where you'll get great trading ideas from Heller, Jim Cramer and other experts every trading day.)
This article is commentary by an independent contributor. At the time of publication, the author had no positions in the stocks mentioned.