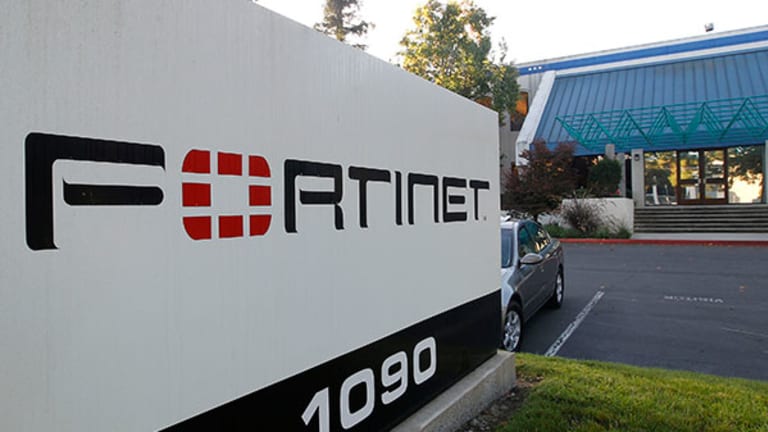 Proprietary information is a vital competitive asset in the private sector, but data security systems are riddled with vulnerabilities, especially as the workforce becomes more mobile.
Those millions of remote employees plugging into their company networks via laptops, smartphones and tablets aren't always using secure networks. It is a huge and worsening risk.
With a market capitalization of $6.52 billion, Fortinet (FTNT) - Get Fortinet, Inc. (FTNT) Report fills those gaps in corporate perimeters. The Sunnyvale, Calif.-based company provides advanced firewalls and cybersecurity solutions for government agencies and service providers around the world.
As cyberattacks become more prevalent, Fortinet is rising a multi-year growth wave.
The phenomenon of cybertheft is exacerbated by the intensifying involvement of organized crime. Many financial losses have been traced back to the bank accounts of specific criminal organizations, especially in Eastern Europe and Russia.
These technology-savvy gangsters will hack not whack their victims.
The malicious meddling of Russian President Vladimir Putin's army of hackers during the 2016 U.S. presidential election underscores the cyberrisk emanating from far reaches of the globe.
To a greater degree than many defense-focused cybersecurity companies such as government contractors Booz Allen Hamilton and ManTech International, Fortinet specializes in the private sector, particularly in creating products that use firewalls to fill the chinks in corporate armor.
The company's security products are familiar and trusted brand names to anyone in the information technology field.
They include FortiAnalyzer, which provides one portal for log data aggregation; FortiAP, which strengthens wireless access points; FortiGate, which wards off attempted breaches of firewalls, virtual private networks and wide area networks; and FortiManager, which centralizes administration of security solutions. 
Fortinet this month introduced firewalls that should help drive growth this year and beyond: the Fortigate 3980E, the world's first 1 terabit firewall, and the 7060E, a super-fast firewall that operates at 11 Gigabits per second.
Also this month, Fortinet reported stellar fourth-quarter and full-year 2016 operating results that tee-up the company for double-digit growth this year.
Revenue for the quarter came in at $362.8 million, up 22% from a year earlier. For the full year, revenue came in at $1.28 billion, up 26% from 2015.
Quarterly earnings were 30 cents a share, up 67% from a year earlier. For the full year, earnings came in at 73 cents a share, up 43% from a year earlier.
As of Dec. 31, the company's free cash totaled $1.31 billion, compared with $1.27 billion as of Sept. 30. Fortinet has been putting that cash hoard to work.
Last June, Fortinet made a huge leap forward in capabilities by acquiring IT analytics, monitoring and security software vendor AccelOps for about $28 million.
AccelOps specializes in so-called event management products that analyze hardware and software security alerts. It is one of the hottest areas in cybersecurity, and the acquisition should drive earnings growth in what is expected to be a rough year for the overall stock market.
The average analyst expectation is that Fortinet's earnings growth over the next five years will achieve a robust 22% on an average annualized basis.
This cybersecurity stock enjoys tailwinds that should prevail, regardless of the ups and downs of the broader economy and market indices this year.
---
Most options traders strike out on 7 out of every 10 trades. They place high-risk trades, hoping for a big payout. But they lose... a LOT! However, we've found a genius trader who flips options on its head, allowing him to make money more than 85% of the time. He turned $50,000 into over $5 million trading this way. For a limited time, he's offering his personal strategy guide to readers. The information inside could unlock $67,548 in extra income for you over the next 12 months. Get your copy now by clicking here.
John Persinos is an analyst with Investing Daily. At the time of publication, he owned none of the stocks mentioned.