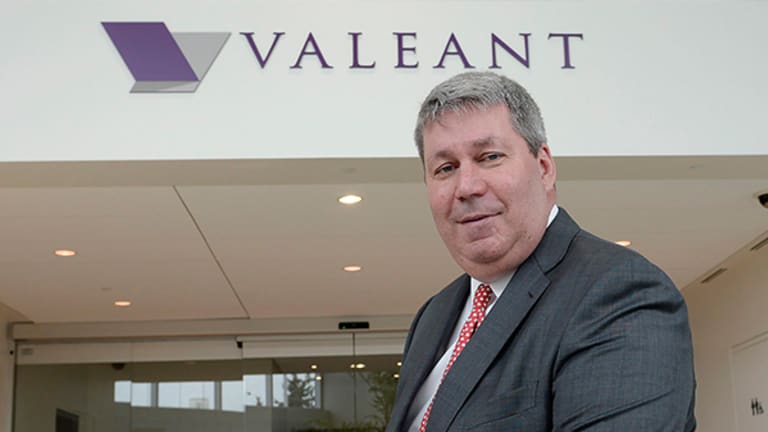 Former Valeant CEO Files Suit Against the Company
Mike Pearson is alleging that Valeant has refused to pay him for the three million shares he is owed.
Valeant's (VRX) problems just keep coming. 
The embattled drug maker's former CEO, Michael Pearson, filed a suit in the U.S. District Court of New Jersey Monday after market's close claiming that the Canadian drugmaker has refused to pay him for the three million shares he is owed. 
Valeant's shares had barely moved ahead of market's open Tuesday, falling 0.5% to $10.76 apiece. 
Pearson is alleging that he is owed 580,676 shares and 2.5 million performance shares due November 3 under the terms of his separation agreement. Pearson stepped down back in May 2016.  The lawsuit also alleges Valeant also owes $180,000 to Pearson for consultation fees.
"Valeant has made an abrupt decision simply to stop honoring its full obligations, without even attempting to articulate any legal or factual basis for its sudden change of course," according to the filing.
The filing noted that Pearson's lawyers first contacted Valeant in late January to inquire about the unpaid commitments. 
According to the lawsuit, Valeant's executive vice president and general counsel, Christina Ackermann, responded, saying that "[t]he Board has reviewed the matter and determined that the shares will not be released to Mike Pearson due to the circumstances that Valeant finds itself in at this time."
In response, Pearson's legal team demanded that his shares be released by February 14. But Ackermann declined. 
"Valeant believes it would be inappropriate or inequitable in the current environment for Mr. Pearson to receive additional compensation - to the tune of millions of dollars - at a time when countless other Valeant employees have been asked to sacrifice for the good of the company and its shareholders," she responded, according to the lawsuit. 
And so, Pearson filed a suit. 
Since Pearson has stepped down, Joseph Papa has taken the helm at Valeant, which continues to flounder. Most recently, the company revealed that Papa is paid a combined $62.7 million by Valeant. This included a base salary of $980,769, a bonus worth $9.125 million and stocks and options worth nearly $52 million.
This was while the company's shares lost more than 62% of their value. 
The company's problems began in 2015 when short seller Andrew Left of Citron Research wrote a scathing report alleging that Valeant and its mail-order pharmacy Philidor, along with one of its customers, had engaged in a scheme to improperly raise revenues.
Then came last March when Valeant blamed its former CFO and former controller, Howard Schiller, for misstatements of earnings. Schiller left the company, as did Pearson. Valeant has since been scrutinized for its alleged accounting problems and steep price hikes on drugs it acquired.
Most recently, Pershing Square fund manager Ackman pulled his entire stake from Valeant, taking a $2.8 billion loss.
ValueAct Capital, another activist firm, picked up some of the shares Ackman divested just days later.