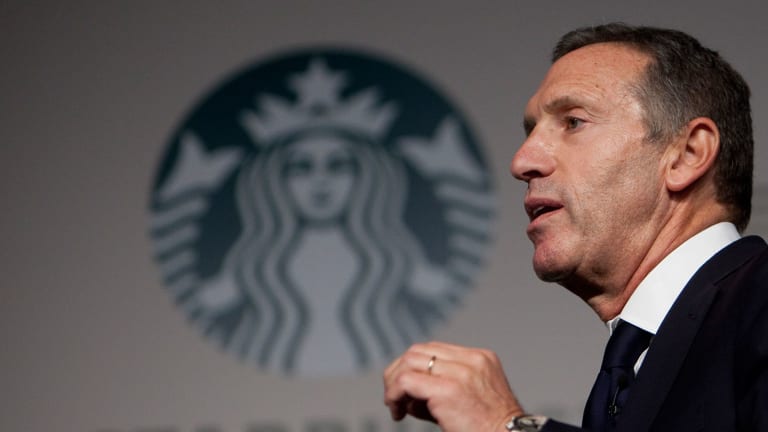 Former Starbucks CEO Schultz: U.S. People Are Better Than Our 'Political Class'
Former Starbucks CEO Howard Schultz slammed politicians on Thursday during an event in Washington, DC.
Per the usual, Howard Schultz pulled no punches on Thursday.
Starbucks Corp. (SBUX) - Get Starbucks Corporation Report Executive Chairman Howard Schultz on Thursday criticized the "political class" in a wide ranging conversation that included criticism of the Trump Administration's tax policy, worries about U.S. debt and comments of contrition following a recent incident involving two arrested black men in a Philadelphia coffee shop.
"The American people are much better than our political class," Schultz said at an event at the Atlantic Council in Washington D.C. "I'm not criticizing our people, but the political class of both parties is an issue, and this has occurred before the current administration."
Schultz, who also indicated he had no interest in running for political office, took issue with the Trump administration's sweeping tax overhaul, approved in December, arguing that he would have done it differently. In addition, he said the U.S. is sitting on a precipice of disaster with $21 trillion in debt.
"The American system needs to be disrupted. Having a corporate tax cut of a rate to 21% was not disruptive in terms of a tax reform on a comprehensive basis that the country needed in order to create more value for people who are being left behind," he said.
The coffee chain's executive chairman, who grew Starbucks from a small chain to a global company with 350,000 employees and 28,000 retail stores in 77 markets, also addressed a recent incident involving two black men who were arrested while waiting for a friend in a Philadelphia Starbucks after an employee called the police. One had sought to use the restroom but was rejected, after an employee said it was only for paying customers.
On Thursday, Schultz said Starbucks is culpable and responsible, adding that company officials flew "en masse" to Philadelphia and did "everything" they could to demonstrate contrition, which included conversations with local clergy and others.
"We're the ones to blame," he said. "It was shocking to us that this could happen. We could not imagine this could happen."
A key issue involved the use of the bathroom. Schultz said he doesn't want Starbucks to become a public bathroom destination, but he also said he didn't want anyone to think that "we are not going to give you a key [to the bathroom] because you are less than."
Schultz's comments come as Starbucks' shares have mostly been on an upward trajectory over the years, trading up at $57.65 a share Thursday. The globally-expanding coffee chain's constantly improving share price is likely a key reason why the company hasn't been targeted by an activist investor pushing for a franchising strategy.
Throughout its history, Starbucks has mostly had a company-owned model for its retail locations, a strategy that is at odds with a trend of activist investors pushing fast food, restaurant and coffee companies to franchise locations out to raise cash for stock buybacks and debt reduction. In recent years, activists have targeted Jamba Juice (JMBA) - Get Jamba, Inc. Report , Potbelly (PBPB) - Get Potbelly Corporation Report , Jack in the Box (JACK) - Get Jack In The Box Inc. Report , Wendys Co. (WEN) - Get Wendy's Company (The) Report , McDonald's (MCD) - Get McDonald's Corporation Report and elsewhere. In addition, Starbucks has a one-share, one-vote structure, which can make it vulnerable to an activist investor seeking to elect dissident director candidates as it pursued the strategy.
Panera Bread founder Ron Shaich shares his views on activist investors below with TheStreet's Executive Editor Brian Sozzi.
However, Schultz said he was able to succeed with a company-owned model, partly because people viewed the Starbucks coffee locations as a catalyst for communications.
"We decided we were not going to franchise and we were going to own and operate every store so we could control the experience and culture," Schultz said. "We would do everything we could to elevate the experience of our people. What we learned along the way it wasn't [only] the coffee we were selling it was the sense of community we were selling."
The company also expanded to locations that Wall Street may not have supported, such as Bedford-Stuyvesant, early on as part of a broader goal to maintain a strong image.
"We are asked, 'Why is Starbucks openings stores in Bedford-Stuyvesant? We're not in the charity business?' There is so much of a focus on quarterly earnings but we learned we had to make a deposit early in good will," he said.