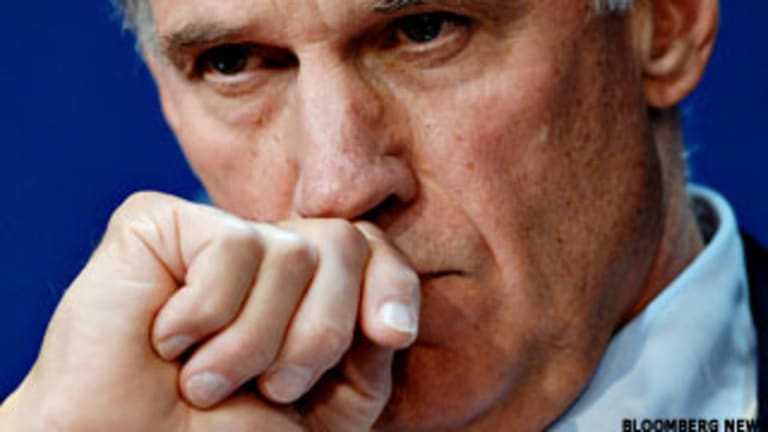 Former JPMorgan CEO Wins Bank Bid
Cadence Financial terminated their $23.6 million merger agreement for with Trustmark to be acquired for $30 million by a newly formed private equity group.
NEW YORK (
) -- Private equity firms may be ready to jump into the banking industry and the former chairman of
JPMorgan Chase
(JPM) - Get JPMorgan Chase & Co. Report
is showing the way.
This week
Cadence Financial
(CADE) - Get Cadence Bank Report
terminated their $23.6 million merger agreement with
Trustmark
(TRMK) - Get Trustmark Corporation Report
in order to be acquired by a $30 million by a newly formed private equity group called
Community Bancorp LLC
.
Community is led by former
Amegy Bank of Texas
CEO Paul Murphy and William B. Harrison, Jr., a former Chairman and CEO of JPMorgan Chase.
Former JPMorgan Chase Chairman William Harrison Jr.
Trustmark walked away from the deal with a $2 million break-up fee.
"I was really surprised. You don't typically see outbidding like this and I think we could see more similar deals," said Michael Rose, an equity analyst at Raymond James.
"Seeing a private equity firm outbid in a deal that was inked was surprising," said Adam Barkstrom, managing director in equity research for Sterne, Agee & Leach. "We knew private equity firms were out there raising funds, but this deal is rare. We haven't seen PE play in the bank space since the savings and loan crisis."
Over the last several weeks, banks have picked up some sizable investments from private equity such as
National Penn Bancshares
(NPBC)
$150 million investment from
Warburg Pincus
.
In addition there have been some healthy bank deals such as the
First Niagara's
(FNFG)
purchase of
NewAlliance Bancshares
( NAL) for $1.5 billion in cash and stock. These deals are a true blue sign that healthy bank M&A is on the rebound.
"I think when you have an outbidding for a bank it is a sign that M&A is picking up. You are going to see a lot of private equity firms investing in banks," said Jones Day's Chip MacDonald, who just closed
Palmetto Bank's
(PLMT)
latest round of investment.
"Private equity has been focused on
Federal Deposit Insurance Corp.
assisted deals and they took in capital for these deals. Many have been waiting for the right time to invest and they have to find a use for it or give those funds back to investors, so they are using it for live bank transactions," said Kevin Fitzsimmons, managing director of equity research at Sandler O'Neill + Partners L.P.
The government's Trouble Asset Relief Progam is not deterring deals either says Brian Sterling, co-head investment banking at Sandler O'Neill + Partners L.P. He says banks and private equity consider it when they do the deal, especially when it comes to working out the price.
"We are seeing a return of healthy deals where acquirers can be comfortable with their own balance sheets and with the target's balance sheet, and pay an attractive price relative to where stocks are trading,"
Sterling told the Street in a video (see here).
"I think we are seeing valuations rebound already for healthy banks if you look at the bank M&A that is being done, it is based on those with asset problems and those without asset problems."
It appears banks have hit bottom and the consolidation in the financial industry that everyone keeps chattering about is ready to pick up and gradually become more aggressive over the next year. The acquirers will be bigger banks that are closely watching their balance sheets; foreign banks such as
Banco Santander
( STD) , which has been rumored to be scoping out U.S. targets; larger private equity firms such as
Carlyle
, which invested in BankUnited; and newly formed private equity firms such as Community.
"If this deal is any indicator I would bet that that the amount of private equity deals is going increase," Barkstrom said. "I think it will be at least a year before healthy M&A really returns to the southeast."
If that is the case then perhaps the financial industry has bottomed out.
"Is this truly the bottom? You are starting to see that
FDIC Chairman Sheila Bair said this quarter would be the worst for bank failures, but there weren't as many failures as I expected," said Rose. "So we are due for some sizable consolidation. That consolidation could be a few quarters away."
--Written by Maria Woehr in New York.
To contact the writer of this article, click here:
Maria Woehr
.
To follow the writer on Twitter, go to
.
To submit a news tip, send an email to:
.