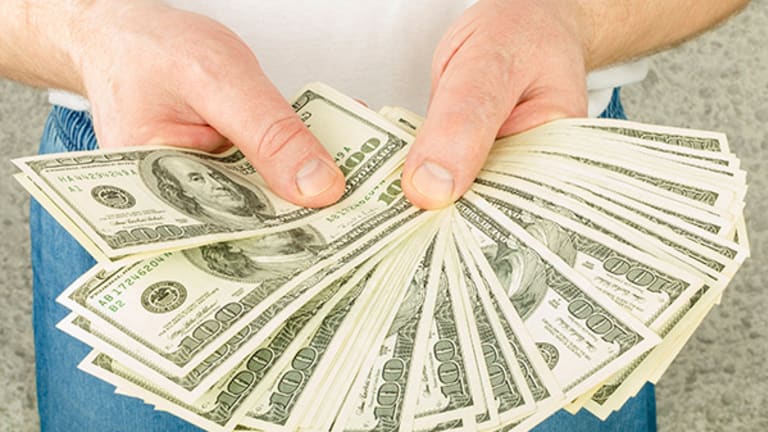 Former GE Unit Synchrony Pops Amid Credit-Card Users' Shopping Spree
One of the biggest takeaways from Synchrony's first quarter is the general health of consumer spending, a key driver of the U.S. economy.
Synchrony Financial (SYF) , the credit-card lender spun off from General Electric, posted higher quarterly earnings than analysts projected amid healthy consumer spending.
Profit of 70 cents a share compared with the 69-cent average projected by analysts. Net income climbed 5.4% to $582 million, the Stamford, Conn.-based company said in a statement. 
Synchrony climbed 2.3% to $31.13 in New York trading on Tuesday. The shares previously rose less than 1% this year.
"The two primary takeaways from the quarter are the strong signs relating to consumer health and further conversion in the market-share shift from general purpose credit card to private label," JPMorgan Chase analysts David M. Scharf and Douglas Greiner said in a note to clients. 
Loan growth as well as purchase volume accelerated more than expected in the period, according to the analysts, who reaffirmed their rating of "market outperform," the equivalent of a "buy."  
Spending volume in the period rose 17% to $27 billion, Synchrony said, while the number of active accounts climbed 7% to 66.1 million.
In a separate note, Sterne Agee analyst Henry J. Coffey said the company will begin returning 65% of its earnings to shareholders through dividends and stock repurchases once its capital plan is approved by the Federal Reserve. That amount would total about $1.5 billion, or 6% of the company's market valuation of $25.7 billion. Coffey has a "buy" rating on the stock with a price target of $35.
The company's board signed off on the proposal in March, CFO Brian Doubles said on an earnings call.
Synchrony should be able to continue delivering strong loan growth, said Jefferies analysts John Hecht, who has a "buy" rating on the stock and a price target of $42.
"We're using our data analytics to really determine what is the best value proposition to get the consumer to come in, to spend more," Double said on the call. "And so, we're always looking at optimizing that mix between the one-off promotion and the everyday value prop."
Synchrony, which went public in 2014, was formerly part of GE Capital, the lending business that General Electric (GE) CEO Jeffrey Immelt is winding down to focus on manufacturing businesses from jet engines to health care equipment. GE retained an 85% stake in its former subsidiary until last year, when it shed the holding through a share-swap.