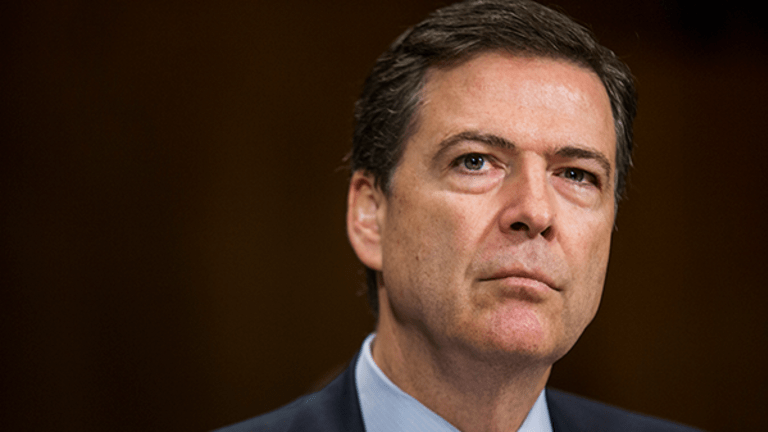 Former FBI Director Comey Will Testify Publicly Before the Senate Intelligence Committee
A date for the open hearing will be set sometime after Memorial Day.
Former FBI Director James Comey, who was fired by President Donald Trump last week, has agreed to testify publicly before the Senate Intelligence Committee, according to several media reports Friday night.
"I am hopeful that he will clarify for the American people recent events that have been broadly reported in the media," said committee Chairman Richard Burr in a joint statement announcing Comey had agreed to testify, according to a report in The Washington Post. Burr was joined in the statement by committee Vice Chairman Mark Warner (D-Va.).
Burr and Warner said they would schedule the hearing sometime after Memorial Day, the Post reported.
"I hope that former Director Comey's testimony will help answer some of the questions that have arisen since Director Comey was so suddenly dismissed by the President," Warner said in the same statement, according to the Post. "I also expect that Director Comey will be able to shed light on issues critical to this Committee's investigation of Russian interference in the 2016 election."
The joint statement came just hours after the Post reported that a senior White House advisor close to the president is reportedly a person of interest in the investigation into the Trump campaign's possible collusion with Russia.
A separate report from The New York Times, also published on Friday, said Trump told Russian officials last week that Comey was a "real nut job" and that firing him had relieved him of pressure over the investigation.
Markets seemed to shrug off the news on Friday. The S&P 500 finished up 0.67%, the Dow Jones Industrial Average rose 0.68% and the Nasdaq gained 0.47%.
Keris Alison Lahiff of TheStreet contributed to this report.
This article was written by a staff member of TheStreet.